Star Plus TV channel was launched on 21 February 1992. However, at that time, it was an English-language entertainment channel broadcasting international television shows from the United States, United Kingdom, Australia and New Zealand. Previously Star Plus was merged with Zee TV and telecast Hindi language shows. However, on 31 March 1996, Star Plus ended its relationship with Zee TV and was completely transformed into a Hindi-language channel. StarPlus channel is popularly known for its unique and entertaining daily soaps/shows/serials/drama/reality shows. Here, we have assembled Star Plus'sPlus's current telecasting shows, former programs and upcoming shows. You can also watch the shows on Disney Plus Hotstar OTT platform.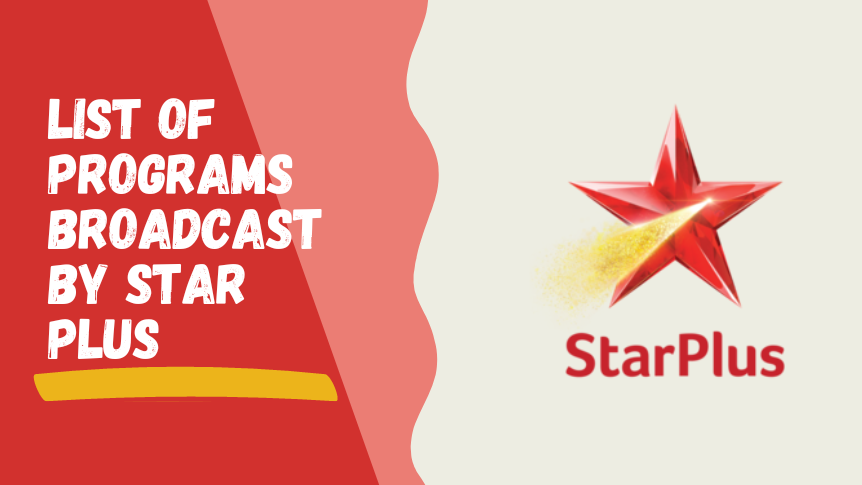 Star Plus Current Schedule (Daily Schedule) 
| Timing | Show Name | Show Days | Release Date |
| --- | --- | --- | --- |
| 02:00 pm-03:00 pm | Do Dil Mil Rahe Hain | Monday to Sunday | 12 June 2023 |
| 07:00 pm-07:30 pm | Teri Meri Doriyaann | Monday to Sunday | 04 January 2023 |
| 07:30 pm-08:00 pm | Pandya Store | Monday to Sunday | 25 January 2021 |
| 08:00 pm-08:30 pm | Ghum Hai Kisikey Pyaar Meiin | Monday to Sunday | 05 October 2020 |
| 08:30 pm-09:00 pm | Imlie | Monday to Sunday | 16 November 2020 |
| 09:00 pm-09:30 pm | Faltu | Monday to Sunday | 02 November 2022 |
| 09:30 pm-10:00 pm | Yeh Rishta Kya Kehlata Hai | Monday to Sunday | 12 January 2009 |
| 10:00 pm-10:30 pm | Anupamaa | Monday to Sunday | 13 January 2020 |
| 10:30 pm-11:00 pm | Yeh Hai Chahatein | Monday to Sunday | 19 December 2019 |
| 11:00 pm-11:30 pm | Titli | Monday to Sunday | 06 June 2023 |
Star Plus Regular TV Shows with Synopsis 2023
In the below section, we have highlighted the Star Plus serial list with time. Have a look:
Teri Meri Doriyaann
Genre: Romance, Family Drama
Star Cast: Vijayendra Kumeria, Himanshi Parashar, Tushar Dhembla, Roopam Sharma, Jatin Arora
Director: Jaideep Sen, Ashwini Saraswat, Arnav Chakravarti, Jafar Shaikh, Ranjeet Gupta
Show Timing: 07:00 pm-07:30 pm
The plot of the Teri Meri Doriyaann serial revolves around three Brar brothers- Angad, Garry, and Veer intertwined with the three Monga sisters- Sahiba, Seerat, and Keerat. What will happen next? To know that, stay tuned to the Star Plus channel.
Pandya Store
Genre: Drama
Star Cast: Kinshuk Mahajan, Shiny Doshi, Kruttika Desai, Pallavi Rao, Krunal Pandit,
Director: Pradip Yadav
Show Timing: Monday to Saturday from 7.30 pm- 8 pm
Dashrath Prasad and Kaushalya Devi are the proud parents of four sons. Their daily life depends on their only grocery store, named Pandya Store. Dharma, the eldest brother of the Pandey family, married Gautam. Watch the Pandya Store serial on the Star Plus channel to learn more.
Ghum Hai Kisikey Pyaar Meiin
Genre: Drama, Romance
Star Cast: Neil Bhatt, Ayesha Singh, Aishwarya Sharma, Yogendra Vikram Singh, Shailesh Datar, Bharati Patil, Vihan Verma, Adish Vaidya, Sneha Bhawsar, Kishori Shahane
Director: Jaideep Sen, Rajesh Ram Singh
Show Timing: Monday to Saturday from 8 pm- 8.30 pm
Ghum Hai Kisikey Pyaar Meiin TV series starts with Sai Joshi, a fearless girl who wants to become a doctor, who marries an IPS officer, Virat Chavan, pretending to be a deal. The story revolves around the life of Sai in the orthodox joint family of Virat and how Sai and Virat fall in love.
Imlie
Genre: Drama
Star Cast: Sumbul Touqeer, Fahmaan Khan, Manasvi Vashist, Gashmeer Mahajani, Mayuri Deshmukh, Chandresh Singh
Director: Asif Khan
Show Timing: Monday to Saturday from 8.30 pm-9.00 pm
The plot of the Imlie Tv series revolves around Imlie's life in a village. On the other hand, Aditya is a journalist. Now, the twist begins when they are married by force. However, they hate each other. Will their hate turn into love, and they start a new life? To know this, check out the Star Plus serial timing mentioned above.
Faltu
Genre: Romance, Drama
Star Cast: Niharika Chouksey, Aakash Ahuja, Drishti Thakur, Thakur Rajveer Singh, Farida Venkat
Director: Sanjay Satavase, Maanish Singh, Vinod Rautela
Show Timing: Monday to Sunday from 09:00 pm-09:30 pm
Faltu is a new Star Plus TV show, and the story revolves around an unwanted girl, Faltu, named useless after her parent's frustration at the birth of a third girl and a stillborn twin son.
Yeh Rishta Kya Kehlata Hai
Genre: Drama
Star Cast: Hina Khan, Karan Mehra / Vishal Singh, Shivangi Joshi, Ashnoor Kaur, Sirat Shekhawat Goenka, Mishka Jain
Director: Romesh Kalra, Rishi Mandial, Ram Pandey
Show Timing: Monday to Saturday from 9.30 pm-10.00 pm
The TV series starts with Akshara and Naitik, who were bounded by a forcefully arranged marriage. Soon, Naitik falls into a coma due to an accident. However, slowly he recovers from the coma. After that, Akshara starts working in the family business. Check out the Star Plus serial timetable to watch the upcoming serial episodes.
Anupamaa
Genre: Drama
Star Cast: Rupali Ganguly, Sudhanshu Pandey, Gaurav Khanna, Rohit Bakshi, Ashlesha Savant, Alma Hussein, Aashish Mehrotra, Paras Kalnawat, Muskan Bamne, Arvind Vaidya, Alpana Buch, Madalsa Sharma
Director: Rajan Shahi
Show Timing: Monday to Saturday from 10 pm-10.30 pm
Anupamaa serial is all about a Gujarati homemaker Anupamaa Shah. She can do anything to make her family happy. But, her family berates her for being a mere housewife. On the other hand, Anupamaa's husband, Vanraj, has been having a secret extra-marital affair with his colleague Kavya Gandhi for the past eight years. What will happen next?
Yeh Hai Chahatein
Genre: Drama, Romance
Star Cast: Sargun Kaur Luthra, Abrar Qazi, Yagya Bhasin, Vidhaan Sharma, Siddharth Shivpuri, Aishwarya Sakhuja, Indraneil Sengupta
Director: Neeraj Baliyan, Rishi Tyagi
Show Timing: Monday to Saturday from 10.30 pm- 11 pm
The plot of the Yeh Hai Chahatein serial revolves around Dr. Preesha- a single mother who puts all her effort to raises her elder sister'ssister's child, Saransh, after her elder sister'ssister's death. Later, she meets Rudraksh, who is a rockstar and falls in love with him.
Star Plus Previously Broadcasted Shows With Cast
Indian Drama
Year
Show Name
Genre
Main Cast
Availability
1997
Kabhie Kabhie
Drama
Shefali Chaya, Iravati Harshe, Lillete Dubey, Alyy Khan, Deepak Parashar
YouTube
1997-1998
Yeh Hai Raaz
1998
Chandrakanta
Drama
Pankaj Dheer, Shahbaz Khan, Shikha Swaroop, Mukesh Khanna, Javed Khan
YouTube,
1998
Swabhimaan
Drama
Svetlana, Ronnie Banerjee, Ranjana Devi, Mahen Malhotra, Nishi Malhotra
1998
Eek! The Cat Storyteller
Children/teen series
1998
Daal Mein Kala
Comedy
Navin Nischol, Dharampal, Dilip Joshi, Rakesh Thareja/Ronak Kotecha
1998-1999
Kora Kagaz
Drama
Renuka Shahane, Salil Ankola, Amit Behl, Anil Dhawan, Uttara Baokar
1998
Manzil
Drama
Renuka Shahane, Smita Jayakar, Raza Murad, Kiran Kumar, Vishal Singh
Disney Plus Hotstar
1998-1999
Saans
Drama
Neena Gupta, Kanwaljit Singh, Kavita Kapoor, Shagufta Ali, Ashok Lokhande
1998-1999
Saboot
Drama
Anita Kanwar
YouTube
1999–2000
Star Bestsellers
Anthology series
1999
Chhoti Si Baat
1999
Hera Pheri
Comedy
Shekhar Suman, Rakhee Tandon, Rohit Roy, Bhavana Balsavar, Asrani
1999
Wagle Ki Nayi Duniya
Sitcom
Anjan Srivastav, Bharati Achrekar, Dushyant Nagpal, Harish Magon, Virendra Saxena
YouTube
1999
Aur Phir Ek Din
Drama
Mahesh Bhatt, Kiran Kumar, Soni Razdan
Disney Plus Hotstar
1999
Gaatha
Drama
1999
Main
Drama
1999
Pal Chhin
Drama
Manohar Singh, Gurpreet Singh, Arun Govil, Prabha Sinha, Aparna Bhatnagar
1999
Tanha
Drama
Sushma Seth, Aasif Sheikh, Anang Desai, Atul Agnihotri, Sarvat Sanjar
1999-2000
Zindagi
Drama
2000-2004
Son Pari
Children/teen series
Tanvi Hegde, Mrinal Dev-Kulkarni, Ashok Lokhande, Vivek Mushran
2000-2003
Gharwali Uparwali
Drama
Mukul Dev, Ratna Pathak Shah, Niki Aneja Walia, Manasi Joshi Roy
2000
Hans Mat
2000-2001
Kabhi-Kabhie Mere Ghar Mein Bhuchal Aata Hai
Drama
2000
Life Nahin Hai Ladoo
Drama
Gaurav Gera, Dipannita Sharma
2000-2001
Meri Mrs. Chanchala
Sitcom
Kanwaljit Singh, Sushmita Mukherjee, Ram Sethi
2000
Sewalal Mewalal
Comedy
Dilip Joshi, Mohan Joshi
2000
Zara Hatke Zara Bachke
Drama
Dilip Joshi, Lucky Ali, Harish Patel
2000
Aatish
Drama
2000
Antaral
Drama
Om Puri, Sheeba Chaddha, Aamir Bashir, Joy Sengupta
2000-2008
Kahaani Ghar Ghar Kii
Drama
Sakshi Tanwar, Kiran Karmarkar, Mohnish Behl / Anup Soni, Shweta Kawatra / Achint Kaur
YouTube, Disney Plus Hotstar
2000-2008
Kyunki Saas Bhi Kabhi Bahu Thi
Drama
Smriti Irani, Amar Upadhyay / Inder Kumar / Ronit Roy
Disney Plus Hotstar
2000
Rajdhani
Drama
Neha Dhupia, Lushin Dubey, Randeep Hooda, Piyush Mishra
2000
Siski
Drama
Neena Gupta, Kanwaljit Singh, Manohar Singh, Sumeet Saigal, Adeela Sachdev
2001-2002
Chhupa Rustam
Acquired Series
jay Sethi, Akansh Kakkar, Gurpal Singh, Shambhu Shikhar,
2001
The Helen Show
Acquired Series
2001-2002
Kabhii Sautan Kabhii Sahelii
Acquired Series
Anita Hassanandani, Urvashi Dholakia, Pankit Thakker, Daman Maan
YouTube
2001
Kavita
Drama
Ram Kapoor, Smriti Irani, Jayati Bhatia, Maya Alagh, Swati Chitnis
2001
Kundali
Drama
Vipul Katre, Nivedita Bhattacharya, Prachi Shah, Anupam Bhattacharya, Yash Tonk
2001-2002
Kahaani Jurm Ki
Anthology Series
Nupur Asthana, Sopan Muller, Imtiaz Ali, Nisha Jain
2001-2003
Hum Saath Aath Hain
Comedy
Zoya Afroz, Kaivalya Chheda, Ketki Dave, Seema Kapoor, Smith Seth
2001
Ji Mantriji
Comedy
Farooq Sheikh, Jayant Kripalani
2001-2005
Des Mein Niklla Hoga Chand
Drama
Sangeeta Ghosh, Parminder Rohan Malhotra / Mahi Malik, Varun Badola, Amar Upadhyay
2001-2002
Jannat
Drama
Kahkashan Patel, Lata Sabharwal, Siraj Mustafa Khan, Vaquar Shaikh, Amar Talwar
2001-2004
Kaahin Kissii Roz
Thriller
Mouli Ganguly, Smita Kalpavriksha, Poonam Narula, Sudha Chandran, Yash Tonk
YouTube
2001-2003
Kabhi Aaye Na Judaai
Drama
Shilpa Shinde, Aanchal Anand, Tarun Khanna, Prabhat Bhattacharya, Nasir Khan
2001
Kangan
Drama
Humayun Saeed, Shabbir Jan, Asha Parekh, Hussain Kuwajerwala,
2001-2008
Kasautii Zindagii Kay
Family
Cezzane Khan, Shweta Tiwari, Urvashi Dholakia, Hiten Tejwani, Ronit Roy
Disney Plus Hotstar
2001
Sanskruti
Drama
Smita Bansal, Prashant Bhatt, Gaurav Gera, Vijayendra Ghatge, Savita Prabhune, Tarana Raja
2001-2004
Ssshhhh…Koi Hai
Horror
Mamik Singh, Salil Ankola, KK Goswami, Shakti Anand (2002–2003) / Manav Gohil (2003) / Jiten Lalwani (2003–2004)
YouTube, Disney Plus Hotstar
2001-2002
Maa Shakti
Mythological
Indrani Haldar, Sandeep Mohan, Rishabh Shukla, Sharat Saxena, Roma Bali
YouTube
2002-2004
Ramayan
Mythological

Arun Govil, Deepika Chikhalia, Sunil Lahri, Arvind Trivedi, Dara Singh
YouTube
2002
Sea Hawks
Acquired Series
Anup Soni, Simone Singh, R. Madhavan, Niki Aneja, Manoj Pahwa, Om Puri
2002-2004
Shanti
Drama
Mandira Bedi, Mohini Sharma, Rajesh Tailang, Amit Behl, Anup Soni
Disney Plus Hotstar
2002-2004
Kyun Hota Hai Pyarrr
Children/teen series
Amit Sadh / Sudeep Sahir, Riva Bubber, Shilpa Tulaskar, Sonal Pendse
2002-2004
Shaka Laka Boom Boom
Children/teen series
Vishal Solankee, Kinshuk Vaidya, Rahul Joshi, Kalyani Nerurkar, Hansika Motwani
Disney Plus Hotstar
2002-2004
Khichdi
Sitcom, Comedy, Drama
Anang Desai, Rajeev Mehta, Supriya Pathak, Vandana Pathak, Jamnadas Majethia
YouTube, Disney Plus Hotstar
2002- 2003
Avinash I.P.S
Drama
Vije Bhatia, Tarun Khanna, Sachin Khurana, Kishwar Merchant
2002-2008
Bhabhi
Drama
Neha Mehta/Dolly Sohi, Manish Goel, Bhanujeet Sudan, Puneet Sachdev, Tejal Shah / Mandeep Bhandar
2002-2005
Kehta Hai Dil
Sitcom
Kamya Panjabi / Pallavi Kulkarni, Aman Verma / Akshay Anand, Gautami Kapoor, Swapnil Joshi
2002-2004
Kesar
Drama
Nandini Singh, Abhinav Pandey / Dr.Kangana Pandey, Nandini Singh, Abhinav Pandey
2002-2004
Krishna Arjun
Comedy
Shraddha Nigam, Hussain Kuwajerwala, Aanjjan Srivastav, Ravi Baswani, Neelu Kohli
Disney Plus Hotstar
2002-2009
Kumkum – Ek Pyara Sa Bandhan
Soap Opera
Juhi Parmar, Hussain Kuwajerwala, Arun Bali, Jyotsna Karyekar / Rita Bhaduri
2002-2005
Sanjivani
Soap opera
Gurdeep Kohli, Gaurav Chanana / Mihir Mishra, Mohnish Behl, Iravati Harshe
Disney Plus Hotstar
2003-2004
Gharwali Uparwali Aur Sunny
Children/teen series
Mukul Dev, Seema Kapoor, Shruti Ulfat, Mickey Dhamejani, Kaivalya Chheda
2003-2004
Hatim
Children/teen series
Rahil Azam, Kiku Sharda, Pooja Ghai Rawal, Nirmal Pandey, Vijay Ganju
YouTube, Disney Plus Hotstar
2003-2004
Karishma Kaa Karishma
Science fiction sitcom
Jhanak Shukla, Sanjeev Seth, Eva Grover/Tisca Chopra,
2003-2006
Shararat
Soap opera
Farida Jalal, Poonam Narula, Eva Grover, Mahesh Thakur, Shruti Seth
Disney Plus Hotstar
2003
Samnewali Khidki
Soap opera
Archana Puran Singh, Akshay Anand, Bharat Kapoor
2003
Jai Mata Di
Soap opera
Hema Malini, Vijayendra Ghatge, Puneet Issar
YouTube
2003-2004
Jeet
Family
Ankur Nayyar, Aparna Tilak, Mrinal Kulkarni, Neeru Bajwa, Kanika Kohli
2004
Josh
Soap opera
2003-2007
Kahiin To Hoga
Soap opera
Aamna Sharif, Rajeev Khandelwal / Gurpreet Singh, Rohit Bakshi, Vikas Sethi
YouTube
2003
Kashmeer
Soap opera
Gul Panag, Vishal Singh, Ankur Nayyar, Farooque Sheikh, Nirmal Pandey, Vineet Kumar
2003-2004
Saara Akaash
Action, Drama
Sai Deodhar, Shakti Anand, Kiran Kumar, Kanwaljit Singh
2003-2004
Vikraal Aur Gabraal
Horror, Supernatural
Mamik Singh, Salil Ankola, Shonali Malhotra, KK Goswami, Shakti Anand
2004
Bachcha Party
Children/teen series
Smith Seth, Nisha Lalwani, Seth Smith
2004-2005
Kabhi Khushi Kabhi Dhoom
Children/teen series
Dilip Joshi, Manmeet Singh, Abhishek Sharma, Ali Asgar
2004-2005
Princess Dollie Aur Uska Magic Bag
Fantasy, Action
Karishma Randhawa, Mayank Anand, Rahil Azam, Vinod Singh, Vaquar Shaikh
2004
Dekho Magar Pyaar Se
Soap Opera
Shweta Agarwal / Shraddha Nigam, Keith Sequeira, Kushal Punjabi, Reena Kapoor
2004-2006
K. Street Pali Hill
Drama
Vikram Kapadia, Ashwini Kalsekar, Sudha Chandran, Jasveer Kaur, Riva Bubber
2004-2005
Karma
Superhero action drama
Siddharth Choudhary, Riva Bubber, Mohan Kapoor / Nawab Shah, Tinnu Anand, Sudha Chandran
YouTube
2004
Koie Jane Na
Drama
Shilpa Kadam, Sanjeet Bedi, Shishir Sharma, Shreya Das, Ashita Dhawan
2004-2008
Saarrthi
Drama
Neha Devi Singh, Karan Grover, Nawab Shah, Manasi Salvi, Rahil Azam
Disney Plus Hotstar
2004-2006
Sai Baba
Mythological
Mukul Nag, Arvind Singh Rausaria, Anukamal, Jyotin Dave, Sagar Saini, Kumar Hegde
YouTube
2005
Akkad Bakkad Bambey Bo
Children/teen series
Devender Chaudhary, Vivek V. Mashru, Menaka Lalwani, Sheetal Maulik, Prateek Jain
2005
LOC — Life Out of Control
Comedy Series
Eva Grover, Kavita Kapoor, Kamini Kaushal, Sanjay Mishra, Manoj Pahwa
2005
Shanno Ki Shaadi
Sitcom
Divya Dutta, Vikas Bhalla, Kulbhushan Kharbanda, Shoma Anand, Kamini Kaushal
2005-2010
Baa Bahoo Aur Baby
Comedy Drama
Sarita Joshi, Arvind Vaidya, Benaf Dadachandji, Deven Bhojani, Rajeev Mehta
Disney Plus Hotstar
2005-2006
Kkavyanjali
Drama
Anita Hassanandani, Rakshak Sahni / Eijaz Khan, Amrita Singh, Mohammed Iqbal Khan
2005-2006
Miilee
Drama
Mona Vasu, Ajay Gehi, Kiran Kumar, Aasif Sheikh, Mahru Sheikh
2006-2007
Antariksh — Ek Amar Gatha
Acquired Series
Ashwini Bhave, Ganesh Venkatraman, Ashim Samanta, Kushal Punjabi, Suhasi Goradia Dhami
2006-2007
Golu Ke Goggles
Children/teen series
Karan Attri, Vaishnavi Rao, Harsh Paresh Somaiya, Abhishek Shah, Krishna Magaraiya
2006-2008
Aek Chabhi Hai Padoss Mein
Comedy Series
Sajni Hanspal, Vishwa S. Badola, Vishal Kotian, Sajani Shrivastava, Jarnail Singh
2006-2009
Dharti Ka Veer Yodha Prithviraj Chauhan
Drama
Rajat Tokas / Anas Rashid, Mugdha Chaphekar/ Pooja Joshi Arora / Sheetal Dabholkar
Disney Plus Hotstar
2006-2009
Karam Apnaa Apnaa
Drama
Yash Tonk, Mohammed Iqbal Khan, Pallavi Subhash, Sandeep Baswana, Karan Patel / Mayank Sharma
2006
Lucky
Fantasy, Drama
Gautam Rode, Gyan Prakash Sharma, Anang Desai, Navni Parihar, Banwarilal Jhol
2006
Pyaar Ke Do Naam: Ek Raadha, Ek Shyaam
Romantic drama
Barkha Sengupta, Indraneil Sengupta, Muskaan Mihani, Ramesh Deo, Sonali Khare
2006-2007
Thodi Si Zameen Thoda Sa Aasmaan
Drama
Smriti Irani, Usha Nadkarni, Pawan Shankar, Jaya Bhattacharya, Sanjeet Bedi
2006-2007
Viraasat
Drama
Kiran Kumar, Deepak Qazir, Aman Verma, Pooja Ghai Rawal, Amar Upadhyay
2007-2009
Kasturi
Drama
Shubhangi Atre, Karan Patel, Bharat Chawda, Nandish Sandhu / Jatin Shah
Disney Plus Hotstar
2007-2009
Kayamath
Drama
Panchi Bora, Shabir Ahluwalia, Jay Bhanushali, Sanjeeda Sheikh, Anita Hassanandani
2007-2008
Meri Awaz Ko Mil Gayi Roshni
Drama
Ashima Bhalla, Karan Grover, Salim Shah, Shama Deshpande, Saumya Tandon
2007-2009
Sangam
Drama
Jennifer Winget, Chaitanya Choudhury, Shaleen Bhanot, Sangita Patel, Shishir Sharma
2007-2009
Santaan
Drama
Mitika Sharma, Sunayana Fozdar, Diwakar Pundir, Sudeep Sahir
2007-2010
Sapna Babul Ka…Bidaai
Drama
Parul Chauhan, Sara Khan, Kinshuk Mahajan, Angad Hasija, Apurva Agnihotri
Disney Plus Hotstar
2007-2008
Jai Maa Durga
Mythological
Piyali Munsi, Vikramjeet Virk, Manish Uppal, Javed Pathan
YouTube, Disney Plus Hotstar
2008-2012
Hamari Devrani
Drama
Maadhav Deochake, Paresh Bhatt, Krishna Gokani, Uravshi Upadhayay, Vidhi Sindhwad
2008-2009
Jahan Pe Basera Ho
Drama
Deepak Deulkar, Dripad Davawala, Pratap Oza, Sachin Parikh, Payal Singh
2008-2010
Kis Desh Mein Hai Meraa Dil
Soap opera
Additi Gupta, Harshad Chopda, Sushant Singh Rajput, Meher Vij
Disney Plus Hotstar
2008-2010
Raja Ki Aayegi Baraat
Drama, Romance, Supernatural thriller
Anjali Abrol, Kapil Nirmal, Mrinal Kulkarni, Dimple Jhangiani, Pankaj Dheer
2008-2010
Tujh Sang Preet Lagai Sajna
Drama
Puja Banerjee, Sandeep Baswana, Leena Jumani, Yasir Shah, Aditi Bhatia
2009
Burey Bhi Hum Bhale Bhi Hum
Comedy Drama
Firoz Irani, Arvind Vaidya, Ashiesh Roy, Monoj Goel, Harshada Khanvilkar
2009
Chehra
Drama
Hritu Dudani, Mohit Raina, Geetu Bawa, Rajan Bhise, Narendra Jha
2009-2012
Mann Kee Awaaz Pratigya
Social, Drama, Romance
Pooja Gor, Arhaan Behll, Parvati Sehgal, Shahab Khan, Monica Singh
Disney Plus Hotstar
2009-2010
Mitwa Phool Kamal Ke
Drama
Tanvi Bhatia, Mohit Malhotra, Shahbaz Khan, Swati Chitnis, Manish Wadhwa
2009-2011
Sabki Laadli Bebo
Drama
Shivshakti Sachdev, Anuj Sachdeva, Kanwaljit Singh, Sayantani Ghosh, Shailley Kaushik
2009-2010
Sajan Ghar Jaana Hai
Indian soap opera
Kunal Bhatia, Zalak Desai, Kunwar Aziz, Gunn Kansara, Kunwar Aziz
2009
Shaurya Aur Suhani
Drama
Saurabh Pandey, Sriti Jha, Manish Wadhwa, Vineet Kumar Chaudhary, Mohammad Nazim
Disney Plus Hotstar
2009-2010
Shraddha
Drama
Neha Janpandit, Barun Sobti, Sudhir Dalvi, Sukanya Kulkarni, Kashif Khan
2009-2011
Tere Mere Sapne
Drama, Romance,Supernatural thriller
Radha, Sarju, Kamya Oberoi, Manager Sharhaan Singh, Maaji
YouTube
2010-2011
Behenein
Drama
Aalesha Sayed, Shiju Kataria, Adaa Khan, Ojaswi Oberoi, Sudeep Sahir
2010-2013
Chand Chupa Badal Mein
Drama
Neha Sargam, Kinshuk Mahajan, Abhishek Tiwari, Rishma Rochlani, Nitika Anand
2010-2011
Kaali – Ek Agnipariksha
Crime thriller
Ashutosh Rana, Swati Kapoor, Nia Sharma, Varun Jain, Arif Zakaria
2010-2011
Maryada: Lekin Kab Tak?
Drama
Raqesh Bapat, Ridhi Dogra, Indrani Halder Ghosh, Kamya Panjabi, Vishwajeet Pradhan
2010-2017
Saath Nibhaana Saathiya
Soap opera
Giaa Manek, Devoleena Bhattacharjee, Rucha Hasabnis, Rupal Patel, Mohammad Nazim
2010-2012
Sapnon Se Bhare Naina
Drama
Parvati Vaze, Gaurav S Bajaj, Rachana Parulkar, Payal Rajput, Karan Sharma
2010-2012
Sasural Genda Phool
Drama
Ragini Khanna, Jay Soni, Supriya Pilgaonkar, Mahesh Thakur, Vaishnavi Mahant
2010-2011
Tere Liye
Drama
Harshad Chopda, Anupriya Kapoor, Shakti Arora , Neha Saxena, Rajat Tokas
YouTube, Disney Plus Hotstar
2010-2011
Zindagi Ka Har Rang… Gulaal
Drama
Manas Shah, Pankaj Tripathi, Manoj Joshi, Sushant Singh, Helly Shah
2011
Pyaar Mein Twist
Comedy Series
Manish Paul, Roshni Chopra, Vishal Kotian, Bharti Singh, Rakesh Bedi
2011-2016
Diya Aur Baati Hum
Drama
Deepika Singh, Anas Rashid, Neelu Vaghela, Ashok Lokhande, Rakesh Kukreti
Disney Plus Hotstar
2011-2013
Ek Hazaaron Mein Meri Behna Hai
Family, Drama, Romance
Krystle D'Souza, Simran Natekar, Nia Sharma, Reem Shaikh, Karan Tacker
Disney Plus Hotstar
2011-2012
Iss Pyaar Ko Kya Naam Doon?

Drama, Romantic comedy
Barun Sobti, Sanaya Irani, Dalljiet Kaur, Abhaas Mehta, Deepali Pansare
2011-2012
Kaali – Ek Punar Avatar
Soap opera
Arjun Bijlani, Sonali Nikam, Anshul Trivedi, Aneri Vajani, Deepak Wadhwa
2011
Love U Zindagi
Drama
Sidharth Shukla, Pavitra Punia, Aleeza Khan, Navina Bole
Disney Plus Hotstar
2011
Maayke Se Bandhi Dor
Drama
Shweta Munshi, Rohit Khurana, Bharat Chawda, Krutika Gaikwad, Ankur Moondhra
2011-2012
Navya..Naye Dhadkan Naye Sawaal
Drama
Soumya Seth, Shaheer Sheikh, Gireesh Sahedev, Kshitee Jog, Shruti Sharma
2011-2012
Ruk Jaana Nahin
Drama
Saanchi Mathur Singh, Indu Singh, Veena Tarachand Mathur, Tarachand Mathur, Sadanand Tiwari
2012
Gumrah: End of Innocence
Acquired series
Ashish Dixit, Karan Kundra, Abhay Deol, Karanvir Bohra, Ritwika Gupta
2012
Teri Meri Love Stories
Anthology Series
Jennifer Winget, Rahul Sharma, Pooja Sharma, Karan Singh Grover, Gautam Rode
YouTube
2013
Ek Doosre Se Karte Hain Pyaar Hum
Comedy Drama
Pariva Pranati, Vishal Gandhi, Pooja Banerjee, Jimit Trivedi, Aditya Kapadia
2012-2014
Arjun
Action, Crime Fiction, Drama
Shaleen Malhotra, Behzaad Khan, Sana Makbul, Siddharth Sen, Ketan Karande
Disney Plus Hotstar
2012-2015
Ek Veer Ki Ardaas…Veera
Drama
Digangana Suryavanshi, Harshita Ojha, Shivin Narang, Vishal Vashishtha, Farnaz Shetty
2012-2013
Mujhse Kuchh Kehti…Yeh Khamoshiyaan
Drama
Mrunal Thakur, Mohit Sehgal, Manit Joura, Shruti Ulfat, Mrinal Kulkarni
2012-2014
Pyaar Ka Dard Hai Meetha Meetha Pyaara Pyaara
Soap opera
Disha Parmar, Nakuul Mehta, Kanwarjit Paintal, Mukesh Khanna, Rita Bhaduri
2012
Sajda Tere Pyaar Mein
Drama
Aaliya Hasan/Julia Gomes Pratap/Mehreen, Ranveer Chauhan/Joe
2013-2014
Ek Ghar Banaunga
Indian soap opera, Drama
Ishita Dutta, Rahul Sharma, Narendra Jha / Hemant Choudhary, Neelima Parandekar
YouTube
2013-2014
Ek Nanad Ki Khushiyon Ki Chaabi…Meri Bhabhi
Soap opera
Esha Kansara, Kanchi Kaul, Ravish Desai, Vipul Gupta, Kanwaljit Singh
YouTube
2013-2015
Iss Pyaar Ko Kya Naam Doon? Ek Baar Phir
Romance, Drama
Avinash Sachdev, Shrenu Parikh, Manish Wadhwa, Geetanjali Tikekar, Samir Sharma
Disney Plus Hotstar
2013-2014
Saraswatichandra
Soap opera
Jennifer Winget, Gautam Rode, Varun Kapoor, Monica Bedi
YouTube, Disney Plus Hotstar
2013-2019
Yeh Hai Mohabbatein
Drama, Romance
Divyanka Tripathi Dahiya, Karan Patel, Aditi Bhatia, Ruhanika Dhawan, Abhishek Verma
Disney Plus Hotstar
2013-2014
Mahabharat
Mythological series
Saurabh Raaj Jain, Shaheer Sheikh, Pooja Sharma, Aham Sharma, Arpit Ranka
YouTube, Disney Plus Hotstar
2014
Ishq Kills
Anthology series
Flora Saini, Rajveer Singh, Priyal Gor, Sachin Khurana, Shruti Bapna
Disney Plus Hotstar
2014-2015
Nisha Aur Uske Cousins
Children/teen series
Aneri Vajani, Mishkat Varma, V M Badola, Veena Mehta, Vivek Mushran
YouTube, Disney Plus Hotstar
2014-2015
Tu Mera Hero
Drama
Priyanshu Jora, Sonia Balani, Akhilendra Mishra, Amita Khopkar, Madhuri Sanjeev
Disney Plus Hotstar
2014-2015
Airlines
Drama
Tulip Joshi, VJ Yudhishtir, Ankit Kakkar, Himmanshoo A. Malhotra, Donal Bisht
Disney Plus Hotstar
2014
Ek Hasina Thi
Suspense thriller
Sanjeeda Sheikh, Aditi Sajwan, Vatsal Sheth, Simone Singh, Ayub Khan
Disney Plus Hotstar
2014-2015
Everest
Indian telenovela
Shamata Anchan, Aditya Raj Kapoor, Armaan Khera, Diganta Hazarika, Kishori Shahane
Disney Plus Hotstar
2014-2015
P.I Private Investigator
Crime fiction
Mrinal Dutt, Sandhya Mridul, Vrajesh Hirjee, Roshan Preet, Priya Chauhan
Disney Plus Hotstar
2014-2017
Suhani Si Ek Ladki
Soap opera
Sahil Mehta, Rajshri Rani, Neha Yadav, Shashi Sharma, Rajoshi Vidyarthi
Disney Plus Hotstar
2015
On Air with AIB

Web television
Satire
Disney Plus Hotstar
2015-2016
Sumit Sambhal Lega
Sitcom
Namit Das, Manasi Parekh, Saniya Touqeer, Avisha Sharma, Bharati Achrekar
2015
Dosti… Yaariyan… Manmarziyan
Coming Of Age
Drama
Monica Sehgal, Kashmira Irani, Aham Sharma, Shravan Reddy, Rohan Tewary
2015
Gulmohar Grand
Drama
Aakanksha Singh, Aashim Gulati, Gaurav Chopra, Madan Joshi, Harleen Sethi
Disney Plus Hotstar
2015-2016
Kuch Toh Hai Tere Mere Darmiyaan
Serial drama
Shritama Mukherjee / Asha Negi, Gautam Gupta, Vibhav Roy / Aly Goni
Disney Plus Hotstar
2015-2017
Mere Angne Mein
Soap opera
Krutika Desai Khan, Karam Rajpal, Ekta Kaul, Suchita Trivedi, Ananya Khare
Disney Plus Hotstar
2015-2016
Mohi…Ek Khwab Ke Khilne Ki Kahani
Drama
Vinita Joshi, Karan Sharma, Rishma Roshlani, Shishir Sharma, Gauri Tonk
2015
Phir Bhi Na Maane…Badtameez Dil
Drama
Pearl V Puri, Asmita Sood, Suyyash Rai, Payal Nair, Ayub Khan
YouTube, Disney Plus Hotstar
2015
Tere Sheher Mein
Drama
Hiba Nawab, Rafi Malik, Dhruv Bhandari, Gautami Gadgill Kapoor, Sachin Tyagi
Disney Plus Hotstar
2015-2016
Siya Ke Ram
Mythology
Madirakshi Mundle, Ananya Agarwal, Ashish Sharma, Yash Mistry, Karthik Jayaram
YouTube, Disney Plus Hotstar
2016-2017
Chandra Nandini
Historical Fiction
Drama
Rajat Tokas, Shweta Basu Prasad, Saanvi Talwar, Tanu Khan, Siddharth Nigam
YouTube, Disney Plus Hotstar
2016
Dahleez
Drama, Romance
Harshad Arora, Tridha Choudhury, Meghna Malik, Amit Behl, Mohit Chauhan
Disney Plus Hotstar
2016
Humko Tumse Ho Gaya Hai Pyaar Kya Kare
Drama
Ishani Sharma, Varun Toorkey, Avinash Sahijwani, Deepti Sharma, Rahul Ram Manchanda
2016-2019
Ishqbaaaz
Drama
Nakuul Mehta, Surbhi Chandna, Kunal Jaisingh, Shrenu Parikh, Leenesh Mattoo
Disney Plus Hotstar
2016-2017
Jaana Na Dil Se Door
Drama
Vikram Singh Chauhan, Shivani Surve, Shashank Vyas, Vineet Kumar, Shilpa Tulaskar
Disney Plus Hotstar
2016-2018
Naamkarann
Drama
Aditi Rathore, Arsheen Naamdaar, Zain Imam, Barkha Sengupta, Viraf Patel
Disney Plus Hotstar
2016-2017
Pardes Mein Hai Mera Dil
Soap opera
Drashti Dhami, Arjun Bijlani, Vineet Raina, Surekha Sikri, Alka Amin
2016-2017
P.O.W. – Bandi Yuddh Ke
Thriller
Amrita Puri, Sandhya Mridul, Purab Kohli, Satyadeep Mishra, Manish Choudhary
2016
Silsila Pyaar Ka
Drama
Abhay Vakil, Chhavi Pandey, Shilpa Shirodkar, Ahmad Harhash
YouTube, Disney Plus Hotstar
2016
Tamanna
Indian soap opera
Anuja Sathe, Deepak Wadhwa, Vishal Gandhi, Kiran Karmarkar, Ketki Dave
Disney Plus Hotstar
2017
Aarambh: Kahaani Devsena Ki
Drama
Karthika Nair, Rajneesh Duggal
2017
Dil Boley Oberoi
Romance, Drama
Shrenu Parikh, Kunal Jaisingh, Leenesh Mattoo, Mansi Srivastava, Nehalaxmi Iyer
YouTube, Disney Plus Hotstar
2017-2018
Dil Sambhal Jaa Zara
Drama, Romance
Sanjay Kapoor, Smriti Kalra, Aashim Gulati, Niki Aneja Walia, Chestha Bhagat
YouTube, Disney Plus Hotstar
2017
Ek Aastha Aisi Bhee
Indian soap opera
Tina Ann Philip, Kanwar Dhillon, Vivek Mushran, Manasi Salvi, Hemant Choudhary
Disney Plus Hotstar
2017-2018
Ikyawann
Drama
Namish Taneja, Prachi Tehlan, Rajshri Rani, Kavita Vaid, Priyank Tatariya
Disney Plus Hotstar
2017
Iss Pyaar Ko Kya Naam Doon 3
Mystery, Drama
Barun Sobti, Shivani Tomar, Ritu Shivpuri , Tarun Anand
Disney Plus Hotstar
2017
Koi Laut Ke Aaya Hai
Drama, Thriller, Revenge

Surbhi Jyoti, Shoaib Ibrahim, Shaleen Malhotra, Sharad Kelkar, Rajsingh Verma
Disney Plus Hotstar
2017
Kya Qusoor Hai Amala Ka?
Indian soap opera
Pankhuri Awasthy Rode, Rajveer Singh, Anant V Joshi, Vaibhavi Upadhyaya, Siddharth Sen
Disney Plus Hotstar
2017
Love Ka Hai Intezaar
Drama
Preetika Rao, Mohit Sehgal, Keith Sequeira, Sanjeeda Sheikh
Disney Plus Hotstar
2017-2018
Meri Durga
Soap Opera
Ananya Agarwal, Vicky Ahuja,Srishti Jain, Paras Kalnawat
Disney Plus Hotstar
2017-2018
Rishton Ka Chakravyuh
Soap opera, Drama
Sangita Ghosh, Narayani Shastri , Mahima Makwana, Ankit Siwach, Anju Mahendru
Disney Plus Hotstar
2017-2018
Tu Sooraj Main Saanjh, Piyaji
Drama, Romance
Rhea Sharma, Avinesh Rekhi, Neelu Vaghela, Ashok Lokhande, Mayank Arora
Disney Plus Hotstar
2018
Teen Paheliyan
Antology Series
Tina Desai, Amrita Bagchi, Paoli Dam, Shraddha Das
YouTube
2018
Har Shaakh Pe Ullu Baithaa Hai
Sitcom
Anthology Series
Disney Plus Hotstar
2018
Khichdi
Sitcom
Supriya Pathak, Anang Desai, Rajeev Mehta, Vandana Pathak, JD Majethia
Disney Plus Hotstar
2018-2019
Krishna Chali London
Drama
Megha Chakraborty, Neeraj Sood, Sushmita Mukherjee , Pawan Mahendru,Yamini Singh
Disney Plus Hotstar
2018-2020
Kullfi Kumarr Bajewala
Drama

Aakriti Sharma, Mohit Malik, Anjali Dinesh Anand, Myra Singh, Vishal Aditya Singh
Disney Plus Hotstar
2018-2019
Mariam Khan – Reporting Live
Drama
Mahima Makwana, Param Singh, Avinash Mishra/Himmanshoo A. Malhotra, Sheena Bajaj
YouTube, Disney Plus Hotstar
2018-2020
Nazar
Supernatural, Thriller, Romance

Monalisa, Harsh Rajput, Niyati Fatnani, Ritu Chaudhary, Sumit Kaul
Disney Plus Hotstar
2018-2019
Qayamat Ki Raat
Supernatural, Horror
Karishma Tanna, Vivek Dahiya, Sumit Bhardwaj, Madhurima Tuli, Nirbhay Wadhwa
YouTube, Disney Plus Hotstar
2018-2019
Karn Sangini
Mythological, Drama
Tejasswi Prakash, Aashim Gulati, Sayantani Ghosh, Narayani Shastri , Jyoti Gauba
YouTube, Disney Plus Hotstar
2019-2020
Super V
Action, Comedy, Superhero
Upen Chauhan, Samay Raj Thakkar , Anil Dutt , Rishabh Arora, Mallika Singh
YouTube
2019
Dil Toh Happy Hai Ji
Drama
Jasmin Bhasin/Donal Bisht, Ansh Bagri, Aru K Verma, Rohit Purohit, Purvi Mundada
Disney Plus Hotstar
2019-2020
Divya Drishti
Supernatural, Thriller, Drama
Sana Sayyad, Nyra Banerjee, Sangita Ghosh, Adhvik Mahajan, Mishkat Varma
YouTube, Disney Plus Hotstar
2019
Ek Bhram Sarvagun Sampanna
Drama, Thriller
Shrenu Parikh, Zain Imam , Purva Parag, Ayub Khan , Tanvi Dogra
2019-2020
Kahaan Hum Kahaan Tum
Romantic comedy
Drama
Karan Grover, Dipika Kakar Ibrahim, Mohini Kewalramani, Ashish Nayyar , Shalini Kapoor Sagar
Disney Plus Hotstar
2019-2020
Sanjivani
Medical drama
Surbhi Chandna, Namit Khanna, Mohnish Bahl, Gurdeep Kohli, Gaurav Chopra
Disney Plus Hotstar
2019-2020
Yehh Jadu Hai Jinn Ka!
Drama, Fantasy
Vikram Singh Chauhan,Aditi Sharma, Naufal Azmir Khan , Shehzada Dhami , Shehzada Dhami
YouTube, Disney Plus Hotstar
2019-2020
Yeh Rishtey Hain Pyaar Ke
Drama, Romance
Rhea Sharma, Shaheer Sheikh, Ritvik Arora / Avinash Mishra, Kaveri Priyam
YouTube, Disney Plus Hotstar
2019
Namah Lakshmi Narayan
Mythological
Savi Thakur, Yukti Kapoor , Vikkas Manaktala/Tarun Khanna, Chhavi Pandey/Rachana Parulkar
Disney Plus Hotstar
2020
Devon Ke Dev…Mahadev
Acquired series
Mohit Raina, Mouni Roy, Sonarika Bhadoria /Puja Banerjee / Suhasi Goradia Dhami
YouTube, Disney Plus Hotstar
2020
RadhaKrishn
Mythology
Sumedh Mudgalkar, Mallika Singh, Basant Bhatt, Himanshu Soni, Shivya Pathania
Disney Plus Hotstar
2020
Shri Ganesh
Mythology
Jagesh Mukati, Gayatri Jayaraman, Sunil Sharma, Priyanka Puthran, Sandeep Mohan
2020
Maharaj Ki Jai Ho!
Science fiction
Satyajeet Dubey, Ashwin Mushran, Riya Sharma, Nitesh Pandey, Aakash Dabhade
Disney Plus Hotstar
2020
Dadi Amma… Dadi Amma Maan Jaao!
Drama
Seema Biswas, Mohan Joshi , Sheen Dass , Anagha Bhosale, Rudra Kaushish
Disney Plus Hotstar
2020
Dil Jaise Dhadke… Dhadakne Do
Drama

Shruti Seth, Rahil Azam, Jared Savaille, Hirva Trivedi, Archana Singh
Disney Plus Hotstar
2020-2021
Lockdown Ki Love Story
Romance,Comedy
Sana Sayyad,Mohit Malik,Jayati Bhatia , Anjita Poonia, Ananya Agarwal
Disney Plus Hotstar
2020-2022
Saath Nibhaana Saathiya 2
Soap opera
Sneha Jain, Harsh Nagar, Gautam Singh Vig, Akanksha Juneja, Nadia Himani
2020-2021
Shaadi Mubarak
Drama
Rajshree Thakur/Rati Pandey, Manav Gohil , Rajeshwari Sachdev, Shefali Singh Soni
Disney Plus Hotstar
2020-2021
Shaurya Aur Anokhi Ki Kahani

Drama, Romance
Debattama Saha, Karanvir Sharma, Alka Kaushal, Sooraj Thapar, Khalid Siddiqui
Disney Plus Hotstar
2021-2022
Bingo Comedy Adda
Chat show
Naved Khan, Varun Sharma
Disney Plus Hotstar
2021
Aapki Nazron Ne Samjha
Romance drama
Vijayendra Kumeria, Kritika Singh/Aditi Rathore, Narayani Shastri, Saurabh Agarwal
Disney Plus Hotstar
2021-2022
Chikoo – Yeh Ishq Nachaye
Youth, Romance
Vaishnavi Prajapati, Simran Tomar, Paridhi Sharma, Himanshu Malhotra, Monika Khanna
Disney Plus Hotstar
2021
Mehndi Hai Rachne Waali
Romance, Drama
Shivangi Khedkar, Sai Ketan Rao, Ashok Phal Dessai, Milind Phatak, Asmita Ajgaonkar
Disney Plus Hotstar
2021
Rudrakaal
Crime, Thriller, Drama
Bhanu Uday, Dipannita Sharma, Rudraksha Jaiswal,Rajit Kapur
Disney Plus Hotstar
2021-2022
Vidrohi
2021-2022
Zindagi Mere Ghar Aana
Slice Of Life, Comedy
Hasan Zaidi , Esha Kansara, Ankit Narang, Ishaan Dhawan, Cheshta Mehta
Disney Plus Hotstar
2022
Anandibaa Aur Emily

Comedy Drama
Jazzy Ballerini, Kanchan Gupta, Mishkat Varma, Dhaval Barbhaya, Shruti Rawat
Disney Plus Hotstar
2022
Kabhi Kabhie Ittefaq Sey
Drama
Yesha Rughani, Manan Joshi, Kanwarjit Paintal , Yamini Singh, Rajeev Kumar
Disney Plus Hotstar
2022
Yeh Jhuki Jhuki Si Nazar
Soap Opera
Swati Rajput, Ankit Siwach, Manasi Joshi Roy, Jayroop Jeevan, Neelu Kohli
Disney Plus Hotstar
2022
Kyunki Saas Bhi Kabhi
Soap Opera
Smriti Irani , Amar Upadhyay / Inder Kumar / Ronit Roy, Dinesh Thakur / Sudhir Dalvi
Disney Plus Hotstar
2022-2023
Banni Chow Home Delivery
Psychological, Mystery, Drama
Ulka Gupta, Pravisht Mishra, Riya Sharma, Arjit Taneja, Rajendra Chawla
Disney Plus Hotstar
International Series
Year
Show Name
Genre
Main Cast
Availability
1992-1996
The Wonder Years
1992-1993
Remington Steele

Action-adventure, Crime thriller
Stephanie Zimbalist, Pierce Brosnan, Doris Roberts
1992-1994
Santa Barbara
Soap opera
YouTube,
1993
Rage of Angels
Soap opera
YouTube
1993-1994
The Crystal Maze
Game show
Sandra Caron, Dennis Price, Maureen Lipman, Adam Buxton, Jessica Hynes
YouTube
1997
Baywatch
Action-adventure
Drama
David Hasselhoff, Pamela Anderson, Alexandra Paul, Gregory Alan Williams, Parker Stevenson
1997
The Bold and the Beautiful
Soap opera
YouTube
1997-1998
Murder, She Wrote
Crime drama
Angela Lansbury, William Windom, Tom Bosley, Ron Masak
YouTube
1997-1998
Mind Your Language
Sitcom
Barry Evans, Dino Shafeek, Zara Nutley, Albert Moses, George Camiller
YouTube
1997-2004
Small Wonder
Comedy science fiction sitcom
Tiffany Brissette, Dick Christie, Marla Pennington, Jerry Supiran, Emily Schulman
YouTube
1998
The Good Life
Sitcom
Richard Briers, Felicity Kendal, Penelope Keith, Paul Eddington
YouTube
Animated Series
| Year | Show Name | Genre | Main Cast | Availability |
| --- | --- | --- | --- | --- |
| 2001 | Bobby's World | Comedy, Fantasy | Howie Mandel, Gail Matthius, Susan Tolsky, Tino Insana, Edie McClurg | YouTube |
| 2001-2003 | Dennis the Menace | | Brennan Thicke, Phil Hartman, Marilyn Lightstone, Jeannie Elias, Donna Christie | YouTube |
| 2001-2003 | Dungeons & Dragons | Action, Adventure, Fantasy | Willie Aames, Don Most, Katie Leigh, Adam Rich, Tonia Gayle Smith | |
| 2001-2004 | Eek! the Cat | Slapstick, Surreal comedy | Bill Kopp, Charlie Adler, Curtis Armstrong, Jaid Barrymore, Dan Castellaneta | YouTube |
| 2001-2004 | Fantastic Four | Superhero, Action, Adventure | Beau Weaver, Lori Alan, Quinton Flynn, Chuck McCann, Stan Lee | |
| 2001-2004 | Iron Man | Superhero, Action, Adventure | Robert Hays, James Avery, John Reilly | |
| 2001-2004 | RoboCop: The Animated Series | Action, Adventure, Cyberpunk, Superhero | | YouTube |
| 2001 | Samurai Pizza Cats | | | |
| 2001-2004 | Silver Surfer | | Paul Essiembre, James Blendick, Colin Fox, Gary Krawford, Camilla Scott | YouTube |
| 2001-2002 | The Tick | Superhero, comedy, satire | Micky Dolenz, Rob Paulsen, Cam Clarke, Kay Lenz, Jess Harnell | YouTube |
| 2005-2006 | The Buzz on Maggie | Comedy, Slapstick | Jessica DiCicco, Jeff Bennett, Cree Summer, Brian Doyle-Murray, Susan Tolsky | YouTube |
| 2005-2006 | Kim Possible | Comedy, Action, Adventure | Christy Carlson Romano, Will Friedle, Nancy Cartwright, Tahj Mowry, John DiMaggio | YouTube |
| 2005-2006 | TaleSpin | Action/Adventure, Comedy Drama, Dieselpunk | Ed Gilbert, R. J. Williams, Sally Struthers, Janna Michaels, Pat Fraley | YouTube |
| 2005-2006 | Timon & Pumbaa | Adventure, Comedy, Slapstick | Ernie Sabella, Nathan Lane, Quinton Flynn, Kevin Schon, Cam Clarke | YouTube, Disney Plus Hotstar |
| 2008 | Disney's House of Mouse | Comedy, Crossover | Wayne Allwine, Tony Anselmo, Russi Taylor, Bill Farmer, Jason Marsden | YouTube |
| 2008-2009 | Fillmore! | | Orlando Brown, Tara Strong, Horatio Sanz, Lauren Tom, Danny Tamberelli | YouTube |
| 2008-2009 | Lilo & Stitch | Science fiction, Fantasy, Action-adventure | Chris Sanders, Daveigh Chase, David Ogden Stiers, Kevin McDonald, Tia Carrere | YouTube |
| 2008 | Little Einsteins | Children's television series | Jesse Schwartz, Natalia Wojcik, Aiden Pompey, Erica Huang, Harrison Chad | YouTube |
| 2008 | Mickey Mouse Clubhouse | Comedy, Adventure, Fantasy | Wayne Allwine, Bret Iwan, Tony Anselmo, Russi Taylor, Tress MacNeille | YouTube, Disney Plus Hotstar |
| 2008 | The New Adventures of Winnie the Pooh | Children's television series | Jim Cummings, John Fiedler, Peter Cullen, Paul Winchell, Patricia Parris | YouTube, Disney Plus Hotstar |
| 2009 | Bonkers | Animation, Crime-Comedy, Mystery | Jim Cummings, Earl Boen, Charlie Adler, Ron Perlman, Frank Welker | YouTube, Disney Plus Hotstar |
| 2009 | The Book of Pooh | Adventure, Children, Puppetry | Jim Cummings, John Fiedler, Ken Sansom, Peter Cullen, Andre Stojka | YouTube, Disney Plus Hotstar |
Reality/Non-Scripted Shows
Year
Show Name
Genre
Winner
Runner Up
1995
Nikki Tonight
1996
The Road Show
1996-2005
V People
1996
India Business Week
1996-1999
Amul India Show
1997
Bakeman's Ooh La La
1997-1998
Rin Ek Do Teen
1997–2002
Rendezvous With Simi Garewal
1998
Without Malice
1998
So Let's Yahoo
1998
Kudratnama
1998
The Kiran Joneja Show
1999
Shotgun Show
2000
Star Sunday Lunch
2000-2002
Mirch Masala
2000
Meri Saheli
2000-2007
Kaun Banega Crorepati
2000
Fast Track
2001-2004
Musafir Hoon Yaaron
2001-2002
Kya Masti Kya Dhuum
2001-2005
Khullja Sim Sim
Game show
2002-2003
Yatra
Travel Guide
2002
Kismey Kitnaa Hai Dum
2002
Kamzor Kadi Kaun
2002
Gurukul
2002
Bol Baby Bol
2003-2004
Sunday Tango
2003-2004
Kuch Kar Dikhana Hai
2003-2004
Jadoo
2003
Hai Na Bolo Bolo
2005
Mum Tum Aur Hum
2005-2006
Kaboom
2006
Mera Star Superstar
2007-2010
Star Voice of India
Singing
Ishmeet Singh
2007-2019
Nach Baliye
Aamir Ali, Sanjeeda Sheikh (2007- 2008)
Shaleen Bhanot, Dalljiet Kaur (2008-2009)
Jay Bhanushali, Mahhi Vij (2012-2013)
Rithvik Dhanjani, Asha Negi (2013-2014)
Himmanshoo A. Malhotra, Amruta Khanvilkar(2015)
Vivek Dahiya, Divyanka Tripathi (2017)
Prince Narula, Yuvika Chaudhary (2019)
Abhishek Avasthi, Rakhi Sawant (2007-2008)
Naman Shaw, Megha Gupta (2008-2009)
Ravi Dubey, Sargun Mehta (2012-2013)
Gurmeet Chaudhary, Debina Bonnerjee (2013-2014)
Nandish Sandhu, Rashami Desai (2015)
Sanam Johar, Abigail Pande (2017)
Rohit Reddy, Anita Hassanandani (2019)
2007
Jodee Kamaal Ki
2007
Antakshari – The Great Challenge
2008
Kya Aap Paanchvi Pass Se Tez Hain?
2008
Kaho Na Yaar Hai
2008-2010
Chhote Ustaad
2008
Chala Change Ka Chakkar
2008-2011
Aap Ki Kachehri
2009
Voice of India – Mummy Ke Superstars
2009
Tere Mere Beach Mein
Talk Show
2009
Star Vivaah
Reality Show
2009
Sacch Ka Saamna
2009
Perfect Bride
Reality show
2009-2010
Music Ka Maha Muqqabla
Game show
Sharib Sabri, Rahul Vaidya, Neeti Mohan, Sanjeev Kumar Jha
2009
Mummy Ke Superstars
2009-2010
Mind Games – Baazi Dimag Ki
2009
Khelo Jeeto Jiyo
2009
Arre Deewano Mujhe Pehchano
2010
Zara Nachke Dikha
Dancing Show
Meethi Churi (Girls Team) (2008)
Massakalli (Girls Team) (2010)
Tez Talwar (Boys Team) (2008)
Mast Kalandar (Boys Team) (2010)
2010-2020
MasterChef India
Cookery
Pankaj Bhadouria (2010)
Shipra Khanna (2011-2012)
Ripudaman Handa (2013)
Nikita Gandhi (2015)
Kirti Bhoutika (2016)
Abinas Nayak (2019-2020)
Jayanandan Bhaskar (2010)
Salma Shazia Fathima (2011-2012)
Navneet Rastogi (2013)
Neha Deepak Shah (2015)
Ashima Arora (2016)
Oindrila Bala (2019-2020)
2010
Mahayatra – Rishton Ka Anokha Safar
2011
Chef Pankaj Ka Zayka
2011
Comedy Ka Maha Muqabala
2011
Jeele Ye Pal
2011
Just Dance
Reality, Dance
Ankan Sen
Surjeet Bansal
2011
Wife Bina Life
2012
Survivor India
2012-2014
Satyamev Jayate
2013
Junior Masterchef Swaad Ke Ustaad
Cooking
Sarthak Bhardwaj
Sakshi Tripathi (1st Runner-Up), Emanuel Chauhan (2nd Runner-Up)
2013
Nach Baliye Shriman v/s Shrimati
Dance, Reality
2014
Mad in India
2014
India's Raw Star
Reality television
Rituraj Mohanty
2015-2016
Aaj Ki Raat Hai Zindagi
Talk show
2017
The Great Indian Laughter Challenge 5
Reality
Abhishek Walia
Nitesh Shetty
(2017, 2019)
TED Talks India Nayi Soch
Talk show
2017
Sabse Smart Kaun
Game show
2017
Lip Sing Battle
Reality competition
2017
Golden Divas Baatein With Badshah
Chat Show
2017
Dil Hai Hindustani
Talent show
Haitham Mohammed Rafi
2017
Dance Champions
Dance
Bir Radha Sherpa
Piyush Bhagat (1st Runner-up)
MJ 5 (2nd Runner-up)
Sushant Khatri (3rd Runner-up)
Faisal & Vaishnavi (4th Runner-up)
2018
India's Next Superstars
Reality
Aman Gandotra
Aashish Mehrotra (1st Runner-Up)
Harshvardhan Deo (2nd Runner-Up)
2020
5 Star Kitchen ITC Chef's Special
2020-2021
Taare Zameen Par
Reality
Biren Dang
Laisel Rai ( 1st Runner-Up)
Vansh Wadhwa ( 2nd Runner-Up)
2022
Smart Jodi
2022
Ravivaar With Star Parivaar
Imlie (1st Runner-Up), Anupamaa (2nd Runner-Up)
Upcoming Serial
Yet to update
Conclusion…
Star Plus is one of India's leading Hindi language general entertainments pay television channels. Here we have prepared the complete list of Star Plus's current serials, former programs, and upcoming shows, along with the serial timetable. Disney Plus Hotstar is telecasting shows due to the high demand for the shows even after months of wrapping up the show.