Online web streaming has become one of the modern-day pastimes. With Indian families tuning in to web series more than TV series, web content has become a series market. With minimal monthly and yearly subscriptions being offered by different OTT platforms, there is a plethora to choose from especially when it comes to films or web series. One such platform is Ullu. Ullu web series are not only coming up as some of the best but the video streaming platform is also becoming a favourite.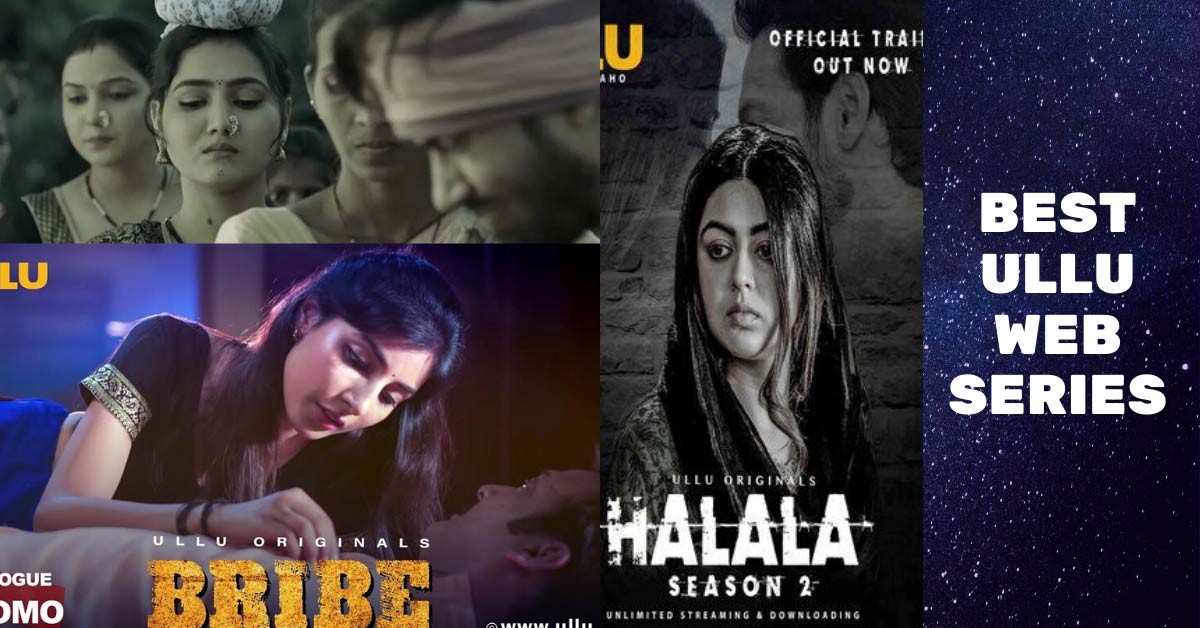 With a variety of different content like Romance, drama, action, horror, thriller, suspense, and comedy, Ullu original web series, is focused more on Regional audiences. But what attracts viewers to the Ullu platform is that its web series revolves more around the taboo of sexual wants and desires.
While the platform does have its side of erotic series, some of them are based on true incidents that question viewers whether keeping the topic of sex a taboo is a good idea or not.
While other platforms are more family-friendly, watching web series on this platform may require the use of headphones.
So, let's check out some Ullu web series list for you to start on.
Best Ullu Web Series To Start Watching Right Now
This Ullu web series list is in no way exhaustive. While some are based on ratings, some are review based to give first-time users a look into the different genres available. here is the top Ullu Web Series List
Riti Riwaj – Water Wives
The Bull of Dalal Street
#MeToo
Halala
Khul Ja Sim Sim
Panchali
Bribe
Bambai 4X4
The Cottage
Tadap
Kirdaar
26 January

3G-Gali Galoch Girls

Mona Home Delivery

Size Matters

Anniversary Surprise

Kavita Bhabhi

Black Coffee
Let's talk one by one
Riti Riwaj – Water Wives
Actors: Vipul Gupta, Payal, Yugant Pandey, Ankita Bhattacharya
Based on a real-life concept 'Riti Riwaj' is considered a very controversial Ullu web series. In this latest web series, parts of India are suffering from water shortages where women are made to walk for miles just to bring back jugs of water.
The plot twists when men of these areas marry multiple women. Not only to satisfy their own desires but to help carry more water home.
While there is a more controversial web series, this one actually pushes this unusual tradition into the faces of viewers showing that people can adapt to change when required.
The Bull of Dalal Street: 
Director: Deepak Pandey
Actors: Mohammed Iqbal Khan, Ashmit Patel
The desi version of 'Wolf of Wall Street' with a twist. The Bull of Dulal Street is loosely based on the scam that happened in Mumbai Dalal street on the Stock Exchange.
The story of two brothers who come to Mumbai with the hopes of making it big. From living on the streets to becoming the biggest stockbrokers in Mumbai, this series is a watch not only for its storyline but also for the heartthrobs playing the two brothers – Mohammed Iqbal Khan and Ashmit Patel.
Read: Top 10 Best Indian Web Series To Watch In 2020
#MeToo: 
Director: Harsh Warrdhan
Actors: Sandeep Goyat, Gyan Prakash, Manish Jhanjholia
Loosely based on the 2018 #MeToo issue. This Ullu web series deals with the death of a Bollywood actress in an event with the note #MeToo in her purse. The story continues with the main male lead trying to figure out what happened to her and the plight of actresses in the industry. With harassment and severe mistreatment following their every step, women in the entertainment industry don't have a fighting chance to make their dreams a reality.
While this Ullu original web series does deal with a controversial topic, it is important especially with the number of harassment cases coming up from working women. Which is why this series comes in at #2 in the Ullu web series list.
Halala:  
Director: Deepak Pandey
Actors: Ravi Bhatia, Shafaq Naaz, Eijaz Khan,
Another good series in the Ullu web series list – Halala deals with a controversial topic of Triple Talaq and the ordeals women face.
The series deals with the story of Afza and Rahil, a happily married couple. But they face major struggles when in a fit of anger Rahil gives Afza triple talaq. Once he realizes his mistake, Rahil tries to right the wrong. But according to Islam a divorced husband and wife cannot marry one another until the woman marries another man and consummates the marriage.
So, what will Rahil and Afza do? Who will they turn to? Watch this Ullu original web series to find out.
Khul Ja Sim Sim: 
Director: Ravikant Singh
Actors: Devesh Siwal, Nikita Chopta, Meena Naithani, Kundan Kumar
Khul Ja Sim Sim is a popular Indian adult web series that is based on a newlywed couple. The series starts from the day Simran marries her husband and finds out her husband's 'deficiencies'.
But in an attempt to satisfy herself Simran starts experimenting with herself and also with her husband.
This show casts a shadow into the sexual frustrations women face after marriage and how they try to release it.
Panchali: 
Director: Deepak Pandey
Actors: Upen Chauhan, Anupriya Goenka, Samridh Bawa, Aman Verma
Another Ullu original web series, Panchali is based on the epic Mahabharata. In this show, Panchali is supposed to marry all the brothers of a family, based on an age-old tradition. But the youngest does not want to be a part of this ridiculous belief.
What entails is a series where Panchali tries to win over the 5th brother through greed, manipulation, and jealousy.
With steamy scenes and lustful episodes, Panchali comes in at #5 at Ullu web series list.
Bribe: 
Director: Deepak Pandey
Actors: Hemant Chaudhury, Dev Vyas, Harshita Gaur, Megha Gupta
A great Ullu web series, Bribe is a series that uncovers the disgusting elements that exist in our society and the misuse of their powers.
The series involves the story of a widow who to sustain her family goes to get the government office to get her widow's pension sanctioned.
But the story takes a disgusting twist when the sanctioning officer demands her to sleep with him as a form of bribe. And it just isn't a one time offer. She has to do it over and over again to get what is rightfully hers.
This Ullu tv series shows the inhumane treatment that women are meted just to get their place in society and what is rightfully theirs. This is why this show comes in at #6 in the Ullu web series list.
Bambai 4X4:
Director: Rajeev Mendiratta
Actors: Rahul Bagga, Sukesh Anand, Aman Jaitly, Anuradha Mukherjee
What happens when a newly married couple land up in Mumbai and have to share a 4×4 kholi with the husband's brother? A funny comedy series that's what. This Ullu adult web series is a funny adult comedy that highlights the space issues in Mumbai and how people cope with it.
While this series does border on the mature adult side, it is hilarious to watch a frustrated man get blocked from being with his wife by not only his brother but also his neighbours.
The Cottage: 
Director: Jehangir Irroni
Actors: Rushad Rana, Shweta Khanduri, Neha Chowdhury
A short Ullu tv series, the Cottage has a simple story. A woman, or rather a ghost, gets a man to give her a lift to her cottage in the middle of nowhere. And there she seduces him. While there is more to the story, it is better if you watch it for yourself. As it is only 1 episode no spoilers should be given.
But this short Ullu tv web series deserves its spot in the sun.
Read: Top 10 Highly Rated Zee5 Web Series To Binge Watch
Tadap: 
Director: Deepak Pandey
Actors: Indraneil Sengupta, Param Singh, Shiny Dixit
Number 9 in the list is Tadap. Loosely based on Shakespeare's Othello, the story revolves around a love triangle between a couple from a small town. When they move to Calcutta to get away from the small town mentality, but what happens when a divorced young businessman joins the plot.
While this Ullu tv series sounds a bit dry, the story is gripping and the characters are neither in the light or dark but the grey section. They each face issues and have to deal with problems that make it a sensible story.
Which is why Tadap comes in at #9 in the Ullu tv series list.
Kirdaar: 
Director: Harman
Actors: Harbhajan Mann, Nishawn Bhullar, Mani Kapoor
Another good Ullu web series that grabbed attention. Kirdaar is a story of two boys who want to leave their mediocre lives behind and realize their big dream – a play. But more than the actual play, the web series deals with the struggle that goes into setting up one.
But what happens when the leader of the group goes missing after he falls for a girl?
Watch this series to know about the hard work and dedication required to make dreams come true and what actually goes on in the minds of people in tough situations.
Because of the epic story and the amazing acting, Kirdaar comes in the top 10 Ullu web series list.
26 January:  
Director: Deepak Pandey
Actors: Mrunal Jain, Madhurima Tuli
If you love patriotic movies or stories, then this Ullu web series is for you. The series is a mixture of Romance, Patriotism, Suspense & Thriller.
The series revolves around the love story of Ved and Insiya. Ved is an Anti-Terrorist Squad officer and loves both his Nation and his girlfriend. But what happens when he finds out that she is a suspected terrorist? What will he choose – his love for his motherland or his love for her? To get to know what happens next, watch the series.
3G-Gali Galoch Girls :
Director: Sajan Agarwal
Actor: Vishal Dubey, Kavya Kiran, Paras Saluja, Akshita Sethi
3G- Gali Galoch Girls is a popular Ullu app web series and the storyline based on three girls who are besties and always talks about sex and their attraction towards it. Did you watch the Four More Shorts web series released on Amazon Prime? Then you will also like this web series. The storyline is much more similar to the storylines of the Four More Shorts. However, it's quite a short web series. 
In the 3G-Gali Galoch web series, these three sexy and attractive girls are very bold personalities and these 3 girls are strongly believe in the 'Why should boys have all the fun' statement. Remember that, this web series is totally based on these three girls fantasies and they always talk about sex. Hence, you are strongly advised not to watch the 3G-Gali Galoch web series with your children. However, if you liked this web series, then can add it to your Ullu app series.
Mona Home Delivery
Director: Sanjiv R.Chadha
Actor: Ganesh Yadav, Kangna Sharma, Anant Jog, Raju Kher, Ganesh Acharya, Rajesh Sharma, Mukesh Tiwari, Pratima Kazmi
Mona Home Delivery is another popular adult series that we place in the top 18 Ullu web series list.  This web series describes the story of a young girl Mona played by the Kangna Sharma who faced lots of difficulties to her childhood. Mona doesn't wish to live a normal life and that's why she decided not to follow the simple path and use her body in order to live a rich life. 
For this, she becomes a call girl and one after another she fulfil her dreams. However, after a certain period of time, she realized that the World will not accept her as this type of girl and the rest of the story based on it. Through this web series, Sanjiv R.Chadha tries to give a bold message. Moreover, this is an excellent Ullu app series that you can watch and enjoy your moments. 
Size Matters
Director: Bandita Bora
Actor: Priyanka Bora, Momita Jaise, Khatija Iqbal, Riju Biswas, Tejdeep Giil, Meghna Dutta
This Ullu app web series is a funny based web series of a story of two younger people Akash and Manpreet, who have decided to get married. However, the twist is Manpreet's cousin asked her not to marry Akash as according to her Akash have a small penis and on the based on this name of this web series is Size Matters. 
Now, when Manpreet told Akash to send pictures of his penis, he lies and sends the picture of his cousin's penis. However, on the first night, Manpreet discovers the truth and the situation becomes complicated. Now the point is how they overcome the situation. To know it, you must visit the ullu.com and from there download the movie to your device. 
Anniversary Surprise
Director: Bhavin Wadia
Actor: Swagata, Yash Pandit, Tarun Khem, Sikha Chhabra
Anniversary Surprise is known as one of the best web series. The storyline of the Anniversary Surprise is erotic scenes and thriller scenes. Already, more than 35K people have watched this web series. This web series comes with 3 seasons and each season consist of 10 to 13 episodes. 
The web series is all about a murder that happens in a resort how the victim is unknown. Priyanka, wife of Raj Malik, and Mahi are Raj's Secretary. Now the twist is Raj and Mahi fall in love with each other. To know the rest of the story, you must watch the rest of the web series. 
Kavita Bhabhi
Director: Faisal Saif
Actor: Nishant Pandey (Karan, Ajay, Varun, Avinash), Divya Dwivedi (Rashmi, Aarti), Amita Nangia (Mother-In-Law), Kavita Radheshyam (Kavita)
Kavita Bhabhi is another popular web series that we must place in the top 18 Ullu web series list. As per the name, this movie is inspired by the popular web series Savita Bhabhi. In this web series, Kavita bhabhi is a seductive as well as hot bhabhi with her seductive voice and pleasure the boys over the phone call. 
With the sexy look, Kavita Bhabhi quickly attracts men towards her and in return of these phone calls, Kavita bhabhi charges a huge amount of money. Apart from these, in each phone call, Kavita narrates a unique and romantic story in a seductive as well as romantic way. Therefore, in the eight-episode story, you will able to hear 8 different seductive sex stories. Are you a fan of Savita Bhabhi? Then you must watch this web-series. 
Black Coffee
Director : Deepak Pandey
Actor: Diksha, Kajal Shankawar, Akshaya Shetty, Sparsh Shriwastva
Black Cofee is a love story short film. Till now, 17000 people viewed this web series. In this web series, Riya falls in love with a boy. Name of the boy is Arjun who is lost in his own imagination. Black Cofee web series has 2 episodes and each episodes consists of 12 to 14 minutes each. 
Moreover, Black Coffee web series is full of romance. And if you are truly like the storyline, you must watch this web series at least once time.
Also See,
Final Thoughts: Ullu Web Series/ Ullu TV Series
With the number of OTT platforms popping up everywhere, it doesn't wonder as to how one is competing with the other. But there is a slight difference. While some platforms believe in keeping things PG, Ullu takes a different aspect.
According to the Indian mentality, talking about sexual wants and needs is taboo. No one discusses it, no one talks about it, but it happens.
But Ullu begs to differ.
With their steamy stories, amazing scripts, and huge cast list, Ullu has been churning out one web series after another that is not only rich with content but also jumps into the nitty-gritty of relationships which includes sex. So, while these series may not exactly be PG or family-friendly, they do put forward the message that talking about taboo issues is ok, that asking questions is ok, and doing that by creating amazing storylines and web series.
Also Read: