Out of plenty of genres, one of the most demanding and ruling ones are adult web series for the youth and adults who are 18+ in their age. Likewise, Indian adult web series are the ones that display specific and censored content for adults and display nudity, sexual transmission, violence, abuse, assault, and intake of drugs or alcohol.
An era of web series has captured the smartphones of audiences. Usually, because it is very convenient to just take out your phones and enjoy a hassle-free, spoiler-free, ads-free and freshly engaging shows to quench the thirst of your entertainment criteria. It is budget-friendly and its monthly subscription cost less than a multiplex movie ticket and popcorn.
Stress and dull feeling are part of an adult's life and to come out of those, a sizzling, erotic show on a web platform is a reliable choice. Moreover, watching sensual and appealing shows open new ways and fantasies in people's bedrooms and restore their inner system.
In addition to that, various 18+ web series platform provides you with some amazing, hot, sizzling, appealing, and exquisite portray of a story outline. Here is the list of top 15 best adult web series which will help you to satisfy your desires of appreciable entertainment hot web series list.
Read:
Best 18+ Web Series/ Adult Web Series To Watch This Weekend:
There is a huge difference between pornography and art of showcasing storyline with tantalizing content in it. However, these 18+ web series are joyful and worth watching when alone at home.
***Uncensored

Gandii Baat

Virgin Bhasskar

Made in Heaven

The Bull of Dalal Street

Mastram

Sex Chat with Pappu & Papa

Four More Shots Please

Apharan

Bambai 4*4

Class of 2020

Hello Mini

Who's Your Daddy
Movies nudity scenes are cut by censor board but adult web series are completely uncut and free. Let's plunge into this hot web series list in brief
XXX: Uncensored
(Indian Adult Web Series)
First and foremost, this 18+ web series was scheduled to release as a film in April 2015 but due to excess nudity content, it was released on a web platform Alt Balaji on 27 September 2018 as an adult web series.
XXX revolves around five distinct plots and each one explicates separate aspects of sexual relations.
The story starts with two strangers, named Mayank who gives a lift to Kyra in his car. In their journey, they start their conversation about unusual lustful fantasies to avoid boredom.
Thus, their bold talks have made them join each other in bed for a spree. Along with this, the story in between shows twists and erotic moments and displays each and every aspect that is promised to the watchers.
Genre: Romance,Erotic,Comedy
No. of seasons: 2
No. of episodes: 11
Directed by: Ken Ghosh, Prabhat Prabhakar
Cast: Ritvik Dhanjani, Kyra Dutt
Gandii Baat (18+ Web Series)
If you are bored with the same concept and story, then it's time to binge Gandi Baat. That's because the adult web series showcases the sexual desires of the rural side of India. Above all, the series surely breaks a lot of stereotypes where only the subtleness of such people are displayed.
Moreover, the series has been such a huge success that the lead actually became one of the most searched actresses on Google. Binge it to get an idea of the other side of intimacy.
Genre: Web Series, Drama
No of seasons: 4
No of episodes:18
Directed by: Sachin Mohite
Cast: Flora Saini, Neetha Shetty, Yamini Singh, Narayani Shastri
Virgin Bhasskar (Indian Adult Web Series)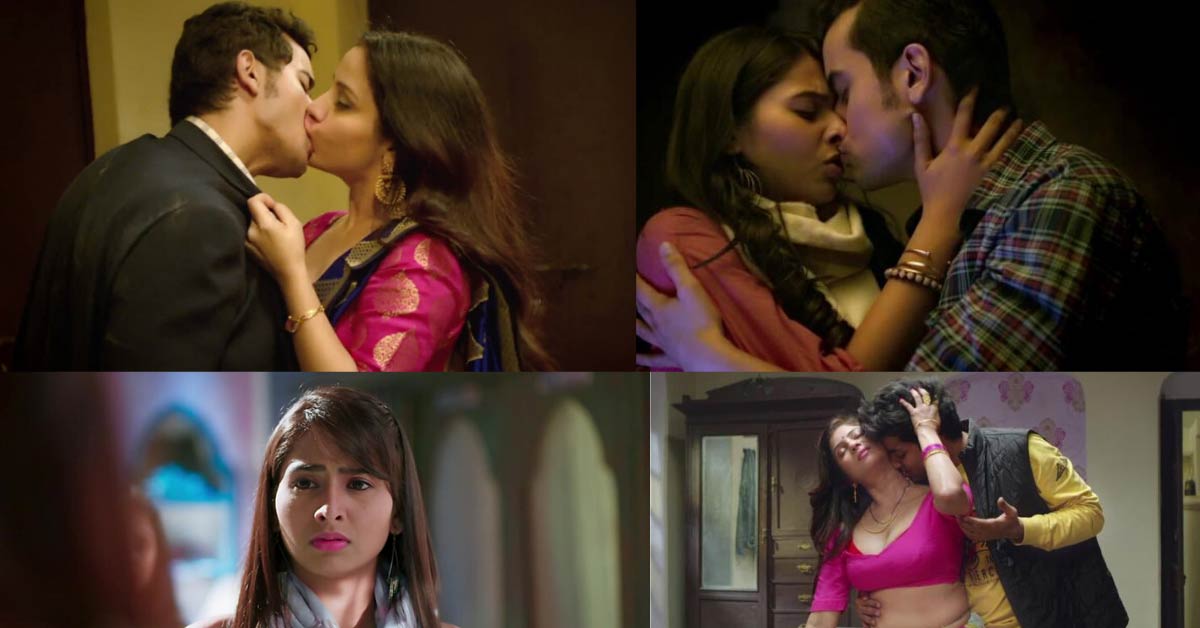 Virgin Bhaskar is one of the most entertaining to binge at present under the adult comedy genre. The story portrays 26-year old virgin Bhaskar who writes awesome erotic novels and holds unfulfilled sensual fantasies.
It gets exciting with time, as he hides his other side from his girlfriends. Virgin Bhaskar is surely a blend of affection with intimacy which will keep you flued to your screen till last.
Genre: Adult/Comedy
No of seasons: 1
No of episodes: 11
Directed by: Sakshat Dalvi, Sangeeta Rao
Cast: Anant Joshi, Rutpanna Aishwarya, Dhirendra Kumar Tiwari
Made in Heaven
The story of this Hindi adult web series rotates around two wedding planners with poles apart personalities. Both of them stepped into this work with a motivation to incarnate traditional aspects of society with a modern touch.
With the passing of each ceremony, they explore the lives of different bride and groom. The complications of Indian society provides them with selves-finding mirror.
Tara and Karan come to know about the issues like adultery, Section 377, wealth gap, sexual assault, and many more.
In spite of these problems, they mingled them in the chaos of a wedding circus with realistic, entertaining elements and boldness. It is the best Indian web series for binge-watching.
Genre: Drama
No. of seasons: 1
No. of episodes: 9
Directed by: Nitya Mehra, Zoya Akhtar, Prashant Nair, Alankrita Shrivastava
Cast: Arjun Mathur, Sobhita Dhulipala, Kalki Koechlin, Jim Sarbh, Shashank Arora, Shivani Raghuvanshi
The Bull of Dalal Street
The first season of this Hindi adult web series was released in 2020 on the ULLU app. Based on a true event that occurred in 1992, this story is about a journey of a middle-class man named 'Harshal Mehra' with a dream to become the biggest stockbroker of Mumbai.
It is set on the storyline of two determined brothers who work hard to change their tags from scraps who live on streets to the richest stockbrokers of Mumbai city.
The idea of this story has been taken from ''The Wolf Of Wall Street'' featuring Leonardo de Caprio.
It is a desi version with extensive hot, sizzling, and bold scenes to tempt viewers. However, it is been highly appreciated for portraying something like the "The Wolf of Wall Street" with desi elements.
Genre: Erotic
No. of seasons: 1
No. of episodes: 8
Directed by: Deepak Pandey
Cast: Iqbal Khan, Ashmit Patel, Kunal Verma, Priyal Gor, Aparna Sharma, Naina Chabra
Mastram (18+ Web Series)
MX Player created this extremely sensual web series that holds 10 episodes and 10 erotic stories by a man known as Mastram. The story shows 80's rural Himalayas in which a writer decides to share his passionate experiences conveying the fantasies of men in particular.
Mastram is certainly the adult web series you are searching for as the story does not retain to show daring scenes.
Genre: Drama: Akhilesh Jaiswal
No of seasons: 1
No of episodes: 12
Directed by: Rajeev Mendiratta
Cast: Kapil Dubey Rahul Bagga Tara Alisha Vinod Nahardih Istiyak Khan Aakash Dahiya
Sex Chat with Pappu & Papa ( Indian Adult Web Series)
Indian society is still a taboo when it comes to educating their children about adultery scenario. This Hindi adult web series is telecast to make parents handle the questions from children about sex in a fun and not too revealing way.
The first episode of this adult Hindi web series starts with a question thrown by Pappu, a 7-year-old boy to his father, Anand about masturbation. However, his dad decides to not scold him in order to save him from finding things on his own and tackle this situation in an interesting manner.
Basically, the story revolves around all possible ways to clarify sex themes like condoms, masturbation, pregnancy, periods cycle, and homosexuality in entertaining, honest, and unique methods.
The moral thought behind this storyline is to educate parents to talk directly and clarify the confusion of their children about sex. That's because kids can be mingled with maturity content and wrong ways in order to find answers.
Sex Chat With Pappu and Papa is one of the most-watched adult web series created by Durex and Y-Films.
Genre: Sex Education
No of seasons: 1
No of episodes: 5
Directed by: Ashish Patel
Cast: Anand Tiwari, Kabir Sajid, Sanjeeda Sheikh, Alka Amin, Sachin Pilgaonkar
Four More Shots Please ( Adult Web Series)
Many call it the Indian version of "Sex and the city".Four More Shots Please focuses on four single women from Mumbai who are close friends. They share a beautiful bond, as each of them shares their problems and stands as a pillar of support for others.
However, these women decide to take a chill pill and savour their life with full enthusiasm.
There have been mixed reviews for this Indian adult web series for different preferences. Although, it surely depicts the bold characters of these women that imply intimacy and female desires to perfection.
Genre: Comedy, Drama
No of seasons: 1
No of episodes:
Directed by: Anu Menon, Nupur Asthana
Cast: Sayani Gupta, Bani J, Kirti Kulhari, Maanvi Gagroo
Mona Home Delivery
This Indian adult web series was released in 2019 on ULLU an entertaining platform. It is a story of a poor girl named 'Mona' who has a challenging and difficult childhood and she does not want to waste her life in a fuss.
So, she decided to take advantage of her best accessory i.e her body to fulfill her dreams. Soon she became a call girl but destiny does not do good to those who choose these paths.
The story is so dramatic that the audience might get intrigued and feel the emotions of this girl after watching the story.
Genre: Comedy, Drama
No of seasons: 1
No of episodes: 6
Directed by: Sanjiv R. Chadha
Cast: Kangna Sharma, Pratima Kazmi, Vijay Raaz, and Raju Kher
Apharan
It is worth watching the Indian adult web series without any overrated content. The plot of the story revolves around a police officer in Uttarakhand who gives assistance in kidnapping a young girl at her mother's request. The motive behind this illegal act was to extract money in exchange for the girl.
But the story takes twists and turns when Rudra, the police officer, becomes an ultimate suspect in a murder case. This adult Hindi web series is a wholesome package of good entertainment with an intense storyline.
Genre: Action, Thriller
No of seasons: 1
No of episodes: 12
Directed by: Siddharth Sen Gupta
Cast: Nidhi Singh, Varun Badola, Saanand Verma, Sanjay Batra, Pawan Chopra
Bambai 4*4
It is a story of a newly married couple who migrates to Mumbai with thousands of other people in search of a good life. But most of them settle down in slums because they are budget-friendly.
Jugnu portraying the character of the husband goes to the city of dreams with his wife and started to live with his elder brother in a nano Kholi. The couple tries hard to make love but the situation and space are tight. Add into your binge list to get into r roller coaster ride of struggles and affection.
Genre: Hindi, Drama
No of seasons: 1
No of episodes: 12
Directed by: Siddharth Sen Gupta
Cast: Aman Jaitly, Anuradha Mukherjee, Dr. Leena Balodi, Rahul Bagga, Safoon, Sukesh Anand
Class of 2020 
The awesome Indian adult web series is the sequel to the very famous "Class of 2017". Usually, the series focuses on a school called "De Nobel High School" and a bunch of schoolmates. The struggles of teenage problems like relationships, drugs, and sexual desire are portrayed in it quite precisely. It clearly shows boldness and intimacy in an efficient manner. Add this classic into your list if you have already watched the Class of 2017.
Genre: Romance, Teen Drama
No of seasons: 1
No of episodes: 32
Directed by: Aarambhh M Singh
Cast: Rohan Mehra Sushant Tanwar Alam Khan
Hello Mini
This Indian Adult web series "Hello Mini" shows how normal life can be ruined by a stalker. Hello Mini, focuses on Rivanah Banerjee, a self-dependent woman who lives in Mumbai within a shell of comfort and perfection. Things take an unfortunate turn as she faces incidents of stalking and observing. The story has a lot of thrill that would certainly keep you glued to your couch. It's a must-watch if you are searching for a blend of intimacy with thrill.
Genre: Thriller drama
No of seasons:2
No of episodes:16
Directed by: Faruk Kabir
Cast: Arjun Aneja, Priya Banerjee, Gaurav Chopra
Who's Your Daddy ( A-rated Web Series)

Last but not the least, If you are searching for an adult web series from the comedy genre, then this one is just for you. Starring the famous YouTuber, Harsh Beniwal, this series depicts the father-son relation of three generations. This best adult web series would certainly keep you entertained with its funny yet adult scenes. Besides, the lead Harsh Beniwal is himself the reason for a tickly experience. Add it into your list to get yourself some fun and sensual watch.
Genre: Dramedy
No of seasons: 1
No of episodes: 6
Directed by: Chirag Arora
Cast: Rahul Dev, Harsh Beniwal, Nikhil Bhambri, Divinaa Thakur, Anveshi Jain, Liza Malik
Final Thoughts On Indian Adult Web Series:
So, these were some of the best adult web series that we think would do great as a pass time for you. Gorge into any of it to spice up your weekend today.
Also Read: