How many of us remember the storyline of a movie? But when it comes to an epic dialogue, we can repeat it word-for-word. Any dialogue worth remembering is iconic – no matter the language.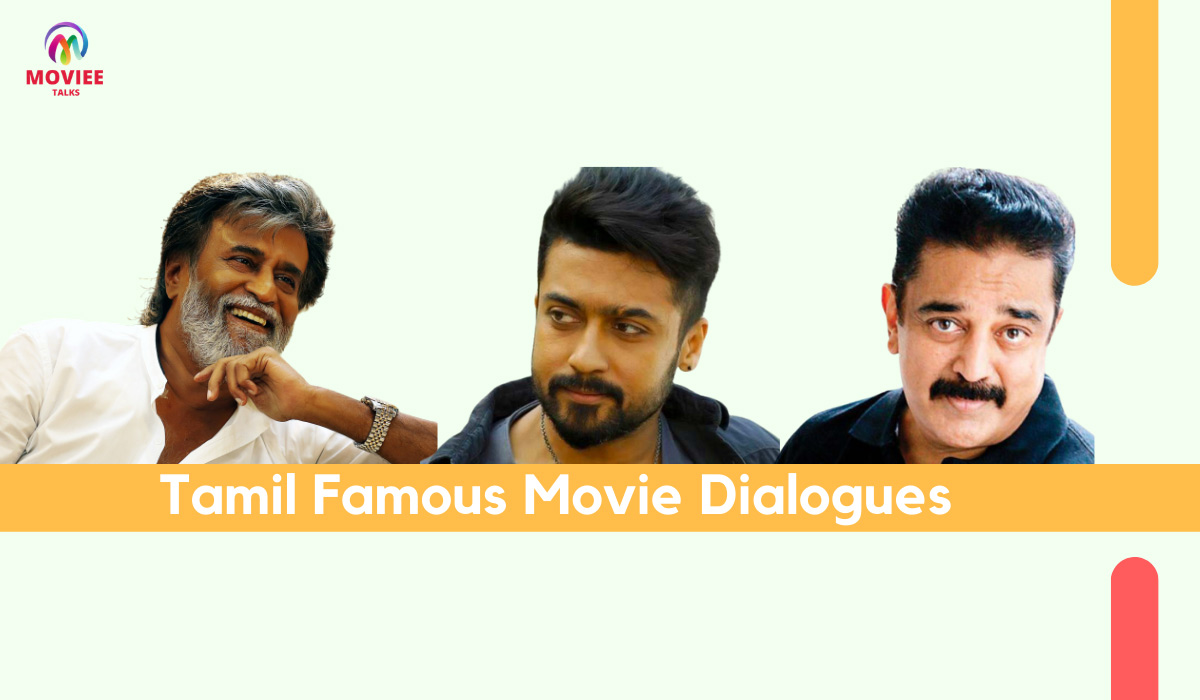 Tamil movies are known for their unforgettable dialogues. From the emotions to the facial expressions – Tamil actors and actresses know how to deliver dialogues that not only floor viewers but remain engraved in mind. Some famous Tamil dialogues stay with viewers for years and are even used to put a point forward, especially among friends.
So, let's check out some movie dialogues in Tamil the world has ever seen or rather heard:
10 Famous Tamil Dialogues to Remember: ( Tamil Movie Dialogues)
Baasha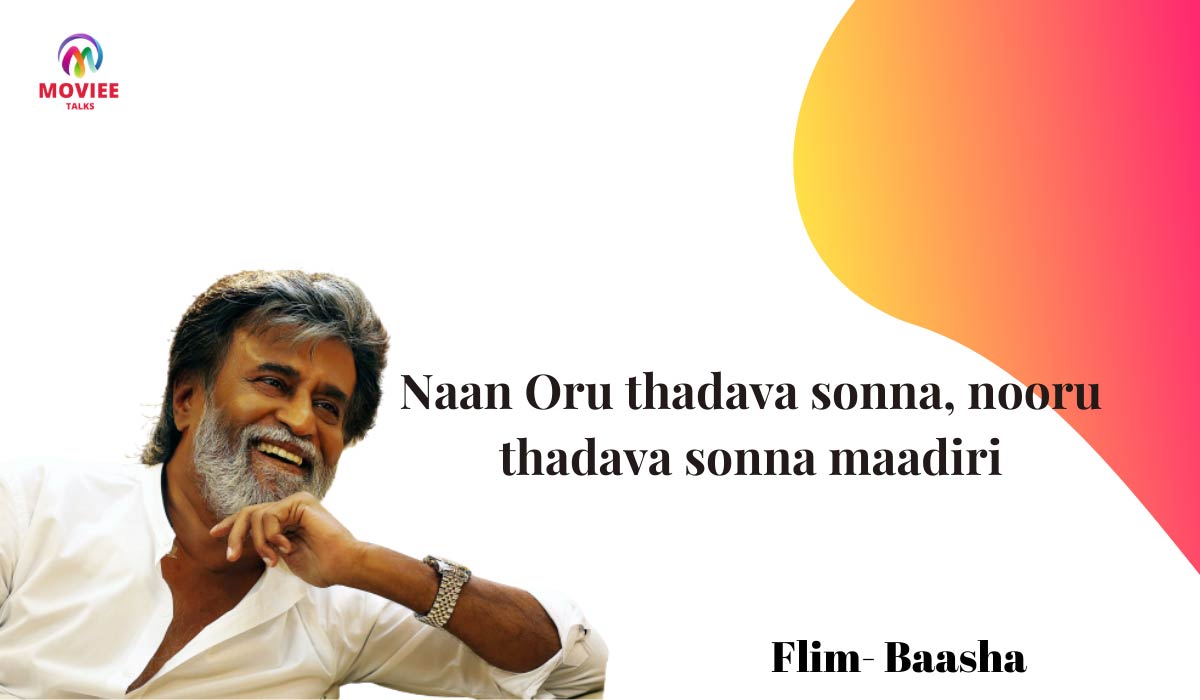 One of the best Tamil dialogues ever given in a movie is this Rajnikanth starrer. The film starring Rajnikant, Raghuvaran, Shashi Kumar, and Nagma, revolves around the life of an auto-driver. A humble person, he prefers to stay away from violence and fighting. But, when his sister is attacked, it is revealed that he is a gangster.
The movie ran for 15 months and was a hit with viewers, not only because of the acting but because of some of the most famous Tamil dialogues.
Dialogue
Naan Oru thadava sonna, nooru thadava sonna maadiri – If I say something even once, it is as though I have said it a hundred times.
Thillu Mullu
Among other famous dialogues in Tamil movies, the dialogue in the 1981 comedy film Thillu Mullu takes the cake. A remake of the comedy film Gol Maal, the movie revolves around Chandran, who lies to his boss, stating that his mother is ill. But he gets caught by his boss. To save his job, he lies that he has a twin brother.
Thillu Mallu was released in 1981, and Rajnikanth was praised for his performance in the dual rules and some famous Tamil movie dialogues.
Dialogue
Idhula enna perumai, get out – What's there to gloat about in this, get out!
Dhool
Another famous Tamil dialogue is from the comedy movie, Dhool. It is a story of a kind-hearted man in the village. With strong actors like Vikram, Jyothika, Vivek, Sayaji Shinde, and Pasupathy, the film takes a turn when a chemical factory is set up in the village, releasing toxic waste into the river. The villagers try to give a petition to their minister, who lives in Chennai. But when they land in Chennai, a comedy of errors occurs.
The comedy movie stole the hearts of its audiences as it was a one-sided love story, thanks to Vivek's amazing performance and famous dialogues in Tamil.
Dialogue
Enna da idhu? Tirupathi lendu laddu ku badhila jilebi ya kondu vandhirk? – What is this? You got jalebi instead of laddu from Tirupathi.
Nayagan
One more for the Tamil film dialogue list is in the movie Nayagan. This 1987 Mani Ratnam movie starring Kamal Hassan and Saranya is based on the underworld gangsters of Bombay. It revolves around transforming an ordinary slum dweller who becomes one of the most feared Don.
Velu, a simple union leader's son, is arrested by the police. But Velu is tricked into believing they want to help him, but they use him to kill his father. Vlu retaliates by stabbing the police inspector and then runs away to Bombay. Here he meets a smuggler living in the Dharavi slums and is raised by him. Velu rises in the ranks as the years pass, and the movie moves on. If you want to hear the famous Tamil movie dialogues, then watch Nayagan today.
Dialogue
Neenga nallavara kettavara? – Are you a good guy or a bad guy?
Vikram Vedha
This thriller movie has one of the most famous Tamil dialogues ever stated. Directed by Pushkar-Gayatri, the film stars Madhavan, Vijay Sethuppathi, Shraddha Srinath, Varalaxmi Sarathkumar, and Kathir. The movie is based on the topic of good vs evil.
Madhavan plays an honest police inspector who follows the concept of right and wrong. In his mind, only black or white, nothing in between. On the other hand, Vijay plays the role of a criminal who knows that there are some grey areas in life. So, what happens when these two characters meet? Will Madhavan's character accept that the world is not always divided into good and evil, or will we realize that certain areas cannot be categorized into these two compartments? While this movie draws a thin line between good and evil, the famous Tamil movie dialogues are outstanding in creating the aura of good and bad overlapping through the characters.
Dialogue
Gandhiyoda paiyan Gandhi ya sir? Godse oda paiyan Godse va sir? – If Gandhi's father was Gandhi? Or Is Godse's son a Godse?
Vasool Raja, MBBS
One of the best Tamil dialogues ever delivered is from the movie Vasool Raja, MBBS. Considered the Tamil remake of the Hindi movie Munnabhai MBBS, the film stars big actors – Kamal Hassan, Prakash Raj, Sneha, and Prabhu.
Kamal Hassan plays a local gang leader who makes money by protecting people in his area and collecting money from people. His father has always wanted him to be a doctor, and to satisfy his father, he builds a fake hospital and pretends to be a doctor. But just like the Hindi version, his world comes crashing down when the truth is revealed. Kamal Hassan then joins a medical college to get his degree. With some famous Tamil punch dialogues, this movie won the heart of millions.
Dialogue
Kadavul irrukunu solran par, avana nambala. kadavul illanu solaranparu, avanakooda nambalam. ana nanthan kadakul nu solran paru… avana mattum nambathe – Trust a man who says he believes in God. Trust a man who says he doesn't believe in God. But never trust a man who says he is God!
Sivaji – The Boss
No famous Tamil punch dialogues list is complete without a Rajnikanth dialogue. Sivaji – The Boss is one movie you should not miss. The film revolves around the story of an established software systems architect, Sivaji, who comes back to India after his work in the USA is complete. Once he returns, he hopes to give back to society by providing free education and treatment. But he faces problems from a well-known businessman who is corrupt and evil. Sivaji is left to fight the system and take on the corruption in his way. Watch the movie to hear the most famous Tamil dialogues ever spoken.
Dialogue
Kanna, Panninga Thaan Kootama Varum, Singam single ah thaan varum – Dear, pigs always walk in groups, but a lion walks alone.
Thirumalai
This 2003 romantic action movie, directed by Ramana, is not just another love story. With lead actors Vijay and Jyothika, the movie has more action than love. Vijay a mechanic, meets Jyothika on New Year's Eve. He falls in love with her and, as love stories go, starts pursuing her. But she does not swoon at his feet so easily. Before she gets to know him properly, she gets her father's goons to beat him up.
But as love stories go, she ends up falling for the hero. Again, this love is opposed by her father, who asks a gangster to take care of him. But our hero, Vijay, proves that he is better than any gangster, and everyone accepts their relationship in the end. The famous Tamil punch dialogue below shows just how mature and strong-willed the story's hero is. He is wise enough to know that everyone faces ups and downs in life.
Dialogue
Vaazhkai oru vattam, Adhula jeikravan thopan thokruvan jeipan – Life is a circle. Victory and loss are both not permanent.
Ghajini
This 2005 movie has one of the most famous Tamil dialogues in history. Directed by A.R. Murugadoss, the movie stars Suriya and Asin. The film revolves around the life of a rich businessman who develops anterograde amnesia after a violent encounter.
In that attack, he not only loses his memory but also his love interest. And he tries to avenge her death by killing the people involved. He does this with the help of Polaroid photographs, permanent tattoos reminding him of the incident, and a medical college student. If you want to know if he succeeds, then watch the movie. But remember to look for the movie dialogues in Tamil and see how many you can find.
Dialogue
Kashtapattu uzhaicha jeika mudiyadhu, Ishtapattu uzhaicha thaan jeika mudiyum – You will not succeed by working hard. You can only succeed when you love your work.
Thani Oruvan
A 2015 film directed by Mohan Raja with the cast of Jayam Ravi, Arvind Swamy, and Nayantara, the movie plot revolves around IPS officer Mithran, who is out to arrest an affluent scientist, Siddharth. The scientist allegedly misuses secret medical practices to make a profit.
The movie then reveals the plot as to how Officer Mithran plans to catch the scientist and inevitably manages to stop the criminal activities. One of the best Tamil dialogues in the movie is an unforgettable one.
Dialogue
Un edhiri yar endru soi, Nee yar endru solgiren – Tell me who your enemy is, I will tell you how capable you are.
Also Read:
Conclusion: Famous Tamil Dialogues
When you watch a movie, you may take it as a simple 2 to 3-hour affair. But the hard work and the time taken to make that 2 or 3-hour movie should not be forgotten. Everything in a movie has its place, from deciding the script to the location to shots to dialogues.
So, check out our Tamil film dialogue list and let us know which ones stand out most.