The Telugu film industry has always been rather apprehensive in showing love-making scenes on the big screen. There have also been restrictions from the censor board or the society in general when trying to talk about bold subjects and depicting it in a cinema. But times have changed and Indian audiences are today much more comfortable in watching and appreciating adult content in a cinema. A lot of Telugu adult movies have thus been produced and appreciated by audiences in recent times.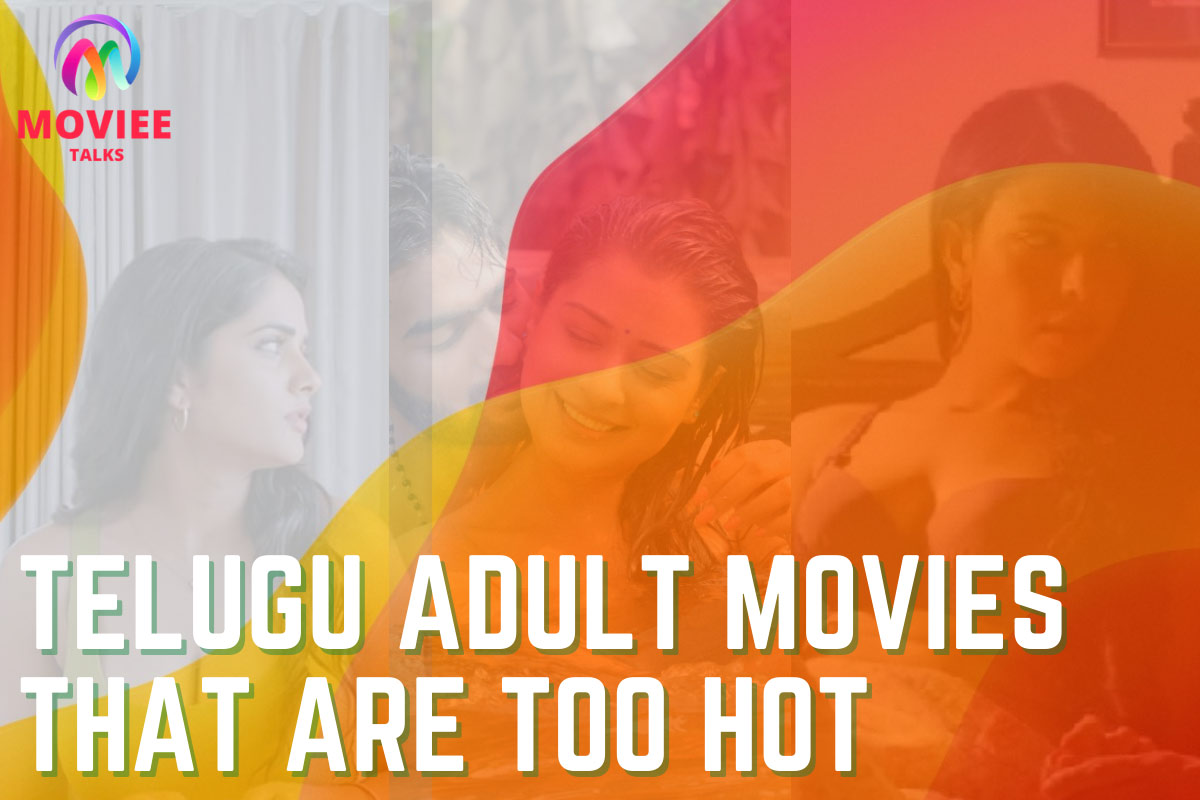 A movie gets an Adult rating because of a number of reasons. It can have sex scenes, adult jokes, double-meaning dialogues to name a few which makes a movie A-rated. But these Telugu erotic movies do not project gratuitous sex as the sole content of the film. These are there as part of the film. The concept of these movies, in general, are suitable for adult audiences.
A Telugu adult movie is sweet, erotic, and thrilling. And it has all the content that an adult viewer would appreciate. Thus if you are willing to fulfil your guilty pleasures, here's the complete Telugu hot movies list.
Read:
Telugu Hot Movies List/Telugu Adult Movies List:
Adult movies are always welcome for audiences who love to watch these types of content. Movies that are adult in nature hit the screen nowadays quite often and are a pleasure to watch. The adult Telugu movies mentioned below are a superb mixture of romance, erotic scenes, and love which are guaranteed to fulfil all your guilty pleasures. Here's the complete list.
Chikati Gadilo Chithakotudu
RX 100
Babu Baga Busy
Guntur Talkies
Kumari 21F
Kamasutra Telugu
B.A. Pass Telugu
Oka Romantic Crime Katha
Ee Rojullo
Bus Stop
Rathinirvedam
7/G Brindavan Colony
Allari
Let's dive in one by one-
1)Chikati Gadilo Chithakotudu (2019):
Chikati Gadilo Chithakotudu is a movie in the adult comedy genre and is the first in the list of Telugu adult movies. The plot is quite simple. Two couples go to Bangkok for a vacation. But the place where they are staying is haunted and the ghost there is a sex-deprived female who just wants to sleep with the two virgin heroes.
The plot is hilarious and the movie is full of sexually suggestive double meaning dialogues which will make the young audience go gaga. The actors do well in portraying the characters. The film is directed by Santosh P. Jayakrishna and should be on your watchlist if you want to enjoy an adult comedy with your friends or partner.
2)RX 100 (2018):
Directed by Ajay Bhupathi, RX 100 tells the story of Shiva (Karthikeya) who falls in love with Indu (Payal Rajput), the daughter of a local politician. Their love story flows with a lot of steamy moments, portrayed sensually by the two actors on the silver screen until incidents force them to get separated. This shocks the hero Shiva who gets all violent and self-destructive.
The actors do justice to the characters and they are quite beautifully portrayed in this Telugu adult movie. There are quite a lot of bold scenes between the couple which makes it a breath-catching watch and surely tops the Telugu hot movies list.
3) Babu Baga Busy (2017):
Babu Baga Busy is a remake of the Hindi movie "Hunterr". This is one of the top adult Telugu movies depicting the life of Madhav, who has several sexual encounters in different stages of his life until he finally meets the love of his life.
The movie has a number of situations that are embarrassing and we can all connect with some of them. The bold scenes are beautifully shot and most of the time this movie is a hilarious depiction of a man and his sexual adventures or misadventures.
4)Guntur Talkies (2016):
Guntur talkies is an adult crime comedy. The story follows the lives of two petty thieves Hari and Giri who one day decide to make it big. They eventually rob 10 lakhs of rupees and flee to Goa. What follows next is a hilarious mixture of comedy and crime.
There is much adult content in the movie. The characters Hari, Giri, Jackie, and Revolver Rani are portrayed sharply in the movie. The character Suvarna, though doesn't have much scope in the movie, provides the necessary eye candy for the masses. Guntur Talkies is one of the hottest Telugu movies and surely makes it to the Telugu hot movie list.
5)Kumari 21F (2015):

Kumari 21F is a romantic drama that targets the younger audience. The movie tells the story of Siddu (Raj Tharun), a middle-class man who falls for a beautiful girl named Kumari (Heba Patel). As he tries to get closer to her, Siddu gets confused with her bold attitude. Eventually, he begins to doubt her character, and one day they break up.
The rest of the story is a beautiful depiction of how Siddu feels and how he tries to get his love back. Both the actors play their characters pretty well. Raj Tharun does a wonderful job of portraying the various emotions of Siddu. Heba, on the other hand, delivers the oomph and the glamour to the silver screen. Kumari 21F is surely one of the best Telugu adult movies and should be on your watchlist.
6)Kamasutra Telugu (2015):
Kamasutra is a historical romantic drama directed by Mira Nair and got dubbed in Telugu and released in 2015. Featuring Indira Verma and Sarita Choudhury, this is one of the best Telugu erotic movies.
The story is about two childhood female friends who grow up to become rivals. The characters are excellently portrayed by the actors and the movie is full of adult scenes. This one is surely one of the top Telugu adult movies 2015.
7)B.A. Pass Telugu (2015):
B.A. Pass is a neo-noir erotic thriller film originally released in Hindi and later dubbed into Telugu. It tells the story of a young man who struggles to meet for his and his sisters' needs after his parent's death. Eventually, he gets introduced to a cougar played by Shilpa Shukla. She offers him money for her sexual gratification and later turns him into a gigolo.
The story is a bitter tale of how things can go wrong. The characters are played wonderfully by the actors and the movie is full of hot scenes. This is one of the top Telugu adult movies you should give a watch.
8)Oka Romantic Crime Katha (2014):

Speaking of adult Telugu movies, the movie that comes next is Oka Romantic Crime Katha. Directed by P. Sunil Kumar Reddy, this is an adult crime fiction. The story is about Sreenu (Manoj Nandam) who falls for a girl named Bindu (Priyanka Pallavi).
However, one day Bindu leaves him and goes to Vizag for her studies. A depressed Sreenu ultimately follows her to Vizag. The twist of the plot comes next as when he meets her, Bindu begins to ignore him and ultimately asks him to murder a person if he wants to stay with her.
The characters are portrayed realistically by the actors and the film is full of adult scenes. This movie surely makes it to the Telugu hot movies list.
9)Ee Rojullo (2012):
Directed by debutant Maruthi Dasari, Ee Rojullo talks about a man Sri and a woman Shreya who, due to events in their lives, decides to never fall for the opposite sex. However, things take a turn and they end up falling for each other.
Ee Rojullo has a number of adult scenes and dialogues making it one of the top Telugu adult movies. The actors are also debutants. The lead pair Mangal Srinivas and Reshma Rathore do a good job of playing the characters realistically.  The story though is rather conventional but is depicted quite well in the movie which makes it a good watch. The film, owing to its adult content, makes it to the Telugu hot movies list 2012.
10)Bus Stop (2012):
Following the success of Ee Rojullo, director Maruthi came up with his second adult venture in Bus Stop. The story is about the lives of youngsters nowadays and would largely appeal to the younger generation.
Young undergraduate students fall in love and parents have a hard time dealing with young adults. The film also speaks about the sensitive relation between parents and children. The story is not about some particular couple but rather revolves around the lives of teenage couples.
The film has quite a number of adult hot scenes and dialogues, much of which are comical in nature. It's a quite well-made movie about teenage love and is one of the Telugu adult movies to look out for.
11)Rathinirvedam (2011):
Rathinirvedam is a remake of the Malayalam cult classic of the same name. The story tells the tale of Bujji and Rathi who are childhood friends. Their families too are close, so that Bujji has uninhibited access to Rathi.
Bujji, with time, develops lusty feelings for Rathi and when he tries to approach her, she refuses and keeps avoiding him. Bit Bujji keeps approaching her and the rest of the story is what happens next, whether Rathi succumbs to Bujji's advancements.
The film, though nowhere close to the Malayalam classic, is however full of hot and raunchy scenes and dialogues which makes it a good watch for lovers of these types of content. And also makes it to the Telugu hot movie list.
12)7/G Brindavan Colony (2004):
Based on a true story, 7/G Brindavan colony is a romantic tale that won many hearts. It tells the story of Ravi, staying in a colony in Hyderabad. He is bad at studies, lacks discipline, and in short a ruthless young man. One day a girl named Anita arrives to live in this colony and Ravi falls for her instantly.
However, Ravi is no match for the sophisticated Anita and her family. Ravi in one instance even gets slapped by her because of his misbehaviour. However, Anita soon finds that Ravi has indeed a beautiful heart and helps him find a job and live a decent life.
The movie is full of twists and turns and Ravi, played by Ravi Krishna does a fantastic job in portraying the character. The film is also full of hot and steamy love scenes that make it one of the best Telugu adult movies to watch.
13)Allari (2002):
Allari is a coming of age triangular romantic comedy between one boy and two girls. This movie is a good watch and has quite a number of adult sequences that will appeal largely to the younger audience. Directed by Ravi Babu, this is one of the Telugu adult movies you can keep in your watchlist.
Also, See:
Final Thoughts on Telugu Adult Movies( Telegu Hot Movies):

Though the number of adult movies in the Telugu film industry is few, there are some that you can watch. The movies that we have mentioned above make it to the Telugu hot movies list and are well-directed, to say the least.
You can watch them alone, with friends or partner and have a good time. Tell us what you think about the list in the comments.