Bollywood has a bold side to it. When we go deep into the same, we realize that there is so much more than romance in the industry. Talking about the entertainment industry, the movies today have upgraded their level as well. They are much more devoted and open with intimacy as their viewer's demand for the same has increased.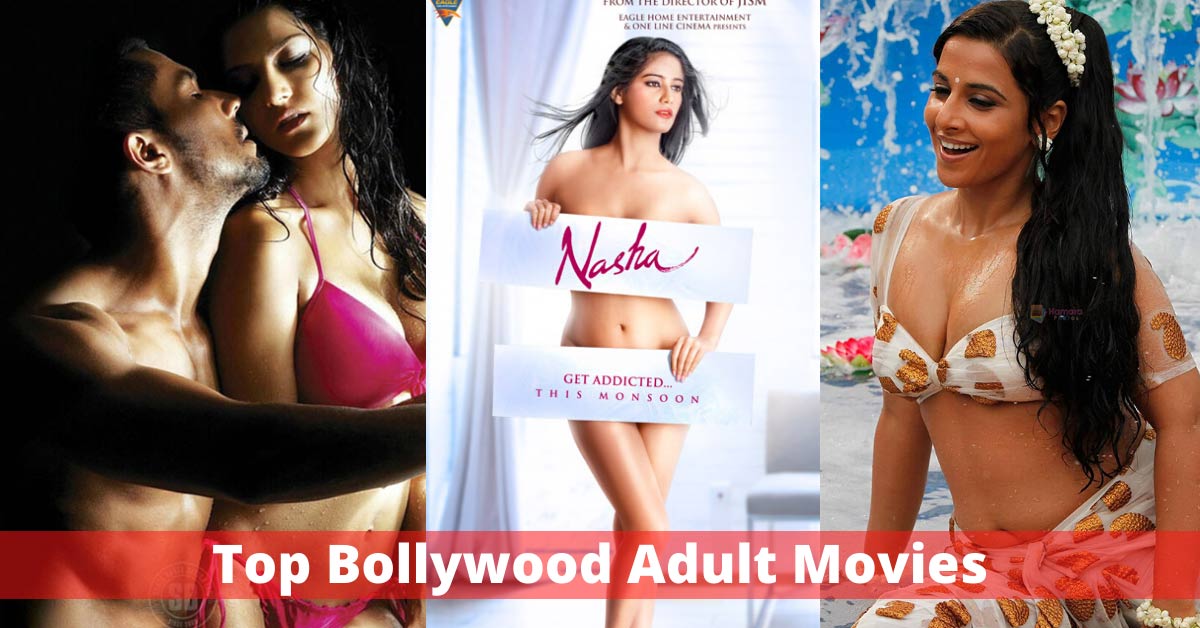 Times have changed and viewers want authenticity in whatever they do. Basically, the audacious side of these adult Hindi movies filled with classics and some amazing storyline, songs, casting, and not to forget, erotics scenes to satisfy the aspirations of audiences. Today we will be mentioning 17 Bollywood adult movies that have wowed the viewers with their awesome performances. Most of them have been extremely bold and ahead of their time. So, let's start without any further adieu. 
Also, See:
List of 17 Best Adult Hindi Movies ( Bollywood Adult Movies)

Nowadays Bollywood filmmakers have become bold and expressive in manifesting adult content through Bollywood adult movies. In spite of being pressurized by the censor board to remove erotic scenes, various filmmakers managed to produce 'A' certified films in today's time. Here is the list of top 17 adult movies of Bollywood-

#1 Jism

#2 Girlfriend

#3 The Dirty Picture

#4 Kya Kool Hai Hum 3

#5 Grand Masti

#6 Aastha

#7 Julie

#8 Ek Choti Si Love Story

#9 Lipstick Under My Burkha

#10 Love Sex Aur Dhoka (LSD)

#11 Ragini MMS-2

#12 B.A Pass

#13 Ek Paheli Leela

#14 Nasha

#15 Kamasutra: A Tale of Love

#16 Mastram

#17 Bandit queen
Let's know them one by one to get more idea
#1 Jism 
Jism is a remake of the 1981 Hollywood film, Body Heat, and is also considered to be one of the first adult Hindi movies of the bold genre in Bollywood. Also, the storyline of the film gives full justification to its title and is one of the "A certified" films of the same.
The scripture of the film revolves around an alcoholic lawyer who falls in love with a gorgeous lady and ends in a murder swindle. It was considered one of the best adult Hindi movies that were known to be hot and sensual in its times. Also, the leads like Bipasha Basu absolutely did justice with the provided roles. 
Directed by:
Pooja Bhatt, Sujit Kumar Singh
Genre:
Bollywood, Romance, Erotic, Thriller, Drama
Cast:
Bipasha Basu, John Abraham, Gulshan Grover
Released year:
2003
#2 Girlfriend
This Bollywood adult movies story is based on two girls who are childhood best friends and decides to take it forward by working and living together. One friend named Taniya was homosexual and never liked men. In fact, the relation between these two friends signified being more than just friends. The story focuses on the love and affection of a lesbian girl towards her friend who is straight. However, it certainly takes a turn with the entrance of Maya's boyfriend. 
Add this classic into your list of the awesome Bollywood adult movies to find out which path will Tanya takes, in this journey of jealousy, love, affection, and hatred at the same time.
Directed by:
Karan Razdan
Cast:
Isha Koppikar, Amrita Arora, Aashish Chaudhry
Released year:
2004
#3 The Dirty Picture
Dirty Picture is based on a true event i.e on the life of South Indian actress Silk Smitha, who was famous for her bold roles in several adult Hindi movies. Many considered the movie to be a biopic of Silk Smitha but that's not the case in reality. However, some of the scenes are taken from the life of Silk Smitha for sure.
The story symbolizes the powerful attitude of a woman within a man dominated society. In fact, the lead in the film, Vidya Balam was titled'' the hero of the film''. The movie was considered as the super-duper blockbuster and represented the association of obstacles that women feature in the entertainment world.
Directed by;
Milan Luthria
Cast:
Vidya Balan, Emraan Hashmi, Naseeruddin Shah, Tusshar Kapoor
Released year:
2011
#4 Kya Kool Hai Hum 3
The movie is about a man named Kanhaiya who is in searching mode to find pure love but gets distracted whenever he sees a red colour. The storyline also involves Kanhaiya's friend named Rocky who is always eager to have sex and fun with the girls. This obsession of sexual desires lands them into becoming a porn star in Thailand. Later, Kanhaya finds his true love but his choice of a career becomes a hindrance in his love life. He decides to gather people from the porn industry and create a fake family to showcase great impression on girls dad. Soon, the journey of fun, chaos, lies and many more starts from there which makes the movie interesting to watch.
Directed by:
Umesh Ghadge
Genre:
adult comedy
Cast:
Tusshar Kapoor, Aftab Shivdasani, Mandana Karimi, Krishna Abhishek, Gizele Thakral, Claudia Ciesla, Darshan Jariawala
Released year:
2016
#5 Grand Masti
The film is the sequel of Masti released in 2004. The storyline of it is about three married men named Meet, Prem, Amar who are friends too and they are sexually unsatisfied in their marital life. However, the reason behind their problem is the same but with differed scenarios i.e Meet thinks his wife is having an affair with her boss; Prem thinks his wife does not spend enough time with him and Amar feels that his wife Mamta is concentrating more on their son, Pappu.
Sooner than later they got attracted with some hot teacher but somehow MMS of all three of them getting intimate gets leaked and the story takes a turn from there. Watch the full movie to know what happens further when their wives find out about their husbands.
Directed by:
Indra Kumar
Genre:
Adult comedy
Cast:
Ritesh Deshmukh, Vivek Oberoi, Aftab Shivdasani, Sonalee Kulkarni, Karishma Tanna, Manjari Fadnis
Released year:
2013
#6 Aastha
Aastha earned commercial success and thus, the director decided to produce a remake of the film. The storyline of this adult Bollywood movie revolves around the life of a married woman named Mansi and her poor husband named Amar, in a particular city. Basically, it concentrates on the woman who dreamt big and her desires empower her mind which makes her step into the prostitution world so that she could fulfil her dreams.
The story of this adult movie Bollywood, Aastha continues with the theme of the materialistic needs of a woman and must go into your must-watch list for obvious reasons.
Directed

by:
Basu Bhattacharya
Genre:
Erotic
Cast:
Rekha, Om Puri, Dinesh Thakur, Navin Nichol, Daisy Irani
Released year:
1997
#7 Julie
Julie is an adult Hindi movie based on the norms of inter-caste marriages and unwanted motherhood. The story focuses on an Anglo Indian Christian girl named Julie who falls in love with her best friend's brother named Shashi Bhattacharya, a Hindu boy, in search of affection which she didn't receive from her alcoholic father and ignorant mother. It takes an unfortunate turn when he lands her into being pregnant.
This best Indian adult movies will certainly take you to a journey of her delivering an unwanted child and facing every hardship that comes with the baby until the time of her being settled in her married life. Julie is also a musical blockbuster for its awesome songs and music composition.
Directed by:
K.S Sethumadhavan
Genre:
Romantic Drama
Cast:
Lakshmi, Vikram
Released year:
1975
#8 Ek Choti Si Love Story
The storyline of this adult Hindi movie focuses on a teenage boy and a woman in her late 20's. Although the movie does not fall entirely under bold genre, some of the scenes surely comprise sensual topics like women masturbation and make it an absolute must-watch among the best Bollywood adult movies. Also, it is based on the Polish short film about love that was an absolute success and within the same genre.
Ek Choti Si Love Story is one of the classic adult Indian movies that is set on the changes in sex hormones and growing teenagers with their uncontrollable physical desires.
Directed

by:
Shashilal K. Nair
Genre:
Romance Bollywood
Cast:
Manisha Koirala, Aditya Seal
Released

year:
2002
#9 Lipstick Under My Burkha
This movie was more on the controversial side when it got released. The storyline of the film concentrates more on the hidden lives of four spirited women and their four hidden desires. The plot of the script showcases their riot, to gain what they want through a little bravery. An 18-year-old  girl always in burkha wants to be a free spirit to become what she desires; a mother of three children desires to achieve more than just a saleswoman title; a beautician desire to get freedom from her confined life of her village and a 55-year-old widow wants to revive her sexual desires through a simple chit chat on phone with a young swimming coach.
Directed by:
Alankrita Shrivastava
Genre:
adult comedy-drama
Cast:
Ratna Pathak, Konkona Sen Sharma, Aahana Kumra, Plabita Bothakur, Sushant Singh, Sonal Jha, Vaibhav Tatwawaadi, Vikrant Massey
Released year:
2016
#10 Love Sex Aur Dhoka (LSD)
Love Sex Aur Dhoka is based on the harsh reality of honor killing and casting couch. This excellent movie is solely produced on a digital platform containing sexual content, as already indicated in the title of the film.
The Love part of the movie begins with a non-experienced film director in his early 20's who decides to make a small budget film as a project of his studies. He then meets a woman named Shruti in an audition and sooner they bond over love and decides to marry each other in spite of hindrance created by the girl's orthodox family. Will they succeed in their love life? Watch further to know this part of the story.
The sex part, on the other hand, illustrates the life of a girl named Rashmi who works all day and night to support her family's financial needs. Later, Adarsh a superstore executive falls in love with Rashmi and soon they get mingled for a sex tape scandal. The story continues as her fight for justification continues from there.
Dhoka part of the story portrays the scenario of the casting couch of a reporter., After a tragic incident, Naina a reporter blackmails a news reporter and reveals the truth as per the event that happened to her. Will she come out of the situation? Well, give it a watch and fall into this promising tale of love, sex, and Dhoka.
Directed by:
Dibakar Banerjee
Genre:
Comedy, Adult
Cast:
Anshuman Jha, Nushrat Bharucha, Rajkumar Rao, Neha Chauhan, Amit Sial, Herry Tangri, Ashish Sharma
Released year:
2010
#11 Ragini MMS-2
Ragini MMS-2 is a sequel to the movie Ragini MMS that showcases some crew members of the film who are meant to be young, visits to the house where the incident of the Ragini MMS couple happened. However, they get tangled with paranormal spirits in the house. The mono way to come out with the paranormal situation is to wrestle back the evil spirits and their unaccountable supernatural presence. To overcome the problem they need to find out the disturbing history of the house.
Directed by:
Bhushan Patel
Genre:
erotic horror
Cast:
Sunny Leone, Saahil Prem, Parvin Dabbas, Karan Veer Mehra, Sandhya Mridul, Divya Dutta, Anita Hassandani
Released year:
2014
#12 B.A Pass
The story of B.A Pass is based on a teenage boy and his life after his parent's death. After the tragic incident, Mukesh is placed under the supervision of his rude aunt to pursue his further studies. While opting for a B.A course and proceeding with the same, he also grieves for his two sisters who are sent to an orphanage due to an undesired circumstance.
After sometime Mukesh and the aunty get involved in their paid sex relations while keeping it a secret. But will it always remain a secret or something is waiting for their journey? Find out the twist and turns of this erotic movie with sensual scenes to know more.
Directed by:
Ajay Bahl
Genre:
Erotic Thriller
Cast:
Shilpa Shukla, Shadab Kamal, Rajesh Sharma, Dibyendu Bhattacharya
Released year:
2013
#13 Ek Paheli Leela
The story revolves around the girl named Meera. Basically, she is a top model, who travels to Rajasthan to shoot for an ad campaign. During her shoot, she falls for Ranveer Singh, a prince of Rajasthan and later marries him. On the other side, a boy named Karan, a musician by profession, sees the vision and dreams about his past life. However, Karan is guided by one Guruji about those dreams and soon he realises that Meera and Ranveer's past is connected to his. Later, a past flashback starts of the famous sculptor named Bhairav, who gets attracted to Meera and all of these people's lives connect with both present and past.
Directed by:
Bobby Khan
Genre:
Reincarnation thriller drama
Cast:
Sunny Leone, Jay Bhanushali, Rajneesh Duggal, Rahul Dev, Mohit Ahlawat
Released year:
2015
#14 Nasha
Nasha is a movie about a bold actress who is known for sensual posts and pics on social media. It also focuses on a teenage boy who is sexually attracted to his teacher but he gets into suspicion by comprehending the love relationship of his teacher. Later, he gets into trouble, to evolve from its overpowering desires and the passion of a boy creates a fuss in the life of a teacher. It's surely a blend of thrilling and erotic scenes with intimacy and passion at the same time.  Leads like Poonam Pandey have been absolutely amazing with bold and daring scenes throughout the watch.
Directed by:
Amit Saxena
Genre:
Bollywood, Thriller
Cast:
Shivam Patil, Poonam Pandey, Sheetal Singh, Ranbir Chakma, Nation Chakma
Released year:
2013
#15 Kamasutra: A Tale of Love
Considered as one of the top adult Hindi movie, the storyline of this classic is based on the ancient Indian text, the Kama Sutra. It is placed on the era of 16th-century India, where a princess named ''Tara'' and her gorgeous maid share a bond.
But the friendship fades away with time due to unwanted jealousy and bitterness by Tara towards her maid who always delivers her worn and torn clothes. As both girls proceed towards marriageable age, a true conflict of jealousy and hatred begins from here.
When Tara's soon to be husband Prince Raj Singh, comes to meet her, he instantly falls for the maid instead of Maya. The whole story takes a huge turn after the affection of the prince towards the maid and the conflicts after her refusal to marry Biki, Tara's brother. Kamasutra is one of the most erotic adult movies of Bollywood with some intrepid as well as intimate content.
Directed by:
Mira Nair
Genre:
Erotic Romance
Cast:
Rekha, Indira Verma, Ramon Tikaram, Naveen Andrews
Released year:
1996
#16 Mastram
Mastram is a story of a Rajaram, a small-town clerk who has a dream of becoming a writer one day. His writing skills are appreciated only by his wife. However, he then leaves a job to become a full-time writer. Sooner he gets the opportunity from a publisher but the criteria for its publishment involved embedding some masala or erotic element in the story. As the movie continues, an old man named chacha shows him the spicier side of the village life, and his journey of sensual writing skills begins from there. This adult movie of Bollywood has been highly appreciated for its authentic and bold plot with sufficient eroticism as well.
Directed by:
Akhilesh Jaiswal
Genre:
Drama, Fantasy
Cast:
Kapil Dubey, Anshuman Jha, Tara Alisha, Vinod Nahardih, Istiyak Khan, Akash Dahiya
Released date:
2014
#17 Bandit queen
The wonderful and impressive adult Hindi movies Bandit Queen is based on the life of '' Phoolan Devi''. The story starts with the child marriage of Phoolan to a twenty-year-old fellow man named Putthilal. Later, she faces sexual and physical assault by Puthhilal, and eventually,  she runs from her husband's house and returns home in order to save her life. However, the assaults keep on continuing in her village with several powerful, influential, and so-called grown-up men. Each time the destiny fails to be with her, as she faces hardships and molestations. However, it continued till the time she became a Daku or Dakoit. Watch the adult Indian movies to know the journey of Phoolan from an innocent girl to a leading Bandit.
Directed

by:
Shekhar Kapur
Genre:
Drama, Thriller, Adult
Cast:
Seema Biswas, Nirmal Pandey
Releasing year:
1994
Also, See:
Conclusion: Adult Hindi Movies
Above mentioned Bollywood adult movies or adult Hindi movies are known to satisfy the quench of audiences for watching the adult content. These are some of the best adult Indian movies which are created to bestow the bold scenes and also to educate a growing youth about intimacy, sexual desires, and fantasies.