Bengali movies have come a long way. From the iconic Satyajit Ray to the controversial Rituparno Ghosh, Bengali directors have always tried to break the stereotypical borders and think out of the box.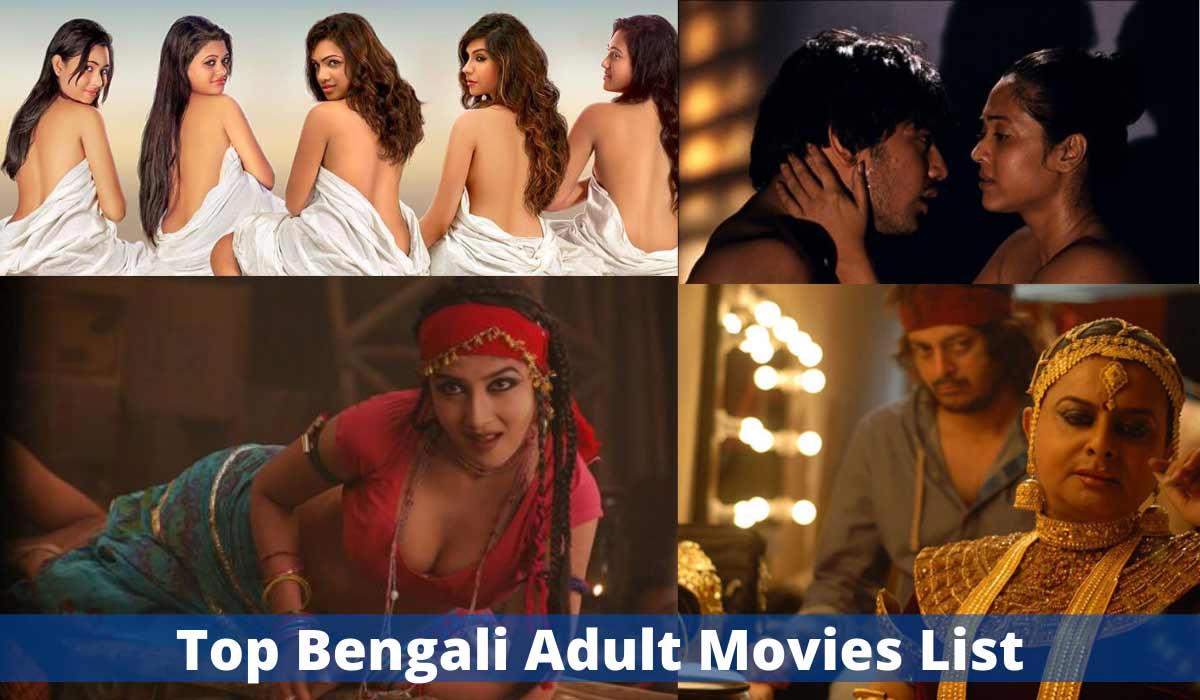 Some movies have crashed and burned, some Bengali directors have gone ahead to break beyond the barriers and cross into unchartered territories. Bengali Adult movies remain some of the most controversial and tabooed in our society.
While orthodox Bengali folk stay true to their roots, some brave souls have branched out into topics relating to sex, lust, and sexual identity. And while these movies may be hard to digest, they are a portrayal of what a major part of our society faces – behind closed doors.
So, let's have a look at some Bengali adult movies that are not only controversial but bold and steamy…
Also, See:
Top 13 Hot Bengali Movies List to Watch Alone( Bengali Adult Movies)

Here's the top 13 hot Bengali movie list to watch:
Cosmic Sex
Chatrak
Bishh
Nagarkirtan
Chhip Suto Char
Parnomochi
Rajkahini
Chitrangada
Take One
Arekti Preme r Golpo
Taan
Teen Yaari Kotha
Khawto
Let's know them one by one –

1.Cosmic Sex
One of the boldest Bengali adult movies to hit the screens, Cosmic Sex was if nothing but controversial. The movie revolves around the spiritual awakening of a man through the act of sex. The main protagonist of the movie, Kripa meets Sadhvi, who trains him in the art of Dehotatva (worship of God's through one's own body). She also teaches him the cosmic relation between attaining spirituality through sexual fulfilment.
Although the movie was considered bold, the director tried to bring to focus the teachings of self-love and fulfilment to achieve the next stage of spiritualism.
Director:
Amitabh Chakraborty
Cast:
2.Chatrak
Considered to be one of the most controversial Bengali adult movies of all time, Chatrak was way ahead of its time. What caused the stir was not the steamy sex scenes but the full-frontal nudity shot by actress Paoli Dam.
The movie revolves around the relationship between Sudeep Mukherjee, who works in Dubai as an engineer, and his girlfriend, Paoli Dam. She loves him so much that she waited for him all that time. When Sudeep returns to find his estranged brother Sumeet, they hear rumors that he is living in the forest existing on vegetation.
While the movie plotline feels like something is missing, the director has tried to bring the tabooed topics of mental illness and sexual gratification to the forefront. Which, did not sit well with the public.
Director:
Vimukthi Jayasundara
Cast:
Sudeep Mukherjee
Paoli Dam
Sumeet Thakur
3.Bishh
This Bengali adult movie is the brainchild of the most controversial director of our time, Q. And just like Gandu, Bishh is a masterfully created story of a woman, who after being betrayed by her love, goes into the world to explore her sexuality. The movie's main protagonist, Rii Sen, delivers another iconic role, where she tries to unlock her sexual wants and desires without any judgment.
This movie received positive reviews due to its smart and unique storyline. Some consider Bishh to be one of the best Bengali erotic movies of our generation.
Director:
Q
Cast:
4.Nagarkirtan

This 2017 Kaushik Ganguly directed film sparked major controversies, which is why it is at number 4 in the hot Bengali movie list. The movie is based on the explicit love story of Parimal or Puti, a transgender woman and Madhu a flute player.
The movie touches on tabooed topics like same-sex love, sex reassign surgery, and the hate transgendered people suffer in our society. This Bengali adult movie is a major eye-opener to the plight of a huge population of Indian society that others ignore.
Director:
Kaushik Ganguly
Cast:
Ritwick Chakraborty
Indrashish Roy
Bidipta Chakraborty
5.Chhip Suto Char
Next on the Bengali adult movies list is Chhip Suto Char. This movie caused quite a stir when it showed the actual face of the film industry in a different light. The plotline revolves around three childhood friends – Suman, an unsuccessful movie director, Joy, a rich and depressed man, and Pratik, a pervert. The three hatches a plan to lure women on the pretext of choosing them to star in a movie, all the while, they plan to use them for sexual favors.
The movie is considered to be based on what people face when they enter the glitz and glamour world – the movie industry.
Director:
Susanta Saha
Cast:
Jay Bhattacharjee,
Gaurav Ghosal
Mou Badiya
Debolina Biswas
6.Parnomochi
Another addition to the Bengali hot movies list is Parnomochi. This movie plotline revolves around a young teenage boy's unhealthy addiction to porn. Most normal viewers consider this movie to be highly questionable. But it does bring to light the effect of overexposing the youth to the world wide web.
The movie is a great reminder of how too much of anything is bad. In this case, the director highlights the role pornography has taken in every teenager's life.
Director:
Koushik Kar 
Cast:
Rwitobrata Mukherjee
Anindya Pulak Banerjee
7.Rajkahini
The next addition to the Bengali adult movies collection is Rajkahini. Srijit Mukherjee outdid himself with his superb direction and storyline. The plot of the movie revolves around the partition of Bengal but seen through the eyes of prostitutes in a brothel.
When British soldiers try to force the women to evacuate their homes, what follows is a tale of loyalty and patriotism.
The movie makes for a great watch as it is hard-hitting and actually shows the reality that goes on behind a brothel's closed doors.
Director:
Srijit Mukherjee
Cast:
Rituparno Sengupta
Saayoni Ghosh
8.Chitrangada
The next adult Bengali movie to make the list is Chitrangada. This Rituparno Ghosh masterpiece draws a comparison between Rabindranath Tagore's play Chitrangada and the life of a man who wishes to be a woman. Gender fluidity being the central theme of the movie, Rituparno Ghosh tries to show the world that it is not a new concept.
With multiple love scenes between Rituparno Ghosh and Jisshu Sengupta, this film puts a spin on the love story of Chitrangada as written by Rabindranath Tagore.
Director:
Rituparno Ghosh
Cast:
Rituparno Ghosh
Jisshu Sengupta
Raima Sen
Anjan Dutt
9.Take One
Another controversial Bengali adult movie starring Swastika Mukherjee. Take one is loosely based on the backlash Paoli Dam faced after her full-frontal nudity scene in Chatrak. In the movie, actress Doel Mitra acts in a foreign film where she has a frontal nudity scene. But when the scene is leaked into the Indian market, she faces heavy criticism and humiliation from the public.
The movie takes a 360 twist when she is awarded a prize for her performance. The actual hypocrisy that surrounds us is revealed in this movie when the people who ridiculed her start singing her praises.
Director:
Mainak Bhowmick
Cast:
Swastika Mukherjee
Arindam Sil
Rahul
10.Arekti Preme r Golpo

Another Rituparno Ghosh starrer, this movie revolves around the life of famed Jatra dancer Chopal Bhaduri. The movie is a parallel between two timelines – one in the past, and another in the present. But the theme is the same – same-sex love.
The director has tried to portray the emotions and the pain that same-sex relations had to face then and still face today. While this movie is a certified A film, it has received high critical acclaim and has gone to become a favorite on the 18+ Bengali movies list.
Director:
Kaushik Ganguly
Cast:
Rituparno Ghosh
Chapal Bhaduri
Jisshu Sengupta
11.Taan
Another highly controversial movie, Taan is a woman-centric film that follows the life of Jolbeshiya or water prostitutes. Based out of the Sundarbans, the movie portrays the life of women forced into selling their bodies to water pirates to feed themselves and their families.
When a nature photographer gets lost in the Sundarbans, his friend goes in search of him and comes across the tabooed Jolbeshiya village. During her journey, she comes across the plight of the women. They are kidnapped and forced into prostitution to save themselves and keep food on the table.
Director:
Mukul Roy Chowdhury 
Cast:
Debolina Dutta
Sudip Mukherjee
Koushik Sen
Rituparna Sengupta
12.Teen Yaari Kotha
This movie revolves around three friends – Billoo, Shyamal, Antu, and their love lives. Billoo sells newspapers, while Shyamal drives an auto and Antu is unemployed. The three share a room in the suburbs of Kolkata and each gets involved with different types of women. Antu falls in love with fellow acting student Dola, Billoo falls for his neighbour Sreeradha, and Shyamal obsesses over his boss's daughter Mamoni.
This movie is in the Bengali adult movies list because of the explicit sexual theme and the underlying sexual tensions between the characters. While not as deep or controversial as the others on the list, this movie does have a hint of unrequited love in it.
Director:
Abhijit Guha
Sudeshna Roy
Cast:
Rudranil Ghosh
Parambrata Chattopadhyay
13.Khawto

Khwato is a romantic thriller based on the life of a novelist. To write his next big story he secludes himself from the world in the hills. But his tranquil getaway is broken by a couple who are trying to run away from the hustle of the city themselves.
What follows is a tangled web of illicit relationships that goes too far. Starring actors like Prosenjit Chatterjee, Raima Sen, and Paoli Dam, this film is Tollywood's first attempt at Bengali erotic movies.
Director:
Kamleswar Mukherjee
Cast:
Prosenjit Chatterjee
Raima Sen
Paoli Dam
Also, See:
Conclusion: Bengali Adult Movies ( 18+)

All movie industries have adult films. Considering the sex scenes in most Hollywood movies, the topic of adult nudity and sex is not considered taboo. Unfortunately, our Indian mindset is yet to grasp that sex scenes are exactly that, scenes that are scripted.
When looking through the list of Bengali adult movies mentioned above, no one would think to compare them to iconic Bengali films. While these movies may be controversial and may not sit well with the orthodox Bengali viewers, they do bring something iconic to the table. These movies delve into the mindset of people and have tried to show exactly what a person goes through while making their own sexual choices.
So, check out the movies mentioned on our list and leave us a review of what you think. Also, let us know if we missed any Bengali adult movies that you think should be on the