Entertainment platforms have been extending in all regions of India and people are getting more engaged in different cultures, traditions and arts. One of the joyful platforms of Indian Entertainment field in today's time is the Tamil film industry that has an origin from the southern side of India in Chennai, Tamil Nadu. The industry is renowned for the name Kollywood which came from Kodambakkam side of the south. This platform is nowadays moving towards the genre of adult movies in Tamil and is certainly in the trend for obvious reasons. Besides, the Tamil adult movies have grabbed the interest of a large number of audiences.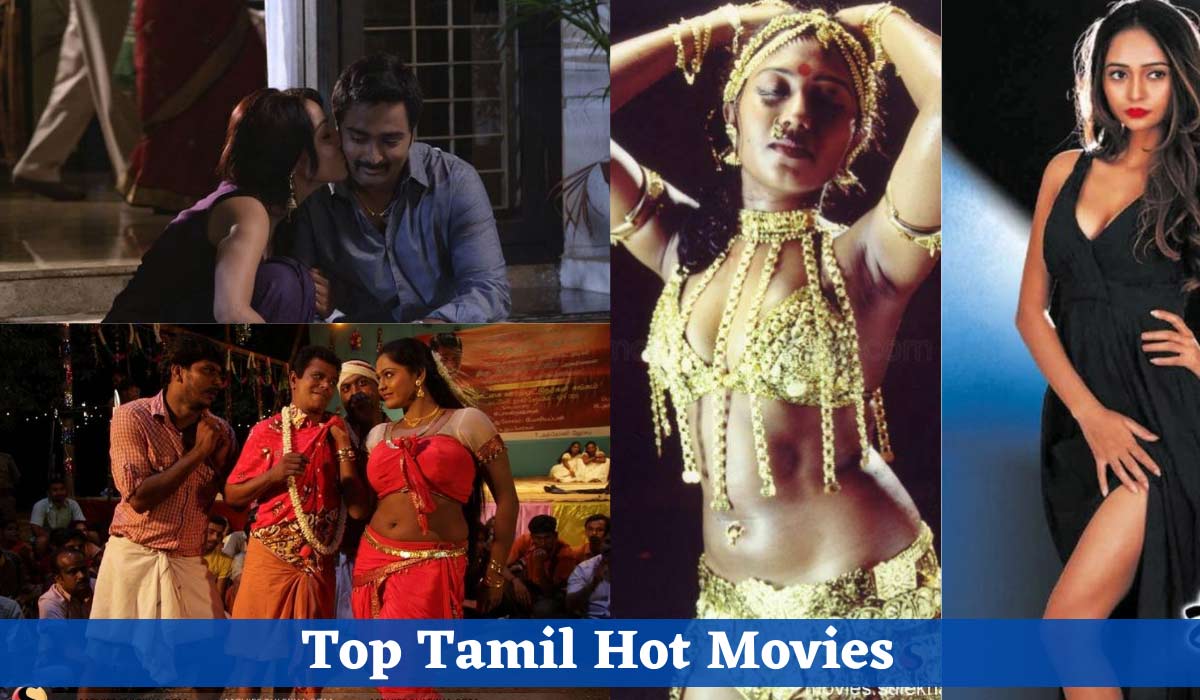 Involvement of adulting and sensuality is common nowadays when it comes to movies. Also, the Tamil Industry is very famous for portraying bold stories which certainly makes the audience stay glued to their seats. Many famous business analysts say that the inclusion of adult content with jaw-dropping dialogues will make sure its way as a tremendous release at the box office. Talking about the same, let's plunge into the list of top Tamil hot movies to find some amazing erotic content in today's time. Here is the list of 10 adult movies in the Tamil language
Top Tamil Adult Movies to Include In Your Tamil Hot Movies List
Eroticism has become an essential entity for today's audience. That's because people have progressed and so has their interest in such matters. Tamil Industry is surely one of the leading industries when it comes to sensual content. Here we will be mentioning 10 adult Tamil hot movies that should be included within your must-watch Tamil a grade movies list.
X Videos

Mirugam

Uyir

Kadhal Kadhai

Sindhu Samaveli

IRUTTU ARAIYIL MURATTU KUTHTHU

Trisha Illana Nayanthara

Boys

Kalyana Samayal Saadham

Hara Hara Mahadevaki
1.X Videos
The list including some of the best adult movies in Tamil does not get completed without including X videos in it. Written and directed by Sajo Sundar, this a grade movie features sensuality and erotic scenes and thus it has bee majorly certified as Adults only.
You are certainly going to notice nude scenes in this Tamil adult movie as well. The main plot of this erotic classic focuses on how the eroticism can be extremely scandalous for a group of people. It also shows how the young generation is totally prone to sensuality in today's time and what they have to face in such case scenarios.
It falls under the genre of 18+ movies and should be surely watched alone. Although many people consider it to be a thriller that should be watched for the message it renders to the audience about cybercrime. If you are looking for pure sensuality, then X videos should be included within your Tamil hot movies list.
Genre:
Thriller, Drama
Directed by:
Sajo Sundar
Cast:
Akruti Singh, Riyamikka, Abhenav Mahajit, Praboojit, Shan
Released year:
2018
Also, See:
2.Mirugam
Mirugam is yet another classic that needs to be combined into the best Tamil adult movies list of today's time. The a grade movie features the Tamil stars Padma Priya and Aadhi in the lead and is directed by the very well known director Saamy.
Basically, the story of this Tamil adult movie concentrates on Ayyanar, a villager, who is pretty wild. You are certainly going to find a lot of erotic scenes within the movie depicting violence. The movie further has scenes that include drug usage, inappropriate languages, rape scenes, and many more such content.
In other terms, you can say that this is surely a classic in the terms of raw content showing some realistic moments but definitely not a family-time watch at all. Although, you can add it to your personal time for some really extraordinary content. We can say that the movie is worth a watch for its lusty yet
daring move in the industry.
Genre:
Comedy, Romance
Directed by:
Adhik Ravichandran
Cast:
Ananadhi, Manisha Yadav, G.V. Prakashan Kumar, Simran, Jyothi Laxmi, VTV Ganesh and others
Released year:
2015
3.Uyir
Uyir is a movie that focuses on taboo relationships and controversial scenes throughout the movie. The leads of this Tamil hot movie features some of the well-known actors like Samvrutha Sunil, Sangeetha, and Sreekanth in the lead. This Tamil erotic movie is made by Saamy. To discuss the story in brief, it is about a young man Sundar who resides with his elder brother and sister in law. However, the story takes an unfortunate turn when Sundar loses his elder brother and his sister in law becomes a widow. Meanwhile, Sundar's sister in law starts lusting for him and starts controlling his life as well. It is surely a must-watch if you are looking for something erotic yet interesting for a watch. The movie already has a large number of viewers for its outstanding plot and sensual scenes. Binge it to spend some quality personal time.
Genre:
Erotic, Thriller
Directed by:
Samy
Cast:
Srikanth, Sangeetha, Samvrutha Sunil
Released year:
2006
4.Kadhal Kadhai
Tamil Industry is filled with a lot of movies that are surely just not limited to lusty scenes of eroticism. In other terms, we can say that there is a Tamil adult movies list that depicts some of the very delicate topics of today's time.
Discussing the same, how can we not include the movie Kadhal Kadhai. Directed by the popular director Velu Prabhakaran, the movie focuses on three women in the lead. All of these three married women portray the sexual desires of a female.
Basically, they become so blind with lust that they start following the commands of their lovers to fulfill their sexual demands accordingly. Kadhal Kadhai clearly concentrates on both women's sexual desire and extra-marital affairs that are quite serious topics in today's time.
We can surely say that the movie is worth a watch because of the things it covers. Although the hot and sensual scenes within the movies make it an 18+ watch.
Genre:
Erotic, Romance
Directed by:
Velu Prabhakaran
Cast:
Velu Prabhakaran, Shirley Das, Preity Rangayani, Babilona, Stefi
Released year:
2009
5.Sindhu Samaveli
When we talk about adult movies Tamil in the movie industry, there are fewer directors who render rawness in their content. Besides, many of it is quite likely to fall under controversy for obvious reasons. Talking about controversy, Sindhu Samaveli is surely one of them. The story of this movie concentrates on a woman and her father in law and clearly shows a taboo relationship between both of them. With Harish Kalyan and Amala Paul in lead, the movie is a sensual thriller directed by Saamy. While the adult Tamil movie featured raw content in it, many women organizations claimed to dislike it. The director Saamy was also in target for featuring such raw content within the movie. Keeping those factors apart, the erotic thriller is worth a watch for the inclusion of eroticism and sensuality within the same.
Genre:
Thriller
Directed by:
Samy
Cast:
Harish Kalyan, Anaka, Ghajini, Fahad Nasar, Ganja Karuppu
Released year:
2010
6.IRUTTU ARAIYIL MURATTU KUTHTHU
The storyline revolves around the character, Veera who really wants to marry and settle but unfortunately, the image of him being a womaniser lands him into rejection by most of the women. However, one day his family finds a girl, Thendral and advises both of them to go on holiday vacation so that they could get a better understanding of each other. During the trip, Veera invites his friend and girlfriend to accompany them in Thailand. With this, the fun and chaos start when they all find out about an extremely horny girl and her spine-chilling story connection with a guest house in which they are staying. The plot of the story consists of a lot of eroticism with really sensual and hot scenes in it. You will see some of the impeccable performances by the actors in the lead.
Genre:
Adult, Horror, Comedy
Directed
by:
Santosh P. Jayakumar
Cast:
Yaashika Aanand, Arya, Gautham Karthik, Karunakaran, Sha Ra, Chandrika Ravi, Bala Saravanan, Vaibhavi Shandilya
Released year:
2018
7.Trisha Illana Nayanthara
The plot of the movie is based on three friends and their love-hate relationship. Three friends in which one is a man called ''Veera'' and the other two are women named ''Aditi'' and ''Ramya''. They all grew up together from a really young age.Both Veera and Ramya fall in love with each other but later Ramya ditches him for another man. Soon, Ramya goes for his friend Aditi but she also leaves him. Thus, Veera decided to take revenge from Ramya without apprehending the consequences. The uncle and aunt of all these three friends act as love advisors to them. The character portrayal in this movie does not limit to love scenes but you will see them engaging in sexual content like making out with dolls or seductive scenes with the opposite gender. It also consists of the element dealing with three pregnancies at the same time and many more.
Genre:
Comedy, Romance
Directed

by:

Adhik Ravichandran
Cast:
Ananadhi, Manisha Yadav, G.V. Prakashan Kumar, Simran, Jyothi Laxmi, VTV Ganesh and others
Released year:
2015
8.Boys 
The movie has the involvement of five male characters named Munna, Babu Kalyanam, Alias Bob Galy, Krishna and Kumar. All of them are born and brought up in different cultures and traditions but have the same agenda of not taking their academic life seriously.
They further had numerous habits and decided to never quit smoking, consuming alcohol regularly, harassing girls, watching erotic films and always bickering about their parents. But on their journey of the wrong path, they all found true partners for themselves.
One of the very first of them to do so was Munna who soon married her lady love without their parent's consent and started his career-oriented life filled with love and friendship. However, soon their essence of love gets in trouble with some horrible past events and they face some ups and downs.
Although it does not stop them from becoming huge singing sensations. The story is certainly focused on drama, but you are likely to observe sensual scenes for some spice in the movie.
Genre:
Romance, Drama
Directed by:
S. Shankar
Cast:
Siddhart, Genelia D'Souza, Nakkul, S. Thaman, Manikandan, Bharath and others
Released year:
2003
9.Kalyana Samayal Saadham
Kalyana Samayal Saadham is based on a wedding scenario with some modern elements. The story of the movie revolves around a man named Raghu who is a software engineer by profession. Raghu marries a girl named Meera and soon their full families wait for the arrival of good news. But after marriage, Raghu gets stuck in the dilemma of limpdick which is a very serious condition for any married man. Soon he tries various treatments to cure his disease on the advice of his friend. While you are surely going to find some funny yet erotic scenes in between, the story focuses on some really serious topics of today's time. Besides, this movie has also been recreated in Bollywood as a famous classic ''Shubh Mangal Savdhan'' with Ayushmann Khurana in lead. Add this into your Tamil hot movies list if you want something fun yet sensual to watch.
Genre:
Romantic, Comedy
Directed

 by:

R.S Prasanna
Cast:
Prasanna, Lekha Washington
Released year:
2013
10.Hara Hara Mahadevaki
The whole plot of the story contains so many events that are connected to one other. It involves a large number of characters portraying different roles and all of them looking for their respective bags. The story of this movie concentrates on a break up of a couple named Hari and Ramya and their exchange of belongings. It further focuses on a politician who makes a plan to blast up a stage for earning people's consolation and hires two goons, a con who tries to become rich by revolving artificial monetary, a child's kidnapping and a police officer who is on a mission to find the culprit and a child. All characters remain in one place but their bags exchanges with each other, leading to confusion. With such chaos, we can surely say that the movie is an interesting madness to watch.
Genre:
Comedy, Romance
Directed by:
Santosh P. Jayakumar
Cast:
Nikki Galrani, Gautham Karthik, Bala Saravanan, Manobala, Rajendran, R.K Suresh, Sathish, Kovai Babu, Namo Narayanan and others
Released year:
2017
Also, See:
Conclusion: Tamil Adult Movies

That's all! Hope as an audience you have gained some information on some of the worth watching Tamil Adult movies. If you haven't watched it then it's time for you to enjoy these flawless stories in your free time. Stay connected with us, for more such articles about Tamil erotic movies.