Sevanthi is a Kannada soap opera, and romantic drama serial aired on Udaya TV on 25 February 2019. The serial is about the love story of Sevanthi and Arjun Prathap. Pallavi Gowda / Meghana Kushi / Dhanya Deepika, and Shishir Shastry are the main characters in the serial. Read on to know the Sevanthi serial cast, story, wiki, real names, timings, and everything related to this Udaya TV Serial.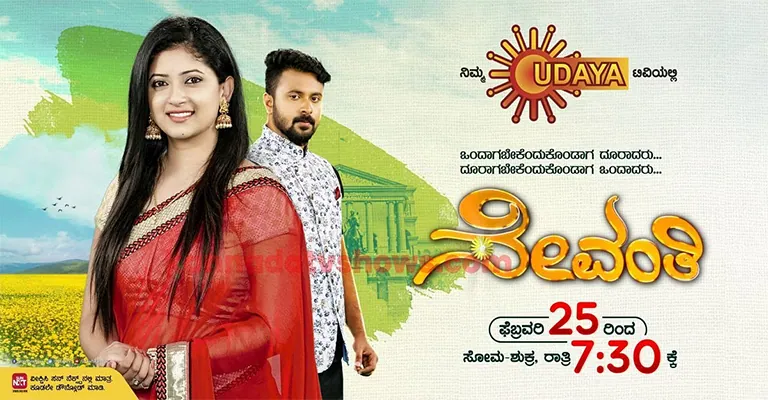 | | |
| --- | --- |
| Name | Sevanthi |
| Language | Kannada |
| Channel | Udaya TV |
| Genre | Soap Opera And Romantic Drama |
| First Episode Date | 25 February 2019 |
| Final Episode Date | Ongoing |
Sevanthi Serial Cast
Pallavi Gowda / Meghana Kushi / Dhanya Deepika is the female lead in the serial. Along with her, Shishir Shastry plays the male lead role in the serial. The recurring cast is Aishwarya Vinay, Sangeetha Anil, and Abhijit Singh / Vinay Kashyap Simha. Read on to know the complete cast of the Sevanthi serial.
Sevanthi Serial Star Cast (Main Cast)
Pallavi Gowda / Meghana Kushi / Dhanya Deepika as Sevanthi Arjun / Anuradha Arjun
Role: Arjun's wife
Shishir Shastry as Arjun Prathap Simha
Role: Sevanthi's husband
Sevanthi Serial Recurring Cast
Aishwarya Vinay (Priya / Fake Anuradha)
Sangeetha Anil (Kalpana Prathap Simha)
Abhijit Singh / Vinay Kashyap Simha (Ashwin Prathap Simha)
Siri Raju / Prathiba Gowda / Pooja Lokapur (Pooja Ashwin)
Bharathi Vishnuvardhan / Ashalatha (Pramoda Devi)
Unknown / Roopashri (Yashodha Raghava)
Rajesh Gowda (Raghava)
Hamsa (Shantha Chandrakanth)
Girish Vaidyanathan (Prathap Simha)
Manjunath Bhat (Chandrakanth)
Sowmya Rao Nadig / Unknown (Sakshi)
Roopa Prabhakar (Rathna)
Krishna Adiga / Unknown (Shanthamurthy)
Unknown / Jyothi (Switzerland Sharada Devi)
Crew
| | |
| --- | --- |
| Producer | Yet To Update |
| Directed by | Sanjeev Tagadur, Nagaraj Uppunda |
| Writing Credits | Yet To Update |
| Editing by | Yet To Update |
| Cinematography by | Yet To Update |
| Music Department | Karthik Sharma |
| Production House | Saregama |
Storyline
Sevanthi is a lively girl who desires to live a peaceful family life and is raised in an orphanage. However, fate has its plans for her. Due to unpredictable incidents, she meets with her biological father, but they both are unaware of the truth. On the other side, Arjun Prathap is a criminal Lawyer who hates love and marriage, but eventually, she marries Arjun by force. After marriage, Arjun falls in love with Sevanthi. The rest of the story is about Sevanthi coming to know about her biological father.
Timing & Repeat Telecast Timing
Sevanthi's first episode was released on 25 February 2019. It is one of the longest-running soap operas & now it is Announced at 10:00 pm from Monday to Sunday on Udaya TV and is also available on the Sun NXT streaming platform.
| | |
| --- | --- |
| Show Timings | 10:00 PM |
| Show Days | Monday to Saturday |
| Running Time | 22 minutes |