Rettai Roja is an Indian Tamil language drama show. The date of the first episode was on 12 August 2019. The plot is about twin girls, Anu and Abi, who belong middle-class family. Shivani Narayanan, Shivani Narayanan, and Akshay Kamal played the main roles. Read on to know the Rettai Roja serial cast, story, wiki, real names, timings, and everything related to the Zee Tamil TV serial.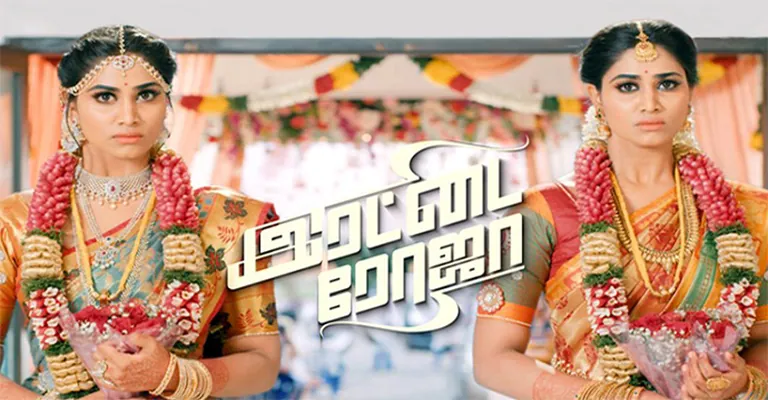 | | |
| --- | --- |
| Name | Rettai Roja |
| Language | Tamil |
| Channel | Zee Tamil |
| Genre | Drama |
Rettai Roja Cast
Shivani Narayanan played the main role in the serial. The name of her character is Anu.Akshay Kamal as Sanjeev and Pandi both. Tamil Selvi as Seetha, VJ Mounika as Sreeja in the supporting cast, Poovilangu Mohan, and Nimesh Sagar. Check out the detailed information about the Main cast and supporting cast of the Rettai Roja serial
Rettai Roja Star Cast (Main Cast)
Shivani Narayanan or Chandini Tamilarasan as Anu and Abi
Akshay Kamal as Sanjeev and Pandi
Rettai Roja Recurring Cast
Tamil Selvi (2019–2020 / Meera Krishna 2020–2021 / Seetha Anil 2021–present- Seetha)
L. Raja (Ramchandran)
Poovilangu Mohan (Kandhasamy)
Nimesh Sagar (Santhosh)
VJ Mounika (Sreeja)
Meena Vemuri (Chinthamani)
Bharatha Naidu (Inspector Jhansi)
Sabitha Anand (Deivanai)
Diwakar (Kaali)
Rashmika Roja (Muthazhagu)
Jeyanthi Narayanan (2021–2022)
Senthilnathan (2021–2022)
Sangavi (2021) / Dhanalakshmi (2021–2022)
Guest Appearances
Priya (Kavitha)
Indran (Salman)
Sujatha (Nagalakshmi)
Bavithran (Sathish)
"Singer" Srikanth Deva (Himself)
Vadivukkarasi (Tayamma)
Madhan Bob (Kunchithapatham)
Crew
Producer
Shruthi Narayanan
Directed by
G. Manikandakumar
Abdullah
Nandha Kumar
Composer
Vishal Chandrasekar
Concept
Yet to be Updated
Screenplay
Sargunam Pungaraj
Muthusamy Shakthivel
Story
Yet to be Updated
Production House
Shruthi Studios
Dialogue
Yet to be Updated
Editor
Yet to be Updated
Storyline
Anu and Abi are twin sisters. They belong to middle-class families. The elder sister is  Anu. She was an authoritative and money-minded girl. Abi is a simple and kind-natured girl. Anu becomes a highly educated girl, whereas Abi becomes a tailor. There are lots of twists and conflicts. 
Release Date & Final Episode
Rettai Roja was first telecasted on 12 August 2019. The Final episode of the serial aired on 17 March 2023. It is also available on the Zee 5 OTT Platform.
| | |
| --- | --- |
| Channel | Zee Tamil |
| Running Time | 25-27 minutes |
| Starting Date | 12 August 2019 |
| Final Episode | 17 April 2023 |