Eeramana Rojave 2 (Star Vijay) Serial Cast, Roles, Timing, Wiki & More: Eeramana Rojave 2 is a Tamil romantic drama serial aired on Star Vijay on 17 January 2022. The serial is about Jeeva and Kavya. Gabriella Charlton, Dhiraviyam Rajakumaran, Swathi Konde, and Siddharth Kumaran play essential characters in the serial. Read about the Eeramana Rojave 2 serial cast, story, wiki, real names, timings, and everything related to this Star Vijay shows.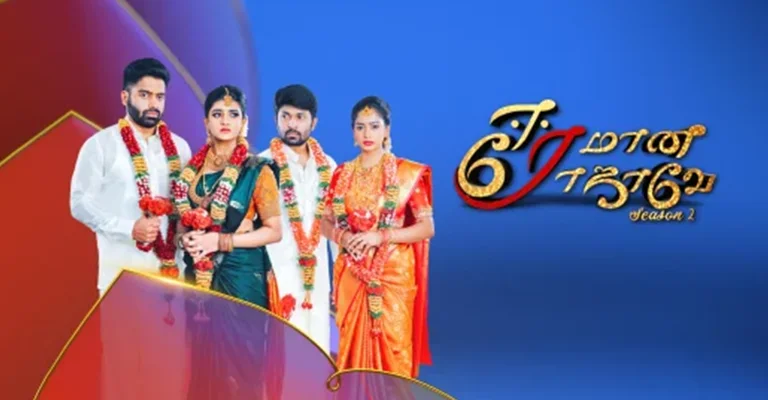 | | |
| --- | --- |
| Name | Eeramana Rojave 2 |
| Language | Tamil |
| Channel | Star Vijay |
| Genre | Romantic Drama |
| First Episode Date | 17 January 2022 |
| Final Episode Date | Ongoing |
Eeramana Rojave 2 Serial Cast
Actress Gabriella Charlton plays the role of Kavya in the TV series. Dhiraviyam Rajakumaran, as Jeeva, plays the male lead character on the other side. Aarthi Ramkumar, Deepak Kumar, Shravnitha Srikanth, and V. Dasarathy are the supporting cast in the serial. Read on to know the complete cast of the Eeramana Rojave 2 serial.
Eeramana Rojave 2 Serial Star Cast(Main Cast)
Gabriella Charlton as Kavya
Role: Parthiban's wife
Dhiraviyam Rajakumaran as Jeeva
Role: Priya's husband
Siddharth Kumaran as Parthiban
Role: Kavya's husband
Swathi Konde as Priya
Role: Jeeva's wife
Chandhini Prakash as Ramya
Role: Devi's daughter
Dinesh Gopalsamy as JK
Role: Devi's nephew
Eeramana Rojave 2 Serial Recurring Cast
Aarthi Ramkumar (Devi)
Deepak Kumar (Arjun)
Shravnitha Srikanth (Sakthi)
V. Dasarathy (Arunachalam)
Meena Vemuri (Parvathy)
Manohar Krishnan / Prakash Rajan (Duraisamy)
Kiruba (Mahalakshmi)
Sunitha (Meera)
Preethi Kumar (Aishwarya)
Rajeshwari (Manjula)
Sivan Srinivasan (Bhaskar)
Kanishka (Anitha)
Kammapandi (Bhoothapandi)
Praveen Devasagayam (Azhagar)
Crew
Producer
Raja Velu
Directed by
Thai Selvam
Manoj Kumar
Writing Credits
Nandan Sreedharan
Editing by
SK Abdul Suhel
Cinematography by
Antony
Music Department
Ilayavan
Production House
A Telefactory
Storyline
Jeeva and Kavya, they both love each other. On the other side, Jeeva's brother and Kavya's sister, they going to get married. But due to some circumstances, Kavya gets to marry Jeeva's brother, and Jeeva gets to marry Kavya's sister. So the rest of the story is about how the two couples live together.
Eeramana Rojave 2 Serial Timing & Repeat Telecast Timing
The first episode of Eeramana Rojave 2's serial was telecasted on 17 January 2022 on the Star Vijay channel. Now it is announced from Monday to Friday at 7:30 PM. Besides, you can watch the series on the OTT platform Disney+ Hotstar.
| | |
| --- | --- |
| Show Timings | 7:30 PM |
| Show Days | Monday to Friday |
| Running Time | 22 minutes |