Murder mysteries are a genre that most cannot resist. The thrill of watching someone solving a murder or being involved in a murder always gets us on the edge-of-our-seats.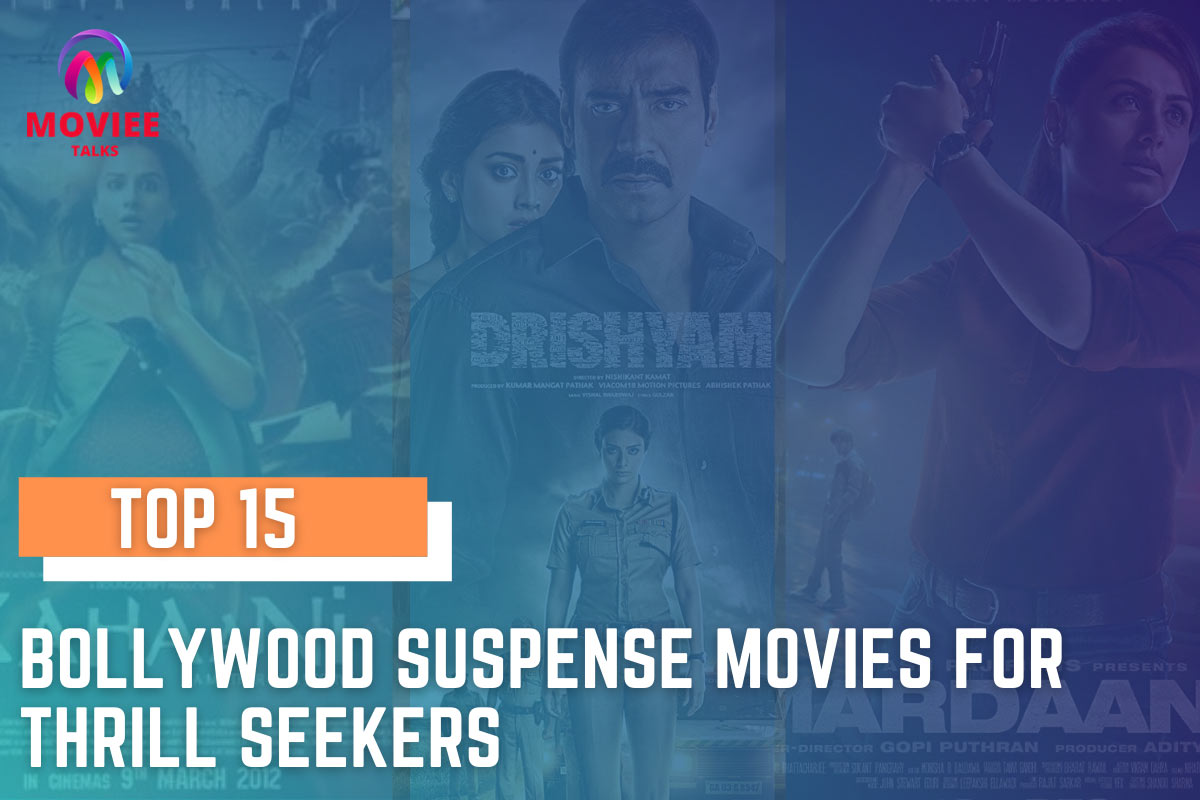 Hindi suspense movies have frequently dazzled us from the black-and-white movies to present-day CGI ones. We have witnessed a boatload of iconic Bollywood suspense movies that have kept us hooked till the very end.
So, let's see a list of top Bollywood suspense thriller movies list to watch if you haven't already:
Best Hindi Suspense Movies to Watch
1)Mahal (1949)
A black and white movie that not only is a  thriller but also sends chills down the spine. This movie makes it in the best Suspense movies Bollywood list not only because of its storyline but also due to its picturization. The movie starts in a palace in Allahabad. Hari Shankar comes to live in the palace and he hears the sad tale of the incomplete love story. The palace was built by a man for his lover, Kamini. She would wait for him to come to her at midnight, but he would leave before dawn broke. One night the man's ship sinks and he drowns. And a heartbroken Kamini also dies a few days later. When Shankar goes to bed after hearing the story, he starts hearing a woman singing and follows her voice. The movie follows the suspense of the ghost of the palace and the hero tries to solve the mystery behind the incomplete love.
IMDb Rating: 7.1/10
Cast: Ashok Kumar, Madhubala, Vijaylaxmi, Kanu Roy
Also, See:
2)Kanoon (1960)
This 1960 film is considered one of the best crime thriller movies of all time. The movie presents a case against capital punishment. The movie deals with a courtroom drama scene of a murder case, where the son-in-law is the defence lawyer that is suspects his father-in-law. Watch as the movie unfolds a mystery of wrongful death and psychological thriller.
IMDb Rating: 7.9/10
Cast: Rajendra Kumar, Ashok Kumar, Mehmood, Nanda, Jeevan, Nana Palsikar
3)Woh Kaun Thi (1964)
Another black and white film to make it into the best Hindi thriller movies is Woh Kaun Thi. This 1964 psychological crime thriller movie takes place on a lonely night. Dr Anand (Manoj Kumar) is travelling on a lonely road and sees a woman asking for a lift. As soon as she gets into the car he feels a sense of fear take over and slowly makes his way down the route she tells him. She leads him to a cemetery and he slowly realizes the sordid tale. Watch the film to check one of the best Hindi suspense movies of all time.
IMDb Rating: 7.6/10
Cast: Manoj Kumar, Sandhya, Helena, Prem Chopra
4)Mera Saaya (1966)
Mera Saaya is another of the great Bollywood thriller movies to be viewed. Thakur Rakesh Singh is a descendant of royalty and is a lawyer. He is married to Geeta for more than three years and goes to London for his higher studies. But after a year he receives news that his wife falls ill. But his wife dies. He is in mourning when one day a police inspector comes to him and tells him about a bandit they have caught. When he meets her, he gets shocked because the bandit looks exactly like Geeta. What follows is a tale of shocking psychological suspense that makes this movie one of the best thriller movies of all time.
IMDb Rating: 7.6/10
Cast: Sunil Dutt, Shivraj, Sadhana Shivdasani, K.N. Singh
5)Khiladi (1992)
If murder mysteries intrigue you, then Khiladi is a good shot in Bollywood suspense movies to catch. This movie was the launch of the Khiladi franchise starring Akshay Kumar. The movie plot revolves around 4 college students – Raj, Boney, Neelam, and Sheetal. Raj and Neelam are romantically involved, as are Boney and Sheetal. Thanks to Raj's gambling addiction, they lose out on a lot of money. To pay back the money they create a plan where they trick Sheetal's family into thinking that she has been kidnapped. Everything goes smoothly and they receive the ransom, but disaster strikes. Sheetal is found stabbed with a knife. How will Raj, Boney, and Neelam find out who killed their friend? Will they be blamed for her murder or will they be able to solve the mystery?
IMDb Rating: 7.2/10
Cast: Ayesha Jhulka, Sabeeha, Akshay Kumar, Deepak Tijori
6)Gupt (1997)
The perpetual questions of whodunit, and who's to blame are seen asked numerous times in this underrated crime thriller Bollywood movie. Sahil Sinha, a fun-loving man, lives with his mother, stepfather, and younger brother. He is always in conflict with his stepfather who wants nothing more than the best for him. Unfortunately, that is short-lived when Sahil's stepfather is found stabbed with a knife in his study room. Everyone suspects Sahil and he is sent to jail for 14 years. But with his friend, Sheetal, he escapes. Watch Sahil follow the trail of his father's killer and the ending is enough to shock anyone.
IMDb Rating: 7.3/10
Cast: Bobby Deol, Manisha Koirala, Kajol, Raj Babbar, Paresh Rawal
7)Sangharsh (1999)
This psychological thriller checks all the boxes when it comes to the best Bollywood suspense movies. A series of child kidnappings and murders leaves the police shocked and scratching their heads. The case is handed over to the CBI and recruit Reet Oberoi is charged with solving the case. All clues left behind point her to the direction of Lajja Shankar Pandey, a fanatic who wants to gain immortality by sacrificing children. With Lajja's erratic thought process, and Reet's past haunting her, she is forced to get help from a man named Professor Aman Verma. Watch as Reet and Aman try to save the children and stop the madness from moving forward.
IMDb Rating: 6.8/10
Cast: Preity Zinta, Ashutosh Rana, Akshay Kumar
8)Samay (2003)
What happens when a police officer has to investigate a serial killer who believes in the power of time? This Sushmita Sen starrer is one of the best Suspense movies Hindi. Sushmita Sen plays the character of ACP Malvika Chauhan who is tasked with finding the killer of a rich businessman. While investigating the case she comes across two other murders that have similar evidence. The movie line takes a twist when Malvika realizes that there is more to the murders than what meets the eye. To know what happens watch Samay, a classic from the Hindi Suspense movies list.
IMDb Rating: 6.9/10
Cast: Sushmita Sen, Sushant Singh, Barkha Singh, Dinesh Lamba, Jackie Shroff
9)A Wednesday! (2008)
As far as mystery movies go, A Wednesday is one of the best. With two stalworth actors like Anupam Kher and Naseeruddin Shah going up against one another to protect the city they love, this movie is one to watch. The series of events starts on a normal Wednesday when police commissioner Anupam Kher gets a call. It is from a bomber who says that he has placed 5 bombs around Mumbai that will explode within 4 hours simultaneously. His demands – the release of 4 militants. With tempers flying high and the situation becoming graver, will the Police Commissioner give in to the demands of a bomber or will Mumbai go up in flames? Watch A Wednesday know more.
IMDb Rating: 8.1/10
Cast: Naseeruddin Shah, Anupam Kher, Aamir Bashir, Jimmy Shergil, Deepal Shaw
10)Karthik Calling Karthik (2010)
This Bollywood Suspense movies list is incomplete without this Indian psychological thriller film, Karthik Calling Karthik delves into the depths of the human mind. Karthik is an introvert who feels trapped in his job. Tired of his boss's constant berating and his goalless life, he decides to commit suicide. But just as he has decided to end his life he gets a call from a man who sounds eerily just like him. The voice tells him that he can help change his life, and every day at 5:00 in the morning, Karthik receives the mystery man's phone calls. So, who is this mystery caller who knows his life and his worries? And how does he know how to help Karthik? Watch one of the best Hindi suspense movies to check what happens.
IMDb Rating: 7.0/10
Cast: Farhan Akhtar, Deepika Padukone, Shefali Shah
11)Kahaani (2012)
Another good film to be added to the Bollywood suspense thriller movies list is Kahaani. A poison-gas attack in a Kolkata Metro compartment kills all passengers on board. Two years afterward Vidya Bagchi, a pregnant software engineer comes to Kolkata to look for her missing husband. But surprisingly there is no such person in that name. Watch what happens as Vidya Bagchi tries to solve her husband's disappearance.
IMDb Rating: 8.1/10
Cast: Vidya Balan, Parambrata Chatterjee, Nawazuddin Siddiqui, Saswata Chatterjee, Abir Chatterjee
12)Talaash (2012)
Talaash is another great film in the Bollywood Suspense movies list to watch. Starring Aamir Khan, this psychological thriller movie sees Inspector Surjan Singh Shekhawat investigating the death of actor Armann Kapoor. The victim dies when he loses control of his car and drives into the sea. But, inspector Surjan realizes that something is wrong when the money goes missing from the victim's car. During this time, Surjan meets Rosie, an escort, who is connected with the case. She decides to help the inspector solve the case. But there are some things about Rosie that does not add up. Will Inspector Surjan be able to solve the case? Watch Talaash one of the best Hindi suspense movies of that decade.
IMDb Rating: 7.2/10
Cast: Aamir Khan, Kareena Kapoor, Rani Mukherjee, Nawazuddin Siddiqui, Rajkummar Rao, Vivan Bhatena
13)Mardaani (2014)
What happens when a child trafficking cartel comes up against a dedicated female Crime Branch Inspector? The movie Mardaani shows us what. Inspector Shivani Shivaji Roy is tough, especially when it comes to dealing with male criminals. When a teenage orphan and beggar Pyaari gets kidnapped and sold into child trafficking, inspector Shivani goes all out to nab the crime cartel. With multiple plot twists and a completely shocking ending, the movie shows just how far women are willing to go to protect one another.
IMDb Rating: 7.3/10
Cast: Rani Mukherjee, Jisshu Sengupta, Tahir Raj Bhasin
14)Drishyam (2015)
Drishyam is another great film in the best Suspense movies Bollywood list. This 2015 movie is the story of a man who loves watching movies and his love for his family. Vijay Salgaonkar is married to Nandini and has two children, Anju, his adopted daughter, and Anu. Anju goes for a nature camp with her classmates and there she is videotaped showering. The culprit Sameer Deshmukh starts blackmailing Anju to perform sexual favors in exchange for his silence. Nandini finds out and begs him to stop. In a tussle that follows, Sameer dies. When Vijay comes to know about what happened he tries to cover the murder. But unfortunately, Sameer's mother, Meera Deshmukh is the Inspector General of Goa Police and she will stop at nothing to find her son. Does Vijay save his family from prison? Will Meera find her son? Watch Drishyam find out.
IMDb Rating: 8.2/10
Cast: Ajay Devgan, Tabu, Shriya Sen, Ishita Dutta, Rajat Kapoor, Rishab Chadha
15)Mardaani 2 (2019)
Inspector Shivani Shivaji Roy is back for another showdown. This time she has become an IPS officer and is sent to Kota to look into a brutal rape and murder of a college student. But this killer is not like the others she has dealt with. He is smart and plans out his actions with finesse. The movie delves into the delicate nature of the human mind and just how one drop can tip the scales between good and evil. The final scene of the movie is a wake-up call to all evil who wish to harm women, that they are no longer willing to sit and just take it. Follow Shivani Roy as she jumps into the mind of the killer to see how he functions, in this epic Bollywood suspense movies.
IMDb Rating: 7.4/10
Cast: Rani Mukherjee, Jisshu Sengupta, Vishal Jethwa, Shruti Bapna
Read:
Wrapping Up: Top Bollywood Suspense Movies
Who does not enjoy a bit of murder and intrigue in their boring lives? The above mentioned Best suspense movies Bollywood, have all the nail-biting, mystery seeking, jumping-in-you-seat scenes that most thriller-buffs enjoy.
So, get popcorn popping, turn the lights off and start watching the list of Best Hindi Thriller movies. If you have a few movie names that you would like to see added to this list, then let us know.