When you think of the most handsome man in the world, there is only one name that comes to mind – Hrithik Roshan. With his smoldering looks, fit body, and deep voice – he is the man of every woman's dreams.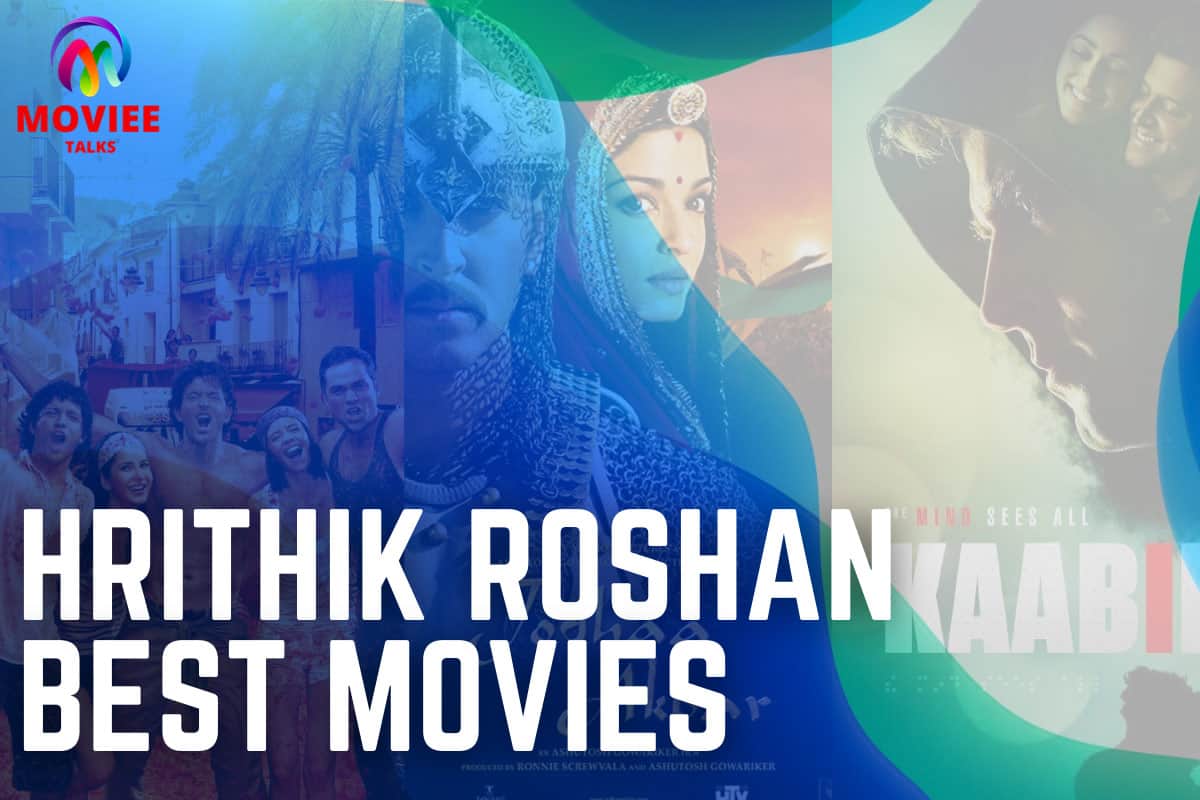 But he is much more than his looks. His acting abilities have made him the Superstar he is today. 
So, check out the 10 Hrithik Roshan best movies to start watching today: 
10 Hrithik Roshan Hit Movies to Watch Today 
1)Kaho Na Pyaar Hai (2000) 
When creating the best movies of Hrithik Roshan list, Kaho Na Pyaar Hai will always come in as one of the tops. Why? Because it was his debut movie. 
The movie follows the life of Rohit, an aspiring singer, and car salesman, who meets Sonia, a spoiled rich girl. Sparks fly as both realize that even though they belong to different classes and come from different backgrounds, nothing can keep them apart. But tragedy strikes as Rohit dies. Sonia gets sent off to New Zealand to her uncle. Here she meets Raj Chopra, who looks exactly like Rohit. Raj starts falling for Sonia, but she cannot accept the fact that he looks just like Rohit. Once Raj hears her story and sees the pictures she has of Rohit, he decides to go with her to India. 
Will Raj and Sonia be able to solve Rohit's murder? Watch one of the best Hrithik Roshan movies of all time to see what happens. 
Director: Rakesh Roshan 
Cast: Hrithik Roshan, Amisha Patel 
Also Read:
2)Kabhi Khushi Kabhie Gham (2001) 
This iconic movie full of superstars gave us epic dialogues and stellar performances. With lines like 'Kehe diya! Buss! Kehe diya!' and 'Kaun hai yeh jisne Poo ko dubara mur ke nahi dekha?' we all fell in love with the movie. But what stood out amongst the 'IT' crowd was Hrithik Roshan's role as Rohan. 
Considered as one of Hrithik Roshan best movies to date, we see the complex relationships between siblings, parents-children, and husband-wife. With a little bit of dance and flair thrown in Karan Johar style. Rewatch one of Hrithik Roshan top movies to see the Hrithik we all fell in love with. 
Director: Karan Johar 
Cast: Amitabh Bachchan, Jaya Bachchan, Shah Rukh Khan, Kajol, Hrithik Roshan, Kareena Kapoor Khan 
3)Jodhaa Akbar (2008)
Another name in the Hrithik Roshan hit movies list, Jodhaa Akbar is one for the ages. Based on the Mughal Emperor Akbar and his Hindu wife this love story is one that most miss out on. 
Raja Bharmal of Ajmer promises his daughter Jodhaa to Akbar. She is a peace prize when the Mughals started their invasion of Rajputana States. But, she is not one to bow down to a man. She demands a meeting with Akbar and demands to practice her religion and to build a temple in the palace to let her practice her faith. Akbar relents and with time they both fall for each other. 
But can the Mughal Emperor choose between the love of his life and the love for his people? Watch one of the best movies of Hrithik Roshan to find out. 
Director: Ashutosh Gowariker 
Cast: Hrithik Roshan, Aishwarya Rai, Sonu Sood 
4)Zindagi Na Milegi Dobara (2011) 
Zindagi Na Milegi Dobara is another people's favorite in the Hrithik Roshan hit movies list. Imraan, Kabir, and Arjun decide to take their trip to Spain before Kabir's marriage. They have a pact to go to Spain and pick an adventure sport that they all will have to try. 
But, the three of them have changed from their college days. Arjun has become a workaholic, Kabir has lost himself in trying to please his fiancée, and Imraan is trying to find his father and his identity in Spain. 
Will the three be able to deal with their insecurities and solidify the bonds of their friendship, or will it be too much for them to come back from? Watch one of the best hit movies of Hrithik Roshan to find out. 
Director: Zoya Akhtar 
Cast: Hrithik Roshan, Farhan Akhtar, Abhay Deol, Katrina Kaif, Kalki Koechlin 
5)Mission Kashmir (2000)
When checking out hit movies of Hrithik Roshan, Mission Kashmir should be on the top of the list. This action-thriller movie is about Altaaf, a boy who witnesses the murder of his parents. The chief of police, who was the actual murderer, adopts him. When Altaaf finds out the truth he runs away and joins a terrorist group to seek revenge. The movie is violent and deals with the issue of terrorism both in jihad and police brutality. It will make you wonder who the actual terrorists are – the jihadis or the police. 
Watch Hrithik Roshan's epic performance as he battles with what is right and what is his duty. 
Director: Vidhu Vinod Chopra 
Cast: Hrithik Roshan, Jackie Shroff, Sanjay Dutt, Preity Zinta 
6)Lakshya (2004)
Lakshya is one of Hrithik Roshan top 10 movies to watch. The film revolves around Karan Shergill, an aimless young man. His wealthy businessman father, and activist girlfriend, all try to push him to do something with his life. When Karan's friend Pravesh decides to join the Indian Army, he decides to take the Combined Defense Service Exams. 
Karan gets into the Indian Military Service, but he is so unused to the discipline and strain, he runs away. His family and his girlfriend, decide that their low opinions of him were correct and he takes a look at his life. He returns to the IMA and completes his training to become a lieutenant in the 3rd battalion of the Punjab Regiment. 
The movie is a journey of a man who faces his fears head-on and pushes himself to the limits that even he did not know he possessed. 
Director: Farhan Akhtar 
Cast: Hrithik Roshan, Priety Zinta, Boman Irani, Amitabh Bachchan 
7)Agneepath (2012)
Kar Shapath! Kar Shapath! Kar Shapath! 
Agneepath! Agneepath! Agneepath! 
When looking into Hrithik Roshan best movies, if Agneepath is not on your list, then are you a Hrithik fan? Nothing strikes more than when Vijju is hanging Kancha from the same tree where his father was hung, reciting these lines. 
This remake of the 1990 film starring Amitabh Bachchan takes place in a small island of Mandwa. Vijay's father, Dinanath Chauhan is the beloved school teacher who tries to keep the people of the village from going down the wrong path. But the village chief hates the respect the people have for him and calls his son Kancha back to deal with him. Kancha falsely accuses the school teacher of killing a student and rallies the village people to hang him. Vijay witnesses the treachery and runs away to Mumbai with his mother and younger sister. 
With a small time-lapse, we meet the adult Vijay Dinanath Chauhan (aka Hrithik Roshan) who now works for Rauf Lala as a gang member. Vijay has been slowly planning his revenge on Kancha and with the backing of Rauf Lala, he starts moving ahead with it. 
If you are looking for a movie with drugs, trafficking, murder, shootouts, blood, gore, and revenge then watch Agneepath today. 
Director: Karan Malhotra 
Cast: Hrithik Roshan, Rishi Kapoor, Sanjay Dutt, Priyanka Chopra, Om Puri 
8)Kaabil (2017)  
Another one of the best movies of Hrithik Roshan, Kaabil is the story of Rohan Bhatnagar (Hrithik Roshan) a happy, fun-loving man who has been blind since birth. He meets Supriya Sharma (Yami Gautam) and they both fall in love. Supriya is also blind but is fiercely independent. Their idyllic life comes to a stop when two men enter their house and rape Supriya. 
Rohan and Supriya try to get the police to help them, but it all falls in vain. When Supriya commits suicide, that is the moment when Rohan decides to seek justice for his wife. 
Watch Kaabil and see how a blind man brings his wife's rapists to justice while keeping police officers at bay. 
Director: Sanjay Gupta 
Cast: Hrithik Roshan, Yami Gautam, Ronit Roy, Rohit Roy 
9)Fiza (2000) 
Next on the list of Hrithik Roshan best movies is Fiza, the tale of a sister's love for her brother. 
In the 1993 Mumbai riots, Fiza loses her brother Amaan, and she hopes that he will return one day. But after six years, Fiza approaches all channels like the media to find him. She finally finds Amaan (Hrithik Roshan) but to her horror, he is a part of a terrorist group. She convinces him to come back to her but the Amaan she knew as a child is gone. 
Fiza later finds out that Amaan has been instructed to kill two politicians but as she reaches the area, she sees that he has already committed the murders. Finally, Fiza faces the choice of letting Amaan go and become a terrorist or to kill him. She pulls the trigger. 
Director: Khalid Mohammed 
Cast: Karishma Kapoor, Jaya Bachchan, Hrithik Roshan
10)War (2019)  
Any Hrithik Roshan hit movies list would be incomplete without the mention of his latest feature War. 
The movie follows the story of an Indian special forces soldier who has to find and kill his mentor, who has gone rogue. Hrithik delivers a stellar performance in his role as Kabir that leaves even Tiger Shroff mesmerized. With multiple action sequences and a few dance numbers, we see that Hrithik still has that flair and smoldering looks that ranked him the World's most handsome man. 
Director: Siddharth Anand 
Cast: Hrithik Roshan, Tiger Shroff, Vaani Kapoor 
Read:
Conclusion :Hrithik Roshan Best Movies
Hrithik Roshan may be an oldie amongst the new talent that is cropping up in Bollywood. But just like wine, the older he becomes, the better looking he becomes. And with every movie, he is proving to viewers again and again that he has what it takes to stay on top – the Greek God looks, the voice, and the talent. He is our quintessential SuperStar.