Thinking about what to watch over the weekend? Scrolling through your Netflix must watch list to see what's good to watch? Why not check out some Tamil movies on Netflix to binge-watch.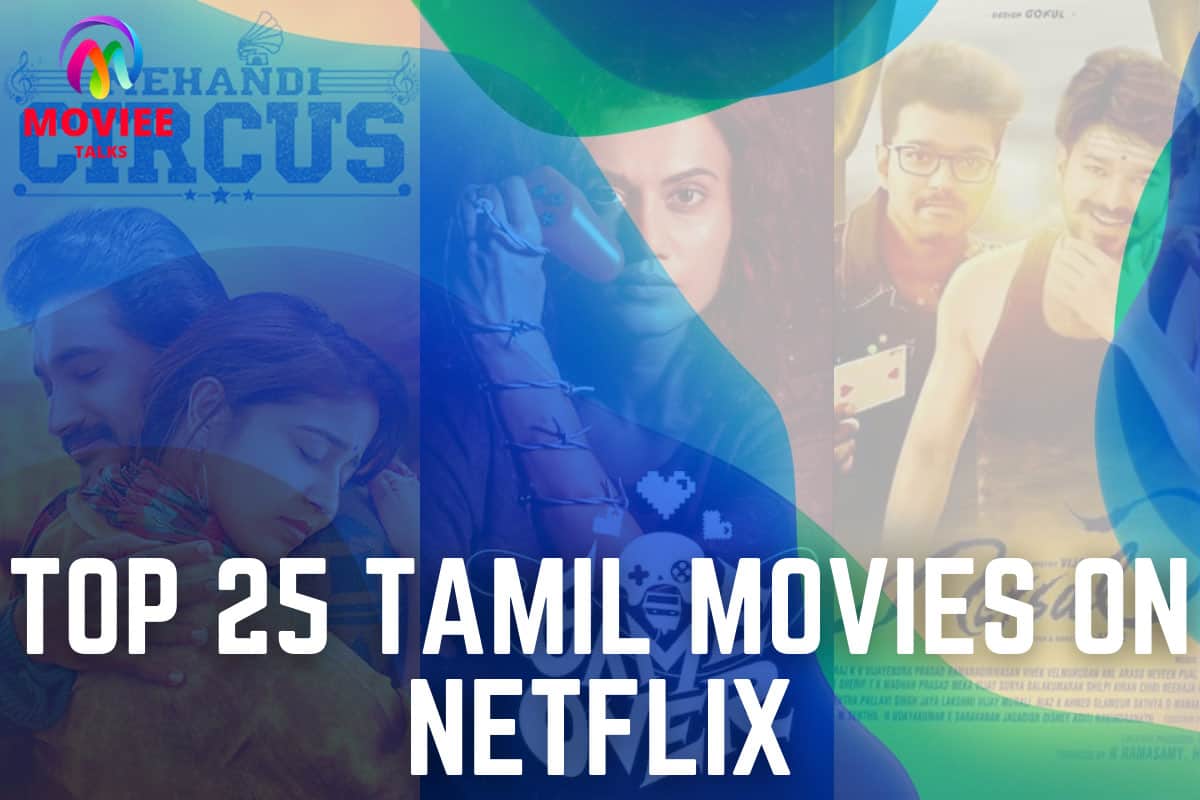 Tamil movies offer viewers a large variety of options. With colorful scenes, epic dialogues, and intriguing storylines – the movies mentioned in this list are nothing short of iconic.
So, check out our list of 25 of the best Tamil movies on Netflix to start watching today
25 of the Best Tamil Movies List on Netflix To Binge Watch
Check out our top 25 best Tamil movies on Netflix list to see what to watch over the weekend:
1. Kannum Kannum Kollaiyadithaal (2020)   
If you like rom-com films then Kannum Kannum Kollaiyadithaa is a good Tamil movies on Netflix list to watch. With fun plot twists and entertaining thrills, the movie takes us into the lives of Siddharth and Kaliswaran. They are two friends who live together. They spend time earning money and wasting it on women. Siddharth falls for Meera, while Kallis falls for her friend Shreya. But instead of this being a sappy romantic story, this is where the plot thickens. The boys turn out to be con artists, who scam people for money. Now, what happens when a police officer unravels their scams? Will they make it out or will they spend their life in jail? Watch Kannum Kannum Kollaiyadithaal on Netflix to find out.
Genre – Romantic – Thriller
Director – Design Periyasamy
Cast – Dalquer Salmaan, Rakshan, Ritu Varma, Niranjani Ahathian
Also See:
2.Mehandi Circus (2019)
If you love watching romantic Tamil movies on Netflix, then Mehandi Circus is just the right one for you. Mehandi Circus is a love story that revolves around Jeeva and Mehandi. Jeeva runs an audio cassette store, while Mehandi is a performer in the circus. With the lights and sounds of the circus in the backdrop, the tale of unrequited love pulls at the heartstrings of viewers. Through the movie, Jeeva – Mehandi's love story remains incomplete, but in the end, just like a moth attracted to a flame, the two star crossed lovers meet and complete their love story.
Genre – Romance
Director – Saravana Rajendran
Cast – Shweta Tripathi, Madhampatty Rangaraj
3.Irandam Ulagaporin Kadaisi Gundu (2019)
What happens when an unused World War II bomb affects the life of a simple truck driver? Irandam Ulagaporin Kadaisi Gundu is on the Tamil movies list on Netflix for its exciting storyline and funny conversations. Selvam, a lorry driver for a scrap yard is ordered to pick up a load when he finds the bomb. What happens afterward is a tale of chaos – from trying to fight off corrupt ministers and police officers, and trying to keep the bomb safe, Selvam must choose between helping the love of his life or doing what is right?
Genre – Drama
Director – Athiyan Athirai
Cast – Anandhi, Dinesh
4.Super Deluxe (2019)

Another great mention in the Netflix Tamil movies list is Super Deluxe. This movie talks about myths, conventions, and beliefs that are subtly shown through the various characters' lives in the story. Featuring an all-star cast, this movie is more of a comical punch with a few Indian traditions thrown in.
Genre – Comedy
Director – Thiagarajan Kumararaja
Cast – Fahadh Faasil, Vijay Sethupathi, Ramya Krishnan, Samantha
5.Sarvam Thaala Mayam (2019)

Another good watch, Sarvam Thaala Mayam is the story of a mridangam maker's son, who goes across all social, personal, and political barriers to become a mridangam player. This highly engaging movie highlights the influence that caste and a person's background has even in modern times. But it also looks at how people are evolving and accepting that a person's value is based on his work, not his caste.
Genre – Drama
Director – Rajiv Menon
Cast – G.V. Prakash Kumar, Nedumudi Venu, Aparna Balamurali
6.K.D Engira Karuppudurai (2019) 
Next on our list of Tamil movies in Netflix is K.D. Engira Karuppudurai. This heart-warming story revolves around Karuppudurai, an elderly man, whose family is planning to kill him off. But when he overhears their conversations, he decides to leave. On his way, Karuppudurai stumbles across Kutty, a lively 8-year-old orphaned boy. The movie continues to show the bond that forms between the two during their journey. With no-frills attached, excellent acting, and an infectious storyline, this Tamil movie is incomparable to others.
Genre – Drama
Director – Madhumitha
Cast – Mu Ramaswamy, Nagavishal
7.Sillu Karupatti (2019)
Probably one of the best Tamil movies on Netflix, Sillu Karupatti is a mix of four love stories across different age groups. The movie revolves around the love stories of eight people. And how no matter what comes in their way – caste, religion, health issues – nothing matters. These love stories will leave viewers blushing and wondering if these kinds of love can happen for everyone.
Genre – Romance
Director – Halitha Shameen
Cast – Sunainaa, Sara Arjun, Nivedhithaa Sathish, Venkatesh, Swetha, Leela Samson, Sujay Kaviyan
8.Game Over (2019)

Tapasee Pannu's latest feature on Netflix Tamil movies is the psychological thriller Game Over. The movie starts with a woman being brutally murdered and the media reporting it as a start to a series of murders. Here we meet Swapna, a nyctophobic woman, who has become an avid gamer. When she becomes a target of the serial killer, she realizes that she either needs to be able to beat this serial killer and confront her demons.
Genre – Psychological Thriller
Director – Ashwin Saravanan
Cast – Taapsee Pannu, Ramya Subramanian, Vinodhini, Anish Kuruvilla
#9.Petta (2019)

No Tamil movies list is complete without the mention of a movie by Rajinikanth. Petta is another film available on Netflix that is a must-watch. Kaali, an elderly man, takes the job of a boys' hostel warden at a college in Ooty. He starts to notice that the hostel is ruled by a group of unruly final year students, led by a spoiled brat named Michael. But with a twist in the tale, Kaali or Petta, finds out that Anwar is the son of his friend. What occurs next is a tale of loyalty and brotherhood that extends beyond the realm of the living – as Petta once again takes up the cause of keeping his childhood friend's wife and son safe.
Genre – Action
Director – Karthik Subbaraj
Cast – Rajinikanth, Nawazuddin Siddiqui, Vijay Sethupathi, Simran, Trish
#10.Sarkar (2018)
If you love watching politically charged movies then Sarkar is the right pick for you. This Tamil movie follows the life of Sundar Ramaswamy, an NRI, who comes back to India to cast his vote in the Tamil Nadu elections. But he finds out that a vote has already been cast against his name. Sundar tries to raise awareness about electoral fraud and soon finds himself contesting in the elections. What follows is a story of greed, drama, and death threats. Watch Sarkar on Netflix India to see if Sundar wins his battle against corruption.
Genre – Drama
Director – A.R. Murugadoss
Cast – Vijay, Keerthy Suresh
#11.Merku Thodarchi Malai (2018) 
Merku Thodarchi Malai is another addition to the list. The story revolves around a laborer who toils away at a spice plantation in the Western Ghats. But, he has big dreams – he wants to buy a plot of land. And to earn a decent living instead of trying to climb the difficult terrain of the Ghats. The movie revolves around the challenges the protagonist faces. It highlights the downside of Industrialization that hits countless minimum wage earners of our country.
Genre – Drama
Director – Leninbharati
Cast – Abu Valayankulam, Antony, Gayathri Krishna
#12.Power Paandi (2017)
Another good film in the Tamil movies list on Netflix is Power Paadi. Directed and written by Dhanush, the movie portrays the story of an aged stuntman. He is on a quest to reconcile with the love of his life, who he broke up with 30 years ago. The movie is a heartwarming tale, of lost love, reunited friendships, and road trips. If you want to watch a heartwarming movie that resounds with all generations, then stream the movie on Netflix.
Genre – Drama
Director – Dhanush
Cast – Chaya Singh, Rajkiran, Prasanna, Revathi
13.Lens (2017) 
This intriguing film is another to make it in the best Tamil movies list on Netflix. Solely due to its picturization into voyeurism. The protagonist of the story, Aravind, starts having virtual sexual relationships. He starts losing touch with reality. He starts getting estranged from his wife and his family while indulging in virtual relationships. But when a stranger asks Aravind to witness his suicide, things take a turn for the worse. Will Aravind be able to forget his virtual mistress or will he become her slave? Catch this eye-opening movie on Netflix.
Genre – Drama
Director –  Jayaprakash Radhakrishnan
Cast – Jayaprakash Radhakrishnan, Anand Sami, Misha Ghoshal, Vinutha Lal
14. Sila Samayangalil AKA Sometimes (2017)

Sometimes is another great movie in the Netflix Tamil movies list. Seven strangers are waiting in a doctor's office with one common factor connecting them all – an HIV test. They all share their stories while waiting for the results. But, the movie takes a twist when one of them is suspected to be positive. This movie is a twisted take on the game of Russian Roulette, where no one knows where the ball will roll.
Genre – Suspense
Director – Priyadarshan
Cast – Prakash Raj, Ashok Selvan, Sriya Reddy, M.S. Bhaskar, Anjali Rao, Varun, M.S. Bhaskar
#15.Mersal (2017)
Another good addition to the Tamil movies list on Netflix, Mersal follows the age-old story of two brothers out to avenge the murder of their parents. With one brother a magician and another a doctor, both set out to bring their parents' murderers to justice. But what follows is a tale of murder, and intrigue that not only brings the two brothers closer to their parents' killers but also shocks the nation.
Genre – Drama
Director – Atlee Kumar
Cast – Samantha Akkineni, Vijay
16.Solo (2017)
Solo is another interesting and Tamil movies in Netflix to watch. This movie is based on four people with traits from the four elements in nature – Earth, Water, Fire, and Air. the movie follows the lives of these people and how their natures are decided based on the element that rules them. The film has a deeply philosophical approach to the link man has with nature, and is brilliantly portrayed through excellent direction and acting.
Genre –  Experimental anthology
Director – Bejoy Nambiar
Cast – Dulquer Salmaan, Neha Sharma, Sruthi Hariharan, Dhanshika, Dino Morea
17.Manusangada (2017)
Based on a true story about the struggles the Dalit community faces, Manusangada is another good watch in the Tamil movies on Netflix list. Based on the poem of the same name meaning 'We are humans too,' the story revolves around Kolappan. When his father dies, he is not allowed to carry his father's body through the common route, because he is a Dalit. Kolappan tries to seek help from officials, only to find that they are equally racist. Refusing to take any more racism, Kolappan begins a protest and finds more and more people joining his cause. The movie is based on a true incident and makes people take a look at the deeply troubling prejudice that Dalits have been forced to endure for centuries.
Genre – Docu-Drama
Director – Amshan Kumar
Cast – Sheela Rajkumar, Vidhur Rajarajan, Rajeev Anad, Manimegalai, Anand Sampath
18.Aval (2017)
The next film on our Tamil movies on Netflix list is Aval. Considered to be one of the best Tamil horror stories to be made. Dr. Krishna and his wife Lakshmi live in a beautiful house under a mountain range. But their perfect life is disturbed when a family moves in next door. Trouble brews for the couple, when their neighbors' teenage daughter Jennifer picks up some belongings of a deceased person. A series of paranormal incidents start affecting the people around them. The movie is not based on the conventional people vs demons, but rather the battle of good spirits vs evil ones, with the living being pulled in the supernatural war.
Genre – Horror
Director – Milind Rau
Cast – Andrea Jeremiah, Siddharth
19.Taramani (2017)
Taramani is another addition to the Netflix Tamil movies list for a must-watch. The movie shows the journey of a bold single mother and a stranger. One rainy day, Althea takes shelter under an abandoned bus stop with Prabhunath. At first, they appear suspicious of one another, but slowly start talking about their lives. Prabhu reveals that he was in love with a woman who used him to get money and run away to the States. During the movie, Althea introduces Prabhu to her son Adrian, and they soon form a bond. But so much darkness and deceit follow them that they eventually break up. After a tumultuous plotline, we finally see Althea and Prabhu come back together to live happily ever after.
Genre – Drama
Director – Ram
Cast – Vasanth Ravi, Andrea Jeremiah
20.Nila (2016)
Among the Tamil movies on the Netflix list, Nila is a romantic one you cannot miss. The movie starts on a rainy night, where a cab driver meets his childhood love when she gets into his taxi. With flashbacks from their childhood days, to present moments, the story is more about body language than dialogues. From stolen gazes to moments spent while driving to and from her work, the movie captures the emotions of two people who lost out on love perfectly.
Genre – Romance
Director – Selvamani Selvaraj
Cast – Vicky Vijai, Sruthi Hariharan
21.Metro (2016)
The next Tamil movie on Netflix list is Metro, a crisp entertaining action-thriller that exposes a chain snatching gang in Chennai. Arivu, the main protagonist of the story loves his life. He lives with his retired Police-Head constable father, housewife mother, and younger brother, Madhi, who is a 1st year Engineering Student.
Troubles come knocking on their door when Madhi's girlfriend pushes him to get an expensive bike. After pressurizing his family, who finally relents, Madhi is still unhappy because of the delay. That is when he sees his classmate Ganesh spending a lot of money. When he asks him, Ganesh introduces him to a gang of chain snatchers. Things go wrong when Madhi accidentally kills his mother. Arivu and his friend Kumar plan to avenge her death and stop these chain snatchers. But, in the end, Arivu finds out that it is his brother Madhi who is a part of the gang. So, will he turn a blind eye to his brother's misdeeds or will he confront him about it? Watch Metro on Netflix today to find out!
Genre – Action
Director – Ananda Krishanan
Cast – Shirish, Sendrayan, Bobby Simha
22.Orange Mittai (2015)
This 2015 comedy movie deserves its place in the Tamil movies in Netflix list. Sathya owns his emergency ambulance service and is sent to retrieve a critically old man on his father's death anniversary. But when the patient, Kailasam boards the vehicle, it is a whole different story. Even though he has a heart condition, his obstinate and grumpy nature is a bit problematic for Sathya. Will he be able to make the old patient happy? Will they be able to find the hospital he wants to go to? Watch Orange Mittai on Netflix to see how the movie plays out.
Genre – Comedy
Director – Biju Viswanath
Cast – Ramesh Thilak, Vijay Sethupathi, Aashritha, Jayaprakash
23.Visaranai (2015)

We start the Netflix Tamil movies list with Visaranai, a raw depiction of what happens to criminals inside a Police station lock-up. This bold movie shows the dark side of the judiciary system, where convicts are considered nothing better than the scum of the country and are treated as such. This hard-hitting docu-drama shows the disturbing side of police brutality, corruption, and how the poor get caught between.
Genre – Crime Thriller
Director – Vetrimaaran
Cast – Dinesh, Samurthirakani, Anandhi
24.Baahubali: The Beginning (2015)
Unless you have been living under a rock for the past few years, Baahubali is one of the best Netflix Tamil movies to grace the screens. The movie takes place in the ancient Kingdom of Mahishmati, where Queen Sivagami saves an infant Sivudu. With plot twists and multiple character developments, Sivudu is found to be the son of the late king Amarendra Baahubali, Mahendra Baahubali. Queen Sivagami takes control of running the country until a new king is chosen. And it is at this time that Mahendra and Bhallala Deva are trained in warfare, science, art, and politics.
Both boys receive the same education but while Mahendra is lenient and just, Bhallala Deva is violent and evil. With decisions about who is to be the next king looming over the country, and assassination plots flaring all around, will Mahendra be able to take his rightful place as king? Or will he be betrayed by someone he considers to be his confidant? Watch Baahubali: The Beginning to find out!
Genre –  Drama, Action
Director – S.S. Rajamouli
Cast – Prabhas, Rana Duggubati, Tamannaah, Anushka Shetty
25Vettai (2012)
No Tamil movies list on Netflix is complete without an R. Madhavan film, and Vettai is the perfect one to watch. Vettai is a movie about two brothers – Thiru and Guru. After the death of their father, Thiru, the sensitive elder brother, becomes a police officer and starts gaining fame because of his ruthless younger brother's help. But when Thiru gets beaten up by two of the biggest mob bosses, he realizes that he must live up to the expectations of the people, and gets his younger brother Guru to train him. The story continues as both brothers join forces to stop the two gangs and protect their families from them.
Genre – Action
Director – N. Lingusamy
Cast – R. Madhavan, Sameera Reddy, Arya, Amala Paul
Read: Top 10 Beautiful Tamil Serial Actress That Are Ruling The Industry
Conclusion: Top Tamil Movies On Netflix

Tamil movies have come a long way and the movies mentioned on the list are proof of that. No matter which genre you choose, Tamil movies have something for everyone. From action – to romance, from historical – to political – to horror – no genre is left out.
Did we miss any of your favorite Tamil movies on Netflix on our list? Let us know if there is any movie you would want to see added to this list.