Everyone has a fancy to know about the life of an actor and actress. The story of achieving success inspires us when it goes through difficulties. But some actors and actresses, who were born to famous parents, do what they do. Those are noted in the Hollywood royalty list. They always remain at the focal point from the beginning of their life.
Some of them hesitate and others utilize that public attention fully. Preferential treatment is normal in Hollywood. Some families conduct their heredity through generation after generation by starring their kids either as an actor or as director, producer. Here we discussed some important families in Hollywood who are continuing their contribution to the industry. Those members of Hollywood's royalty are –
Jennifer Aniston
Parents: Nancy Dow and John Aniston
Strictly not that noble royalty but Jennifer's parents both are actors. Her father, John Aniston is famous for the role of Victor Kiriakis from the hit drama series "Days of Our Lives" and her mother, Nancy Dow, is the posterity of the Royal House of Scotland. Her mother was an actress, model, and cast in the popular movie "The Wild Wild West". So, of course, it helps her to step into acting from both sides but she does not make us disappointed. Jennifer, the star of "Friends", gets success and proves herself as a B-movie actor, just like her mother, and takes a part in Hollywood's A-list. She is one of those who belong to female Hollywood royalty.
Emilio Estevez
Parent: Martin Sheen
Besides Charlie Sheen, Emilio is also a member of the Sheen family. Though many ignore that fact as he does not carry the same last name as his brother and father. But we find a family reflection on him. He has a successful career, starting with "The Outsiders"(1983), and he is maintaining it till now. 
He was cast in movies like "The Breakfast Club"(1985) and "St. Elmo's Fire"(1985). Not just for Hollywood's royalty but with his ability he gets success in his film career and we can associate his name with 80's nostalgia.
Charlie Sheen
Parent: Martin Sheen
Charlie Sheen is one of the Sheen family who at least reposed his family name in Hollywood. He started his career with "Red Dawn"(1984) and got more popularity after the Vietnam War film "Platoon"(1986) which is similar to the film "Apocalypse Now"(1979), acted by his father. He also worked on a TV series named "Two and a Half Men". Thus he served efficiently as an actor, just like his father. 
Michael Douglas
Parent: Kirk Douglas
The Douglas family, Hollywood's royalty, with Michael Douglas and his father Kirk Douglas, have a successful career in the film industry. "Wall Street"(1987), "Fatal Attraction"(1987), are some movies of Michael and Kirk Douglas that were cast in the drama like "Spartacus"(1960) and "The Final Countdown"(1980). Kirk with films, TV series, and Michael with Marvel's "Ant-Man" series, continuing their career for many years. Michael's mother Diana Douglas also played some minor roles In "Planes", "Trains", "Automobiles"(1987), "It Runs in the Family"(2003).
Jane Fonda
Parents: Henry Fonda
The Fondas have a connection with Hollywood's royalty. Henry Fonda played the leading role in many movies, including movies "12 Angry Men"(1957), and"The Grapes Wrath"(1940). And now his daughter Jane Fonda was a Hollywood royalty female cast in the movies like Lee Daniel's "The Butler"(2013), 9 to 4 (1980), "The China Syndrome(1979). 
Even one year before Henry Fonda's death, they were cast together in the movie "On Golden Pond"(1981) and Henry Fonda received the Oscar. Peter, brother of Jane, along with a co-writer and producer also starred in the same movie "Easy Rider". Jane's son, Troy Garity, and Peter's daughter, Bridget Fonda also carry the family inheritance as actors into the third generation.
Bryce Dallas Howard
Parents: Ron Howard
Bryce Dallas Howard, after starting her career as a Hollywood royalty member, achieves success in the film industry. As the daughter of director Ron Howard, She was cast in the movies like "The village"(2004), "Spider-Man 3 (2007), and after "The Help"(2011), The "Jurassic World" series her career became more prosperous. 
At a very young age, she started performing in the film and TV industry, like her father. In the new "Star Wars" series "The Mandalorian" she also gives direction. 
Colin Hanks
Parent: Tom Hanks
Colin Hanks, famous for his father Tom Hanks, has starred in many movies like "King Kong"(2005), "Forrest Gump"(1994), "Cast Away"(2000) which are appreciated. He wins the heart of the audience with his comedy and enjoyable performance. He also works on the TV series "The Good Guys". 
Angelina Jolie
Parent: Jon Voight
We put Jon Voight's daughter, Angelina Jolie, on the list of Hollywood royalty females. As a reflection of her father, she delivers hit movies like "Maleficent"(2014), Mr. &Mrs. Smith(2005), Lara Croft: Tomb Raider(2001) and so many others. 
Ben Stiller
Parents: Jerry Stiller and Anne Meara
Ben Stiller is the son of two famous comedians Jerry Stiller and Anne Meara. Jerry Stiller's "Seinfeld" and Meara's "Night at the Museum"(2006)( where she has a role along with her son) are famous movies. His parents were involved in Compass Players( later The Second City Theater). Ben Stiller's notable works are "Zoolander"(2001), "Tropic Thunder"(2008), "Megamind"(2010), "The Secret Life of Walter Mitty"(2013). This family is an example of Hollywood's royalty.
Carrie Fisher
Parents: Eddie Fisher and Debbie Reynolds
 With her royalty, Carrie Fisher becomes one of the most Hollywood female royalty.  In the movie "Star Wars" she acted as a feminist. She always talked about tough topics like depression and said imitation is a way to express the feeling of one another.
The Max Brothers
The five Max brothers- Groucho, Chico, Harpo, Zeppo, and Gummo, were an American family comedy group that was significant in Vaudeville, on Broadway, and in motion pictures between 1905-1949. "Monkey Business"(1931), "Horse Feathers"(1932), and "Duck Soup"(1933), three most admirable comedies, in which The Max Brothers worked with importance. 
Every generation has been influenced by their innovative character-driven sense of humor, paralyzing one-liners, and ironic adoption of the serious subject matter. Many comedians like Woody Allen to Judd Apatow were influenced and came after them. Groucho even had two more intervals with a successful radio show turned into the TV quiz show "You Bet Your Life"(1947-1961).  
David O. Selznick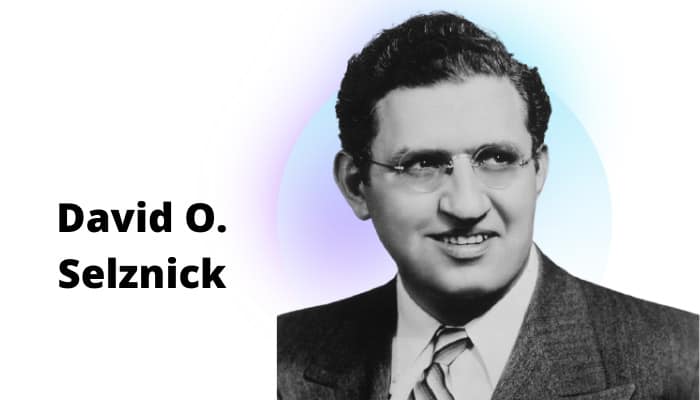 Parent: Lewis J. Selznick, Louis B. Mayer (father-in-law)
David O. Selznick, son of silent-movie producer Lewis Selznick, married Irene, the daughter of film producer and co-founder of Metro-Goldwyn-Mayer(MGM), Louis B. Mayer. In 1927 Mayer assembled 36 founders from a different portion of the film industry to make the Academy of Motion Picture Arts and science-the organization indebted for the Academy Award. 
He produced the films like "A Star Is Born"(1937), "Rebecca"(1940), "Gone with the Wind"(1939), the highest-grossing film of all time. Daniel Selznick, son of Lewis J. Selznick is also a famous producer. So this family is the biggest example of Hollywood's royalty.  
The Warner Brothers
The Warner Brothers– Harry, Albert, Sam, and Jack Warner developed one of the first major Hollywood studios. In 1923 they discovered Rin Tin Tin, a trained German shepherd who turned a breakout box office success and surfaced their path financially to take a risk of releasing the first talkie film "The Jazz Singer". 
This studio is considered as the base, out of eight big studios during Hollywood's golden age. Bette Davis, Humphery Bogart, Errol Flynn were some contract actors of these studios. Warner Bros. produced classics like "Casablanca"(1942), "A Streetcar Named Desire"(1951), "Mayfair Lady"(1964), "Bonnie and Clyde"(1967). 
The Barrymores
This family is counted into Hollywood's royalty list. It started with the moving of Maurice Barrymore into New York City, where he debuted along with the actress Georgiana Drew, who was the daughter of an acting family. They married in 1876 and they had three children Ethel, Lionel, and John Barrymore, who also made their way towards fame. In theater, Ethel made her career, and still, she has a theater on 47th street. 
She was the building assistant of the Actor's Equity Association. Lionel played prominent roles in the movies like "Grand Hotel"(1932), "Key Largo"(1948), "It's a Wonderful Life"(1946), "A Free Soul"(1931), for which he also won an Academy Award. On the other hand, John was a celebrated Shakespearean stage actor of the 1920s. He was also cast in the movies like "Dr. Jekyll and Mr. Hyde"(1920), "Sherlock Holmes"(1922), "Don Juan"(1926). John Drew Barrymore, son of John, was also an actor. Now Drew Barrymore as a daughter of this family conveys the family heritage, who is an actress, producer, and director.  
The Coppolas
The Coppola family started with renowned director, Francis Coppola. He directed films like "The Godfather"(1972), "The Conversation"(1974), "Apocalypse Now"(1979), etc. He backed the work of Akira Kurosawa and Jean-Luc Godard with his American Zoetrope studio. 
The later first film of Zoetrope studio "Virgin Suicides" was produced by his daughter Sofia Coppola. Sofia won an Oscar for her second film "Lost in Translation". Roman Coppola, son of Francis, is a filmmaker who won a Golden Globe. And his other son Gian-Carlo Coppola produced films. Gia Coppola, daughter of Gian-Carlo emerges with her film "Palo Alto"(2013). 
She is a premise of Hollywood royalty female. Francis's sister Talia Shire is also an actress who was nominated for an Academy Award. Jason Schwartzman, the son of Talia, is an actor. Nicolas Cage, son of Francis's brother August, is an Oscar-winning actor. 
Richard D. Zanuck
Parent: Darryl F. Zanuck
In the 1920s Darryl F. Zanuck started his career as a scriptwriter at Warner Bros. but later in 1933, he co-found 20th Century Pictures, Inc. Between two years Zanuck's company became the most significant studio in Hollywood after breaking the box office records. In 1935 he and his co-founder bought Fox Film Corp. and created 20th Century Fox. But "Cleopatra"(1963) almost crashed the studio. 
After that Richard D. Zanuck, son of Darryl, worked with his father to bring back the hits of the studio. Then the studio gave hits like "Planet of the Apes"(1968), "The Sound of Music"(1965). In 1972 Richard left 20th Century Fox and built his own production company at Universal Pictures. "Jaws"(1975), directed by Steven Spielberg, "Cocoon"(1985), "Driving Miss Daisy"(1989) were some films produced by Richard into his company. Dean, Richard's son, is now conducting his father's production studio, The Zanuck Company.
Read:
Conclusion
Thus we can see how some families continue their legacy through Hollywood's royalty. Except those, there are many female Hollywood royalty like Willow Smith(daughter of Will Smith), Vanessa Redgrave(daughter of Michael Redgrave), Vanessa's daughter Joely Richardson, Natasha Richardson, who get success in their life through this royalty along with male Hollywood royalty. This is a situation lasting for many years and it is not easy or possible to get rid of this.