Even if it is difficult to know about the originality of the term Friends with benefits, the term and concept have gathered immense popularity in this generation. Especially since the movie "Friends with Benefits "(2011) release, the term often seems to be used in pop culture, and the concept is accepted by society. After that, movies like Friends with Benefits were made in Hollywood and succeeded greatly.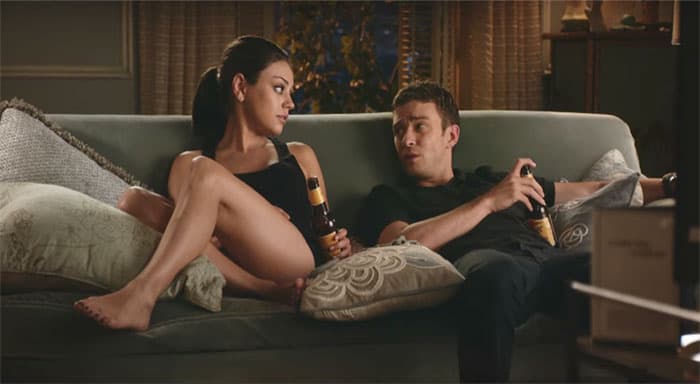 List of Movies Like Friends with Benefits/No Strings Attached
You can find those movies easily on Netflix or other OTT platforms. Here we discussed some such movies and films with no strings attached that one should watch for entertainment. The list is as follows –
Friends with Benefits
Release Year: 2011
Director: Will Gluck
Cast: Mila Kunis, Justin Timberlake
IMDb rating: 6.5/10
After taking the job, Dylan and Jamie become friends. But of Jamie's emotionally hurtful past and Dylan's emotionally unavailable, they try not to fall for each other even after a beneficial friendship. Interested people can stream' friends with benefits' movies on Netflix, Amazon Prime.
When Harry met Sally
Release Year: 1989
Director: Rob Reiner
Cast: Meg Ryan, Billy Crystal
IMDb rating: 7.6/10
 When Harry Met Sally is another best-recommended movie like Friends with Benefits people should watch.  The film was nominated for the academy award for best screenplay. In this film, we can see two graduates, Harry and Sally, with different ideas of a relationship they accidentally met. 
In between their friendship, they reached the point of the highest development of their relationship, and they parted in New York, ending that they will not befriend. After 5 years, they again saw each other on the same flight. 
They are forced to accept their feelings for each other. The story is amusing and also energetic. It is available on Amazon Prime Video.
No Strings attached
Release Year: 2011
Director: Ivan Reitman
Cast: Natalie Portman,  Ashton Kutcher, 
IMDb rating: 6.2/10
Adam and Emma, two friends, met at a school summer camp and decided to be in a casual relationship with strictly physical association without falling in love. But in the end, Emma admits her love for Adam; they fall in love and live happily ever after. The movie's plot is similar to the 'friends with Benefits movie. The movie is highly facetious and entertaining. Movies like 'No Strings Attached' have immense popularity. You will find it on Amazon prime video.
One Day 
Release Year: 2011
Director: Long scherfig
Cast: Jim Sturgess, Anne Hathaway, 
IMDb rating: 7/10
Like no strings attached, the story of this movie is based on David Nicholls's novel "One Day ", where we can see Emma and Dexter, two protagonists, meet and spend a night together after graduation. They meet every year on 15 July to celebrate their anniversary. In the end, we find their love and emotion for each other. The story is so lively that we can relate to it. It is available on Netflix.
The Change-Up
Release Year: 2011
Director: David Dobkin
Cast: Leslie Mann, Jason Bateman, Ryan Reynolds, Olivia Wilde
IMDb rating: 6.3/10
Dave and Mitch were two friends who envied each other's life. Dave was a married man with three children, and Mitch was a playboy. So one night, after drinking while peeing into a fountain, they wished they had each other's life. 
After that, their bodies got swapped. But in the end, they realized it was not as great as expected. Remember that this is one of the unique comedy movies related to friends with benefits obtained on Amazon Prime Video.
The Ugly Truth
Release Year: 2009
Director: Robert Luketic
Cast: Katherine Heigl
IMDb rating: 6.4/10
Abby Richter, a morning show TV producer who truly believes in love, was involved in a test and assembly with Mike, who tried to prove his relationship theories. He was helping her to find love which ended with unexpected consequences. It is a romantic comedy taken after "Battle of the Sea". One will discover it On Netflix.
What happens in Vegas
Release Year: 2008
Director: Tom Vaughan
Cast: Ashton Kutcher, Cameron Diaz
IMDb rating: 6.1/10
 Another best movie that we put in the top movies like Friends with Benefits list. It is a romantic comedy where Jack and Joy, the leading characters, marry after spending a wild night together in Vegas. They won a three-million-dollar jackpot. Now both wanted to get all the money which was not easy. The jackpot prevents their marriage from separation. You will enjoy the drama. 
Forgetting Sarah Marshal
Release Year: 2008
Director: Nicholas Stoller
Cast: Kristen Bell, Jason Segal
IMDb rating: 7.1/10
This is a romantic comedy with vulgar humour for mature audiences. Here we find Peter, Who went on a Hawaiian vacation after breaking up with his girlfriend Sarah, a TV star. But he found Sarah with his new boyfriend there, which shocked him. It is a good movie on Netflix that one should keep on the watch list.
Nick and Norah's Infinite Playlist
Release Year: 2008
Director: Peter Sollett
Cast: Kat Dennings, Michael Cera
IMDb rating: 6.6/10
Nick and Norah are two high school seniors; when they meet, Norah asks him to be her boyfriend for some time, and they act like a couple to banish their boring friends. They patrol the city searching for her drunken friend Caroline and finally spend a memorable night together. It is a teen comedy where protagonists perform as cool characters on-screen. It is also a romantic musical movie.
Love and Other Drugs
Release Year: 2010
Director: Edward Zwick
Cast: Anne Hathaway, Jake Gyllenhaal
IMDb rating: 6.7/10
Jamie, a Pharmaceutical sales representative, met Maggie, a free spirit suffering from early-onset Parkinson's disease. They are involved in a relationship after facing so much misery and contravention. The director wanted to deliver a nice message. It is a good drama one should watch. It can be found on Netflix.
Crazy, stupid love
Release Year: 2011
Director: Glenn Ficarra, John Requa
Cast: Ryan Gosling, Emma Stone, Julianne Moore
IMDb rating: 7.4/10 
Cal, a middle-aged man, and Emily lived a perfect life, but the scenario changed when Emily asked for a divorce. Now he started to pick women at a bar with the help of his friend Jacob Palmer. In this story, besides Cal's life, the secondary character's romantic life is also focused on. Overall this movie will stay in your mind for some time. You can find it on Netflix.
Just Go With It
Release Year: 2011
Director: Dennis Dugan
Cast: Adam Sandler, Jennifer Aniston
IMDb rating: 6.4/10
Dr Daniel, a plastic surgeon, convinces his assistant to act like his ex-wife to hide a lie he told to his girlfriend, but he makes the situation more complicated. Besides the hilarious moments, the storyline is also excellent. The movie surely entertains you. It is available on Netflix.
How to Lose a Guy in 10 Days
Release Year: 2003
Director: Donald Petrie
Cast: Kate Hudson, Matthew McConaughey
IMDb rating: 6.4/10
 The storyline of this movie starts with Benjamin and Andie. They begin dating each other. Here, Benjamin makes a deal that a woman will fall in love with him. Besides, Andie has to write an assignment on "how to lose a guy in 10 days ". This one of the top No strings attached movies is skilful, extremely funny, and entertaining. After watching this movie, we will witness the great chemistry between Kate and Matthew.
Playing it cool
Release Year: 2013, 2014
Director: Justin Reardon
Cast: Chris Evans, Michelle Monaghan
IMDb rating: 6/10
In this story, we can see ME, a screenwriter who suffers when writing romantic scripts for not having a personal experience. He always gives a trial but fails every time. At a gala dinner, he meets with HER while acting as a philanthropist and falls in love with HER, unknowing that she is already engaged. But in the end, they both realize their love for each other. With Chris Evan and Michelle as a protagonist, romance and heartening comedy are apparent; for this, we put it in the movies like Friends with Benefits list. It is available on Hulu and Netflix.
Two Night Stand
Release Year: 2014
Director: Max Nichols
Cast: Lio Tipton, Miles Teller
IMDb rating: 6.4/10
It is a real romantic comedy with the same atmosphere as a 'Friends with Benefits' movie. The funny dialogue and realistic continuity make the film relatable to the audience. Here we find how a snowstorm reluctantly pushes two people for a one-night stand after a casual online hookup in one's New York apartment. It can be found on Netflix.
Destination Wedding
Release Year: 2018
Director: Victor Levin
Cast: Keanu Reeves, Winona Ryder
IMDb Rating: 6/10
Frank and Lindsay, Two leading characters, meet during a Destination Wedding. They find many things in common between them, their liking and dislikes. The event gives them time to spend together, isolating from other guests. This movie shows them meet, fall in love, separate, and re-fall in love. 
But in the end, we find both are happy with each other. You will enjoy this romantic comedy-drama. This movie is available on amazon prime.
27 Dresses
Release Year: 2008
Director: Anne Fletcher
Cast: Katherine Heigl, James Marsden
IMDb Rating: 6.1/10
This is a story of a friendly, selfless person Jane, who serves as a bridesmaid 27 times. But the news to serve her sister's wedding makes her shocked. 
After that, he falls in love with a wedding reporter name Kevin. It is a good romantic comedy one should watch. It is available on Disney+Hotstar.
Good Luck Chuck
Release Year: 2007
Director: Mark Helfrich
Cast: Jessica Alba, Dane Cook
IMDb Rating: 5.6/10
 This is another top friends-with-benefits movie that you must watch. Here we can see Chuck, a dentist, who finds that women get their soulmates and marry them after having sex with him. 
Thus time passes; one day, he meets with a woman named Cam, becomes friends and falls in love with her. But his discovery tells him that he must find a way to escape the curse; otherwise, he loses Cam forever. It is a fantastic rom-com movie one must watch.
Read:
Conclusion: Movies like No Strings Attached or Friends with Benefits
Those are some friends-with-benefits movies we have recommended in this article. If you like to watch such romantic comedies, We hope these movies will not disappoint you. Movies like Friends with Benefits and movies like no strings attached are very exoteric.  Bear in mind; these movies are full of humour which gives no chance of getting boring. If one plans to watch movies with friends on weekends, these movies will be a great choice.