Hollywood – the land of the rich and beautiful. Where beautiful men and women descend every year to try their luck at gaining fame and fortune. Hollywood actresses are supposed to maintain a specific level of beauty and brains combo, and like other workplaces sexism is still a major concern here.
But 'beauty lies in the eyes of the beholder'. So, while there are some constraints that the women of Hollywood need to maintain, the line between conventional and beauty has slowly faded.
Now, to be considered an actress it isn't only about looks or body. It is more about the highest paid, best acting skills and uniqueness that they offer.
So, let's check out the Top 10 Most Beautiful Hollywood Actress of 2020.
Also Read:
Top 10 Hot Hollywood Actress Names of 2020:
Scarlett Johansson
Gal Gadot
Anne Hathaway
Emma Watson
Margot Robbie
Jennifer Lawrence
Emma Stone
Mila Kunis
Emma Roberts
Chloe Grace Mortez
This list is made in descending order starting with:
10) Chloe Grace Mortez: ( Top 10 Hollywood Actresses)
Chloe Grace Mortez started her acting career at the age of six and was considered a beauty with her bright blue eyes and blonde hair. With over 10 years of experience in the industry, this young actress has proved to people that she is here to stay.
Her second big-screen role was the 2005 remake of the Amityville Horror with Ryan Reynolds that pushed her to stardom. She earned her spot with the Young Artist Award nomination.
In 2010 Mortez got the role of Hit-Girl in Matthew Vaughn's film Kick-ass based on the comic book series. It is in this movie that Mortez proved that she was not just another beautiful face, she did her own stunts as well. Although controversy arose due to her role in the film and her age, she did receive critical acclaim for it as well.
One of her most iconic works to date is the role of a teenage prostitute in the 2014 action movie 'The Equalizer'. Her portrayal of the character earned her a spot in the Times magazine's 25 Most Influential Teens of 2014.
Big things are expected from this top Hollywood actress in the years to come as she competes for the most hot Hollywood actress.
9) Emma Roberts:
Emma Roberts is part of the Roberts clan – Julia Roberts, Eric Roberts, and Lisa Roberts Gillian. But she has proved to the Hollywood industry that she is better than her name.
Emma made her acting debut in the 2001 drama film Blow where she played Johnny Depp's daughter. For the next few years, she went onto play small roles until 2004, where she starred as the lead character in the Nickelodeon series Unfabulous. The sitcom earned her a Teen Choice Award and a Young Artist Award nomination.
In 2007 Roberts returned to the movie screen in Aquamarine with Sara Paxton and Jojo.
In 2006, Roberts took on the role of famous detective Nancy Drew.
Within the next few years, Roberts became a well-known name in Hollywood. Some of her most famous movies are Wild Child, Lymelife, The Fight Before Christmas and Hotel for Dogs.
With over 30 movies under her wings, Emma Roberts is proving to the world that her name is not why she is on the list of Hollywood top actresses.
8) Mila Kunis:
Mila Kunis comes in at #8 in the top most beautiful Hollywood actress of 2020. One of her most iconic roles was playing Jackie Burkhart on 'That 70s Show'. She is also known for voicing Meg Griffin on the series Family Guy.
Mila's movie breakthrough came in 2008 when she played Rachel in Forgetting Sarah Marshall.
She won the Marcello Mastroianni Award and nominations for the SAG Award.
And also the Golden Globe Award for Best Supporting Actress with her performance in Black Swan opposite Natalie Portman.
This Hollywood top actress has earned her place in this list. And with her beautiful eyes and petite figure, she is also considered as one of the most beautiful Hollywood actresses of this decade.
Read: Top 10 Highest Paid Actor In India 2020
7) Emma Stone:
Emma Stone gained recognition with the 2012 superhero movie The Amazing Spider-Man. She was nominated in 2014 for an Academy Award for Best Supporting Actress.
With hits like La La Land, it isn't a wonder why she is on this list.
Emma Stone is a rare flower among the mainstream Hollywood – she is not only talented but is very smart, likeable and witty. She can not only act but also dance as well and her down-to-earth personality makes her very relatable.
She proved her mettle with her recent Netflix series Maniac, that showed Hollywood that she wasn't just a pretty face.
Along with this, her roles in movies like Battle of the Sexes, The Guardian, The Favorite, and Zombieland: Double Tap. Emma Stone earns her spot in the top 10 Hollywood actresses.
Read: Top 10 Most Beautiful & Hottest Bollywood Actresses
 6) Jennifer Lawrence: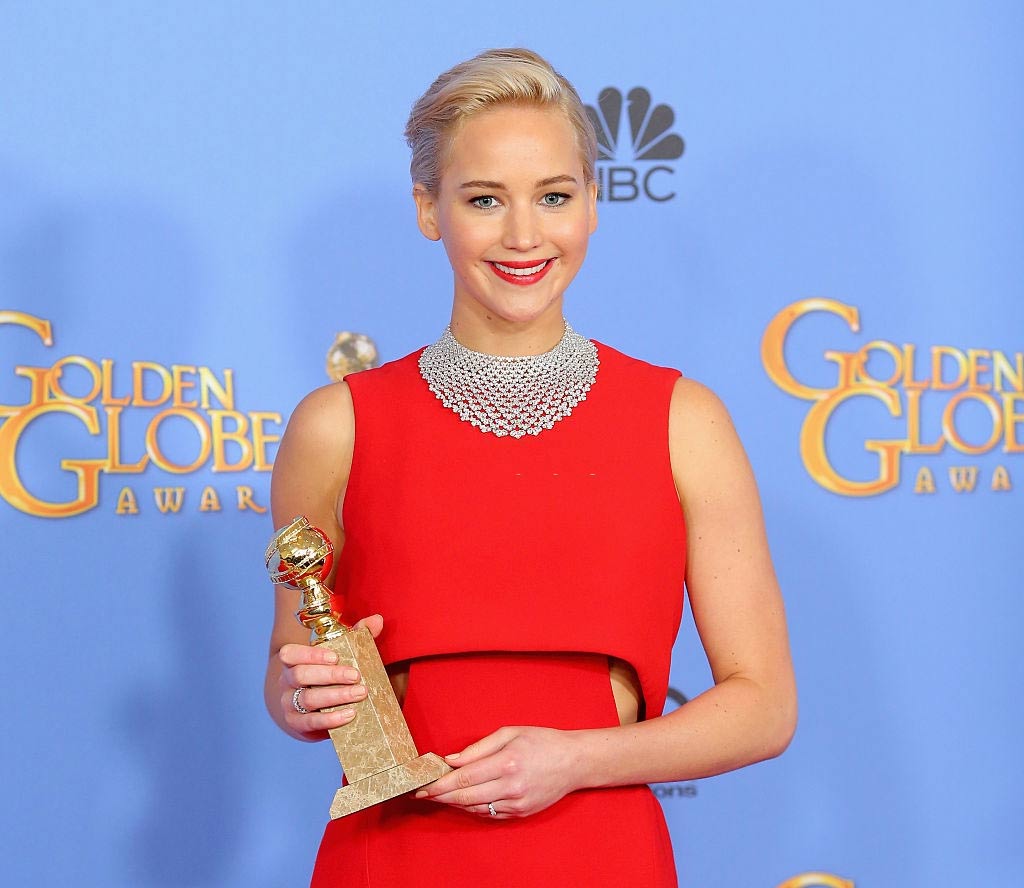 Jennifer Shrader Lawrence is considered to be one of the most hot Hollywood actresses right now. The 'Hunger Games' actress has grossed over $6 billion worldwide and was one of the highest-paid actresses in the world in 2015-2016.
She also appeared in the Time's 100 most influential people of the world list in 2013 and 2014 Forbes Celebrity list.
Her first major break was in the sitcom The Bill Engvall Show. She made her film debut in the Garden Party.
Lawrence earned her spot with performances like Mystique in the X-Men film series and Katniss Everdeen in the Hunger Games series.
She earned her Academy Award for Best Actress for her performance in Silver Linings Playbook. And also won the BAFTA Award for Best Actress in a Supporting Role in the movie American Hustle.
With iconic movies like Red Sparrow, Mother! And Joy Jennifer Lawrence has taken her spot in the list of most beautiful Hollywood actresses.  Along with the #6 spot in the Hollywood top actresses of this generation.
5) Margot Robbie:
When making a list of the top actresses it is impossible to leave out our very own Harley Quinn – Margot Robbie.
This Australian born actress has received 2 Academy Award nominations and 5 BAFTA Awards. She was also named as one of the 100 most influential people of the world in 2017 and 2019 earned the rank of the world's highest-paid actresses.
While Harley Quinn is considered her most iconic role, it isn't the only one she has played. Her breakthrough into fame was in The Wolf of Wall Street. With characters like Jane Porter from The Legend of Tarzan, a gifter in Focus and disgraced figure skater Tonya Harding, she has shown her versatility as an actress to take on any iconic role thrown at her.
With her multiple awards and numerous nominations, Margot Robbie proves that she is more than capable of brushing shoulders with the greats. She has earned her #5 spot in the top actresses of this decade.
4) Emma Watson:
Next on the list of top 10 Hollywood actresses of 2020 is our very own Hermione, Emma Watson.
We love Emma Watson because we grew up with her. We watched her blossom from the gawky Hermione to one of the most famous actresses.
Emma Watson stole the heart of millions with her famous Harry Potter role. But she made a permanent place in the hearts of her fans with her performances in The Perks of Being a Wallflower, The Bling Ring, Noah and Beauty, and the Beast.
Emma Watson is considered one of the most influential people in the world. Her role as a UN Women Goodwill Ambassador has helped her spread the message about gender equality.
Watson is more relatable than most actresses because she not only manages her successful career but also completed her college education from Brown University. She proved to thousands of girls around the world that you can have both beauty and brains together.
Because of her amazing acting talents, her wit and her stand against gender inequality Emma Watson comes in at #4 in the list of top Hollywood Actresses of 2020.
We now come to the 3 best actresses in the Top 10 Hollywood Actress list:
3) Anne Hathaway:
Anne Hathaway comes in at #3 on the top 10 Hollywood actress name. She has multiple awards and her films have earned over $6 billion worldwide and a place in everybody's hearts.
This American Hollywood actress made her debut with the Disney comedy Princess Diaries and transitioned into drama with Havoc and Brokeback Mountain.
Other than playing Princess Amelia of Genovia, her other iconic roles are in movies like The Devil Wears Prada, Les Miserables, Bride Wars, Love & Other Drugs, and Alice in Wonderland.
With her down-to-earth attitude and her modest nature, Anne Hathaway showed girls all over the world that by just being true to yourself you can achieve your dreams. Which is why she is one of the top contenders of Top 10 names.
2) Gal Gadot:
Gal Gadot takes #2 position in the top Actresses of 2020. An Israeli model turned actress. She then went on to serve in the Israel Defense Forces for 2 years after which she studied law and international relations.
Her first international break came in the Fast & Furious franchise as Gisele Yashar. She then went on to win international fame for playing Wonder Woman in the DC Universe.
In the 2018 Times' Annual List, Gal Gadot was named one of the top 100 most influential people in the world. She is considered to be one of the highest-paid actresses today. It's not a wonder why she is one of the top Hollywood actress names taken today.
1)Scarlett Johansson:
Scarlett Johansson or Black Widow tops our list of hot Hollywood actresses and not without reason. She is the highest-paid actress since 2018. She has numerous awards to her name including Tonys, BAFTA and 2 Academy Award Nominations.
Scarlett made her debut into films with North and gained recognition for her roles in The Horse Whisperer, Ghost World, and Manny & Lo.
As an adult, her work in The Prestige, Match Point and Vicky Christina Barcelona won the hearts of millions.
With her smouldering looks, timeless beauty and action sequences, Scarlett Johansson has proved to be a household name. But she is a supporter of multiple charities like 'Aids Still Required, Stand Up To Cancer, Too Many Women'. She is also a global ambassador for Oxfam and plays a big role in the anti-poverty campaign ONE.
With her grounded nature, killer looks and talent galore – it isn't a wonder why she is the Top 10 Hollywood Actress Name in the World.
Also, See:
Final Thoughts About Top 10 Hollywood Actresses:
Women around the world have to constantly battle against gender discrimination, unequal pay and a whole number of other issues. But some women choose to excel in their fields, to stand head-to-head against their male counterparts. And it is these top Hollywood actresses of 2020, who not only show younger women around the world what the 'weaker sex' is capable of. But are ready to break all barriers and look good while doing it.