With the birth of youtube music, Spotify, and many other music apps, the hype and demand for Hindi music channels have lessened. Even after that, we remember the golden era when all we did was wait for our favourite song to pop up on India's most popular music channels. And today, we are here to remember the nostalgic golden era through the Hindi music channels list.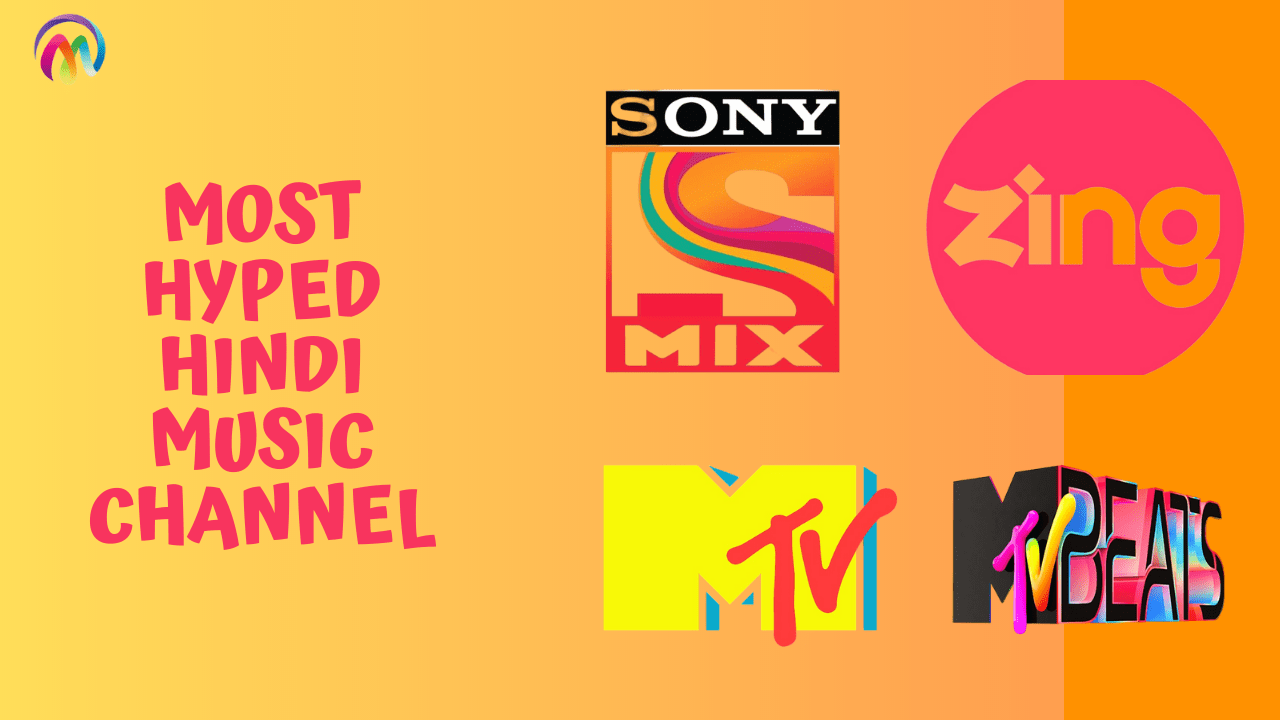 Keep reading the article till the end and enjoy remembering those popular music channels.
List of the Most Watched Hindi Music Channels on TV
Below is the Hindi music channel list that made our childhood memorable. They are as follows: 
Sony Mix

MTV India

Zing

MTV Beats

9XM

B4U Music

9X Jalwa

Mastiii

Music India

Channel V

Zoom

ETC

M Tunes
1. Sony Mix
Launch Date: 1 September 2011
Music Shows Hosted: Mix Melody, Mix Adda, Raina Beeti Jaaye, Miz Taza Morning
When discussing the most hyped Hindi music channels list, Sony Mix comes first. It is a Hindi music channel that the Sony Pictures Network owns.
Sony is a well-known broadcasting company specialising in electronics and gadgets and also manages a TV channel with several film industry subsidies. It was introduced in 2011, and since then, it has grown to be the best and most popular channel. Along with music, it contained a variety of entertainment-oriented programming. But on 31 March 2020, Sony Pictures Networks India recently shut down its broadcasting operation.  
2. MTV India
Launch Date: 28 October 1996
Music Shows Hosted: Elevator Pitch, Love School Season 4, India's Next Top Model, Roadies Real Heroes, Supermodel of the Year, MTV Hustle
One of the best Indian music channels for old Bollywood music and new and Hollywood music. It was introduced in 1996 as the Indian equivalent of MTV and is operated by Viacom 18. It is a joint venture between TV18, sponsored by Reliance Industries, and Paramount Global, the owner of MTV International.
The hosts are adaptable and knowledgeable about current musical trends. And, of course, who has not heard of this well-known TV network, which has presented several music videos and hosts national and international music award ceremonies? MTV is highly well-liked for its music shows and all of its dramas with intermission. A prominent Hindi music channel!
3. Zing
Launch Date: 31 March 2014
Music Shows Hosted: Not yet updated
A division of Zee Entertainment Enterprises Ltd. that deals in Indian music, it operates out of New Delhi. In a short time, this best Hindi music channel has significantly increased its market share in Bollywood music.
It was once known as Zee Music, but it is now more commonly known as the Zing Channel and is India's most popular music channel. It presents a variety of programs that are not just about music but also about other music events, including concerts that are unquestionably well-known among music fans.
4. MTV Beats
Launch Date: 28 October 1996
Music Shows Hosted: MTV Ex Or Next, MTV Roadies, MTV Big F, La Liga, Splitsvilla, Bring on the Night, MTV Girls on Top, Warrior High, Box Cricket League
MTV BEATS is a Hindi music channel primarily focusing on Bollywood music; it was introduced in 2016. Doesn't the channel name seem quite familiar to you? You are quite correct; this is another Hindi music channel that has rapidly gained popularity in recent years.
This best Hindi music channel will help you unwind at the end of the day if you enjoy listening to music, viewing music videos, and seeing amazing artists and singers perform. Along with many other highly enjoyable shows and series, it features non-stop Bollywood music.
5. 9XM
Launch Date: October 2007
Music Shows Hosted: Do Pal Ka Interval, Ask Track, Highway, The Bakwaas Show
A popular music channel is known for its old Hindi songs. 9X Media is an Indian television company that the station itself owns. The programming on 9XM is primarily composed of Hindi music videos. All the main DTH platforms, including DD Free Dish, can access the channel. On DD Free Dish, the station can be found on channel 57.
If you're seeking a non-stop hit list of the newest Hindi track releases, 9XM rates as India's most popular and best Hindi Music channel.
6. B4U Music
Launch Date: 1 September 1999
Music Shows Hosted: Bollywood Bang, Morning Masala, Solid Hits, Boombox
One of India's most popular music channels, B4U Music, airs various music, including modern Bollywood, Indipop, Bhangra, and world music. Celebrity interviews, artist profiles, concerts, and chart rundowns, and video request shows are all included in the programming. The channel is broadcast in four languages across the UK, North America, Africa, the Middle East, and South Asia.
In January 2022, B4U Music became the top Asian TV channel, according to UK statistics.
7. 9X Jalwa
Launch Date: 25 February 2012
Music Shows Hosted: Jalwa Superstars, Melody Forever, Ask Mona, Love Forever
Another Hindi music channel in the Hindi music channels lists that 9X Media owns. The country's traditional Hindi music channel broadcasts music from the 1990s to the 2010s.
If you didn't already know, this is the best Indian music channel for old Bollywood music. That plays all of the songs from the 1970s, and 1980s and current music, as well as worldwide tunes, at specific times and throughout the day. The most well-known channel, 9XM and 9X Jalwa, are quite similar. However, 9X Jalwa was introduced in 2012 and is encrypted for free broadcast.
8. Mastiii
Launch Date: 1 July 2010
Music Shows Hosted: Mastiii Doubles, Raat Ke Humsafar, The Golden Era with Annu Kapoor, Morning Masti, Evergreen Hits, Hit Hai Toh Bajega, Love Kal Aaj Aur Kal, Just Mohabbat
A Hindi-language free-to-air Hindi music channel station is Mastiii. After only one month of operation, TV Vision, a wholly owned subsidiary of Sri Adhikari Brothers Television Network Ltd., had launched as one of the top five Hindi music stations.
We have a different music channel called Fun that is also a lot of fun and, certainly, is very well-liked when it comes to the diversity of Bollywood songs that are played in accordance with the list and, of course, in accordance with the trend.
9. Music India
Launch Date: 2005
Music Shows Hosted: Just Trailers, Lage Raho, Love Connections
India's most popular music channel has a respectable viewership that will allow the show to continue without disruption. Seniors and elderly people also enjoy this channel because it transmits the newest songs and timeless melodies that captured the hearts of millions of Indians in the 1980s and 1990s. It was created in 2006, becoming a large channel a few days after its introduction. The channel began with a number of shows and theme shows to engage viewers.
10. Channel V
Launch Date: 15 September 1991
Music Shows Hosted: Double Shot, K-Pop Explosion, The Playlist, Morning Fix, Videoscope
Star TV Hong Kong introduced Channel V as a Chinese and former Asian pay television musical network. Before its closure on October 1, 2021, it was formed in September 1991 as a division of Disney International Operations to take over MTV's initial Asian business.
Later acquired by Star China Media, a division of China Media Capital, the mainland Chinese version is still used today. Before their demise, Foxtel eventually acquired ownership of the Australian networks. Hong Kong, Macau, Southeast Asia, the Middle East, and Thailand were previously served by Channel V localized versions in India, the Philippines, Taiwan, South Korea, Japan, and Australia, or local feeds or relays of the worldwide version.
11. Zoom
Launch Date: September 2004
Music Shows Hosted: Telly Top Up, Mirchi Top 20, Planet Bollywood, Request Kiya Kya, Music Tokamak
This specific music channel was very popular back then, but today, many other channels are competing with it. However, the channel never sleeps and is unbeatable by any of its rivals since it has a fantastic lineup of shows hosted daily according to the time and the hours.
However, oom has always been a terrific station that consistently provided its loyal audience with outstanding news and shows. The channel offers a variety of entertainment to the public every minute, from music videos to diverse events and material.
12. ETC
Launch Date: 11 September 1999
Music Shows Hosted: Bollywood Reporter, Bollywood Tambola, Bollywood Jamaal, Bollywood 20 20
It is a trade television and Hindi music channel for Bollywood. The station produces programs in both Hindi and English for viewers in the Asia Pacific area. Reviews, trailers, box office totals, information on recent and forthcoming releases, and trade rumours about Hindi films are all shown on the channel.
E24 may be the correct and greatest channel for you if you want to listen to all the top songs that are now trending. Even if commercial breaks happen occasionally, the channel focuses more on the content and the program than on the advertisements and breaks; thus, it is still worth watching because it has a fantastic selection of stuff.
13. M Tunes
Launch Date: Unknown
Music Shows Hosted: Yet to be updated
You should also be aware of this channel if you're seeking one of the greatest Hindi music channels on your channel list because it has all of the best and most gorgeous programs that are wholly worthwhile of your time. It was introduced in this decade in 2011, and since then, it has grown to be a fantastic and well-liked music channel on television that undoubtedly appeals to music fans. Its main office was in Mumbai. People still remember the channel's fantastic music even though it is closed.
Also Read,
Final Thoughts: Hindi Music Channels
So these were the most hyped Hindi music channel that has made our childhood memories and is continuing to make them memorable. Even though it is regrettable that a couple of the channels on the list have stopped broadcasting. Who knows, they could restart! However, we have included the most popular ones here; many more of these very well-liked channels exist.
FAQs
Which music channel is the top one in India?
From January 23 to January 29, 2021, Mastii has more than 116 million weekly viewers, making it India's most popular music television station. B4U Music, which had over 115 million viewers that week, came after.
In India, How Many Hindi music channels are there?
The list of Hindi channels above includes 38 channels in Hindi.
What Hindi music station airs vintage music?
Today's music TV stations include a resurgence of 1990s hit songs. Television music is being reintroduced on stations like Sony Mix, 9X Jalwa, B4U Music, and Mastiii, strongly emphasising Bollywood songs.
Are any HD music channels available?
Tata Play, originally known as Tata SkyMusic HD Pack, has 5 channels. On Tata Play, Music HD is available for only 10.15 a month.
What is B4U's channel count?
While B4U Movie Channel will be accessible on Channel 207, B4U Music Channel will be accessible on Channel 668.
Does India have any 4K channels?
The full list of 4K Ultra High Definition (UHD) channels in India is below. With 4K setup boxes, these channels are now accessible. Jio DTH STB and Tata Play Binge Plus setup boxes offer most channels.