Koodevide (Asianet) Serial Cast, Roles, Timing, Wiki & More: Koodevide is a Malayalam romance drama TV serial aired on 4 January 2021 on Asianet. The serial is about Soorya, a talented and family-oriented girl who meets Rishikesh, an arrogant woman-hater. Anshitha Anji, Bipin Jose, Krishnakumar / Anil Mohan, and Sreedhanya play vital roles. Let's glance at the Koodevide serial cast, story, wiki, real names, timings, and everything related to this Asianet program.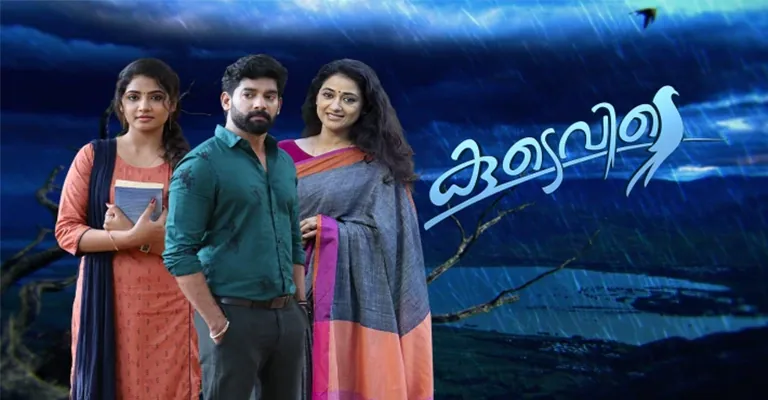 | | |
| --- | --- |
| Name | Koodevide |
| Language | Malayalam |
| Channel | Asianet |
| Genre | Romance, Thriller, Drama |
Koodevide Serial Cast
Anshitha Anji plays the female lead role of Soorya Kaimal in the serial. On the other side, Bipin Jose plays the male lead role of Rishikesh Adithyan in the serial. In addition, Nisha Mathew, Kochunni Prakash, Chilanka S Deedu, and Manve are in the recurring cast. Read on to know the complete cast of the Koodevide serial.
Koodevide Serial Star Cast (Main Cast)
Anshitha Anji as Soorya Kaimal
Role: Adhithi's student
Bipin Jose as Rishikesh Adithyan
Role: Soorya's teacher
Krishnakumar / Anil Mohan as Adithyan
Role: Rishikesh's father
Sreedhanya as Adhithi Padmanabhan
Role: Rishikesh's mother
Koodevide Serial Recurring Cast
Nisha Mathew (Rani)
Kochunni Prakash (Komban Sekharan)
Chilanka S Deedu (Arya)
Manve (Sruthy Surendran) (Mithra)
Indulekha (Lakshmi)
Sudarsanan (Shivarama Kaimal)
Sindhu Varma (Devamma)
Santhosh K (Kunjiraman)
Devendranath (SP Sooraj IPS)
Santhosh Sanjay (Roshan k. Roshan)
Midhun (Nithin)
Abees (Shivamohan Thampi)
Archana (Aami)
Nayana Josan (Neetu)
Shahina Siyad (Neema)
Ajith M Gopinath (Ananthan)
Roshan Mathew John (Hema)
Raheena Anas (Kalki)
Ravikrishnan Gopalakrishnan (Rajeev Chandra Balika)
Manjulan (Jagannathan)
Ratheesh Sundar (Karippety Sabu)
Sundara Pandian (Basavanna)
Harisree Martin (CC Saileshkumar VP)
Kochu Preman (Bhasi Pillai)
Akhil S Prasad (Vivek)
Renjusha Menon (Jyothilakshmi)
Crew
Producer
Krishnan Sethukumar
Directed by
S.S. Lal
Writing Credits
Yet to update
Editing by
Vijil
Cinematography by
Rajeev Mankompu
Manoj Kumar
Music Department
Jai, Ranjin Raj and Neenu Babu (RJ Neenu)
Production House
Rajaputhra Visual Media
Storyline
Soorya is a talented and family-oriented girl. Rishikesh is an arrogant woman-hater who feels that women are not allowed to be independent because his mother unwillingly left him in childhood. His elderly parents raised him. Soorya comes from a middle-class family who feels that women must be self-dependent. Her father wants her to marry. Soorya escapes to her teacher, Aditi's house, on her wedding day. Aditi is Rishi's mother, who left him in childhood. She regrets her misstep and wants to conform with her son. Aditi manages to gain admission to Soorya in Adi Keshava college with the help of her husband, Aditya. Eventually, Rishi falls in love with Soorya. For that reason, Soorya faces many problems and overcomes them.
Koodevide Serial Timing & Repeat Telecast Timing
The Koodevide serial is being telecasted from 4 January 2021 on Asianet from Monday to Friday at 9:30 PM. Viewers can also watch this show anytime on the OTT platform of Disney+ Hotstar. 
| | |
| --- | --- |
| Channel | Malayalam |
| Show Timings | Monday to Friday at 09:30 pm |
| Repeat Telecast Time | Yet to Update |
| Running Time | 22 minutes |
| Starting Date | 4 January 2021 |
| Final Episode | Ongoing |