Katheyondu Shuruvagide (Star Suvarna) Serial Cast, Roles, Timing, Wiki & More: Katheyondu Shuruvagide is a Kannada romantic and family drama TV serial aired on 28 November 2022 on Star Suvarna. The serial is about the conflict of love between three couples. Akshata Deshpande, Sooraj Hoogar and Soumya Bhat play important roles. Let's glance at the Katheyondu Shuruvagide serial cast, story, wiki, real names, timings, and everything related to this Star Suvarna serial.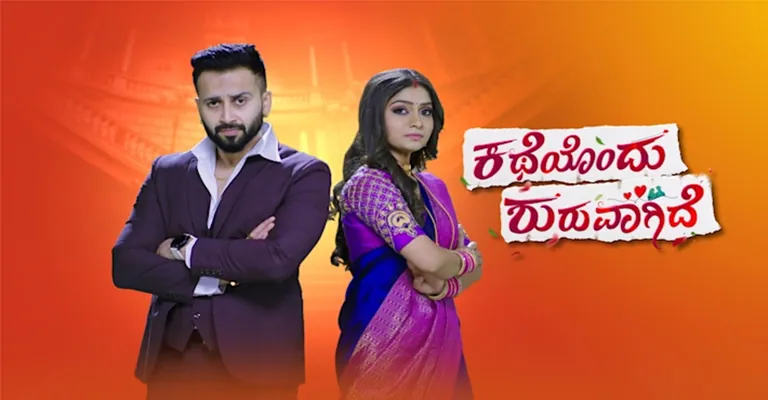 | | |
| --- | --- |
| Name | Katheyondu Shuruvagide |
| Language | Kannada |
| Channel | Star Suvarna |
| Genre | Romantic and FamilyDrama |
| First Episode Date | 28 November 2022 |
| Final Episode Date | Ongoing |
Katheyondu Shuruvagide Serial Cast
The role of male lead will be played by the actor Sooraj Hoogar while Akshata Deshpande and Soumya Bhat will also be playing a prominent roles in the serial. In addition, Bhavish Gowda, Bhavani Prakash, Sujay Hegdej, and Inchara Joshi are in the recurring cast. Keep an eye on the complete cast of the Katheyondu Shuruvagide serial.
Katheyondu Shuruvagide Serial Star Cast(Main Cast)
Akshata Deshpande as Kirthi
Role: Unknown
Sooraj Hoogar as Yuvaraj Bahadoor
Role: Unknown
Soumya Bhat as Sahana
Role: Unknown
Katheyondu Shuruvagide Serial Recurring Cast
Bhavish Gowda (Unknown)
Bhavani Prakash (Unknown)
Sujay Hegde (Unknown)
Inchara Joshi (Unknown)
Sujatha Akshaya (Unknown)
Crew
| | |
| --- | --- |
| Producer | Yet To Update |
| Directed by | Yet To Update |
| Writing Credits | Yet To Update |
| Editing by | Yet To Update |
| Cinematography by | Yet To Update |
| Music Department | Yet To Update |
| Production House | Yet To Update |
Storyline
Kriti is a hard-working, simple girl who belongs to a middle-class family. She runs the whole family With responsibility. She is always ready to do everything for her family and face any challenge to save family prestige no matter how difficult. Her profession is painting.
Yuvraj Bahadur is the eldest son of the Bahadur family. Being a famous diamond merchant, he is as excellent as a diamond. But he is arrogant, strict, hard-working, and holds the dignity of the Bahadur Dynasty.
The twist comes when the two different souls come to each other. Apart from this is the love story between Kriti's two sisters and Yuvraj's two brothers.
Timing & Repeat Telecast Timing
The Katheyondu Shuruvagide serial was first telecasted on 28 November 2022 on the Star Suvarna & also available on Disney+ Hotstar digital streaming platform. Viewers can watch from Monday to Saturday at 7.00 PM. The running time of the show is around Twenty-Two minutes.
| | |
| --- | --- |
| Show Timings | At 7:00 pm |
| Show Days | Monday to Saturday |
| Running Time | 22 minutes |