An anchor is a person who conducts a program and entertains the audience. The role of an anchor is quite challenging. He has overall responsibility for the way the Program operates. So, some great Malayalam anchors have made TV more watchable in the Malayalam television industry. Therefore, check out our anchor list who have marked their fame in the Malayalam television industry.
Keep reading the article until the end to learn about these Malayalam TV anchors.
Popular Malayalam TV anchors list
We have made a list of the Malayalam TV Anchors who have won millions of hearts just by their talent. They are as follows:
Ramesh Pisharody
K. B. Ganesh Kumar
Pearle Maaney
Ranjini Haridas
John Brittas
Nazriya Nazim
V. K. Sreeraman
Sonu Satheesh Kumar
Remya Nambeesan
Abhirami
Lakshmi Nakshatra
Jewel Mary
Meenakshi Raveendran
Ramesh Pisharody
DOB: 1 October 1983
Show Hosted: Cinemala, Badai Bungalow, Amar Akbar Anthony, Panchavarnathatha, Kappal Muthalaali
Debut: Positive (2008)
Ramesh Pisharady is the comedian anchor of the "Badai Bungalow" television show. His comic and funny dialogues made this show of the top three TV shows in Malayalam. After that, he got successful, putting him into real fame recently in Kerala.
K. B. Ganesh Kumar
DOB: 25 May 1966
Show Hosted: Cheppu, Rakuyilin Ragasadassil, Madhavam
Debut: Irakal (1985)
Now K.B. Ganesh Kumar is a political leader in Kerala who was a great Malayalam anchor in the Malayalam industry. He won the State Award for Best Television Actor (2007) for his role in Madhavam. He mainly focused on current affairs and unknown social issues in his shows.
Pearle Maaney
DOB: 28 May 1989
Show Hosted: Yes Jukebox, Taste of Kerala, GumOn D2, Cinema Company,
Debut: Neelakasham Pachakadal Chuvanna Bhoomi(2013)
Pearle Maaney was the finalist of the Bigg Boss reality shows Malayalam TV in 2018. She is an Indian television presenter and famous YouTuber who works in Malayalam films. She became popular after hosting the three seasons of the Malayalam dance reality show D 4 Dance.
Ranjini Haridas
DOB: 23 April 1982
Show Hosted: Entry, Star Singer, Run Baby Run, Komedy Circus, Surya Super Singer, Onamamankam, Asianet Big B Dhamaka
Debut: China Town and Thalsamayam Oru Penkutty (2013)
Ranjini Haridas is an Indian television presenter. First, she hosted. Five seasons of the Star Singer TV show Asianet. Then, she became popular in the Malayalam industry. Ranjini has crowned Miss Kerala at Femina Miss Kerala in 2000. After that, she went to London for higher studies. After she returned, she hosted many stage shows, such as Amrita TV Film Awards, Asianet Film Awards, Jaihind Film Awards, Asiavision Awards, Flowers TV Awards, and SIIMA.
John Brittas
DOB: 24 October 1966
Show Hosted: Question Time, Crossfire, Nammal Thammil, J.B.junction, Njan Malayalee, Votography
Debut: Velli Velichathil (2014)
Brittas has done Law Graduation from Kerala Law Academy Law College in Trivandrum. For his knowledge of English, he went to Delhi and joined spoken English classes. John Brittas has hosted the TV shows since 2008. He hosted Question Time and CrossFire on Kairali TV. From 2012 – 2013, he hosted Nammal Thammil on Asianet. Since 2014, he has also hosted JB Junction, Njan Malayalee, and Votography on Kairali TV. He was nominated by CPI (M) in 2021 and became MP on 8 June 2021.
Nazriya Nazim
DOB: 20 December 1994
Show Hosted: Shruthilayam, Chandrakantham -Telequiss, Thanthonniyum Tharangalum, Munch Star Singer Junior, Star Singer, Asianet Film Awards
Debut: Palunku (2006)
Nazriya Nazim began her career as a Malayalam anchor on the Asianet of the Malayalam television network. She acted in the children's movie Palunku in 2006. Later she starred lead role in the Malayalam movie Maad Dad. After that, she starred in popular films like Raja Rani, Bangalore Days, Ohm Shanthi Oshaana, & Neram.
V. K. Sreeraman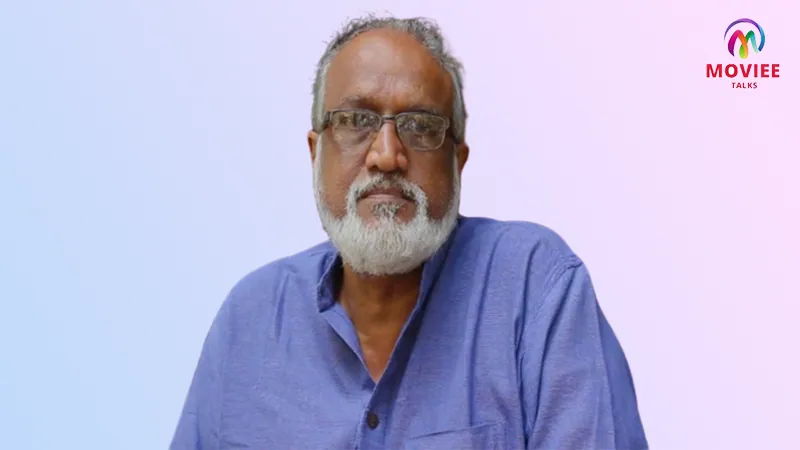 DOB: 6 February 1953
Show Hosted: Thampu, Natarangu, Natukootam, Sreeramante Veritta Kazhchakal
Debut: Thampu(1978)
V. K. Sreeraman is an anchor, actor, and social worker. He started his career with the internationally famous film Thampu in 1978. The first film won many awards, like the Best Tamil Feature Film and the best direction award. He is an anchor of the "Sreeramante Veritta Kazhchakal" show, where he introduces people with inspirational stories of their life to share with the audience.
Sonu Satheesh Kumar
DOB: Unknown
Show Hosted: Valkannadi, Hello Kuttichathan, Thulabharam, Kanal Kannadi, Akkare Ikkare
Debut: Sreeguruvayurappan (2009)
Sonu Satheesh Kumar is a Malayalam TV anchor who debuted as an anchor on the Asianet channel. She became famous and popular after her TV show "Vaalkkannadi." It was a women-oriented show and got enough recognition with this show. After success in her first TV show, she debuted in "Sreeguruvayurappan" in TV serials. Her first TV series was in the Tamil language.
Remya Nambeesan
DOB: 24 March 1986
Show Hosted: Aande Londe, Vijana Surabhi, Pudamini Mose
Debut: Sahaynam (2000)
Remya Nambeesan's real name is Ramya Subramaniam Unni. She started her career as a child artist in the Malayalam film Sayahnam in 2000. She is also a talented playback singer and has sung over 25 songs.
Abhirami
DOB: 26 July 1981
Show Hosted: Rishimoolam, Virumaandi, Raktha Kanneeru
Debut: Kathapurushan(1995)
Abirami's real name is Divya Gopikumar, and she has acted in Malayalam, Tamil, Telugu, and Kannada films. Abhirami was the voice of Pooja Kumar in Vishwaroopam's film in 2013; she hosted Rishimoolam, a talk show on the Tamil television channel Puthuyugam. In addition, she was an anchor in the reality show Made for each other.
Lakshmi Nakshatra
DOB: 2 September 1991
Show Hosted: School Time, Really Tasty, Chit Chat, Dew Drops, Campus Onakkalam, Tharolsavam, Patturumal, Kuttipatturumal
Debut: Maarconi Mathai(2020)
Lakshmi Nakshatra is a well-known Malayalam anchor in TV shows Tamaar Padaar and Star Magic on Flowers TV. In addition, she worked as a Radio Jockey on Red FM in 2007. Her real name is Lakshmi Unnikrishnan. She debuted with the Malayalam film Maarconi Mathai in 2020.
Jewel Mary
DOB: 11 July 1990
Show Hosted: D 4 Dance: Season 1, Dhe Chef: Season 1, Christmas Carnival, Urvashi Theatres, Thamasha Bazaar, Top Singer Season 2, Star Singer Season 8, Snehapoorvam Somuvinu
Debut: Pathemari(2015)
Jewel Mary started her career as an anchor in the Malayalam film industry. She hosted the Malayalam reality show D 4 Dance: Season 1 in Mazhavil Manorama and acted in the Malayalam film Utopiayile Rajavu in 2015. She has also hosted several award nights and stage shows programs.
Meenakshi Raveendran
DOB: 12 July 1996
Show Hosted: D 4 Dance season 8, Marimayam, Nayika Nayakan, Udan Panam
Debut: Thattum Purath Achuthan (2018)
Meenakshi Raveendran is a famous Malayalam TV anchor who started her career with the Malayalam reality show Nayika Nayakan. She became famous after performing in the reality show 'Udan Panam' in Mazhavil Manorama.
Conclusion
So this was all about the ten best Malayalam anchors who have placed their fame in the Malayalam television industry. The above Malayalam tv anchors list is the ones who are currently ruling the anchoring industry of the south. We hope you like this detailed guide. Also, check out the list of all-time popular Sun Tv anchors.
FAQs
Who are the Best new anchors in Kerala?
Here is a list of the best new Malayalam anchors in the Malayalam Television industry. They are as follows.
Ramesh Pisharody
K. B. Ganesh Kumar
Pearle Maaney
Ranjini Haridas
John Brittas
Nazriya Nazim
V. K. Sreeraman
Sonu Satheesh Kumar
Remya Nambeesan
Abhirami
Who is the best female anchor in Kerala?
Nazriya Nazim is an Indian actress who starred in Malayalam and Tamil films. She started her career as an anchor on Malayalam television Asia-net before pursuing a career as an actress.
Which anchor has the most fans in Kerala?
Pearle Maaney is one of the most popular anchors on Malayalam television. And Bigg Boss Malayalam finalist with a vast fan base on social media. She has an online fan group called 'Pearle Army,' one of the largest fan groups for Malayalam TV.