Namma Veettu Ponnu is a Tamil language family drama TV serial aired on 16 August 2021 on Vijay TV. The serial is about the love story of Meenakshi and Karthik after their marriage. Ashwini Aanandita and Surjith Kumar play important roles. Below is the Namma Veettu Ponnu serial cast, story, wiki, real names, timings, and everything related to this Vijay TV program.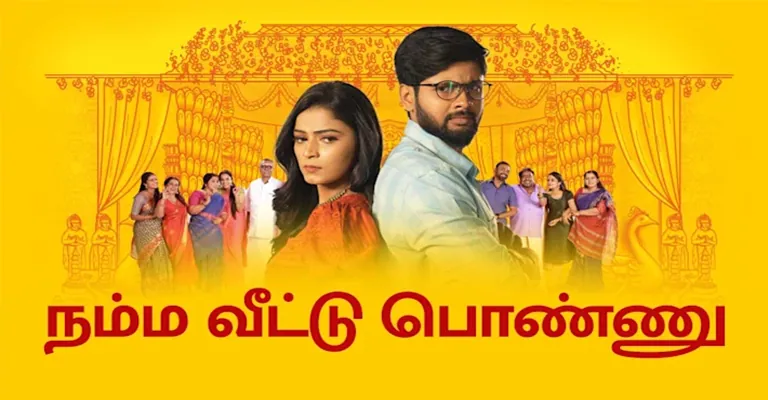 | | |
| --- | --- |
| Name | Namma Veettu Ponnu |
| Language | Tamil |
| Channel | Vijay TV |
| Genre | Family Drama |
Namma Veettu Ponnu Serial Cast
Ashwini Aanandita is playing the Heroine role of Meenakshi Karthik in the serial. Also, Surjith Kumar plays the role of Karthik. Sherin Jaanu / Lailaa, Ravi Chandran, and Nithya Ravindran / Revathee Shankar play the supporting roles. Read on to know the complete cast of the Namma Veettu Ponnu serial.
Cast ( Veettu Ponnu Serial Star Cast (Main Cast)
Ashwini Aanandita as Meenakshi Karthik
Role: Karthi's wife
Surjith Kumar as Karthik
Role: Meenakshi's husband
Recurring Cast
Sherin Jaanu / Lailaa (Divya)
Ravi Chandran (Velayudham)
Nithya Ravindran / Revathee Shankar (Visalatchi Velayudham)
Tamil Selvi / Sri Priya (Nandhini Vasudevan)
Venkat Subramanian (Thiyagarajan)
VJ Sandhya (Kalyani)
Amrutha Abishek (Parvathy)
Vetri Velan (Mahesh)
Vaishali Taniga (Malarvizhi)
VJ Pappu (Kalaiyarasan)
Arunima Sudhakar (Anuradha)
Praveen Nandagopal / Jack (Shivakanth)
Shabhanam (Vadivukarasi)
M. J. Shriram (Dr. Chezhiyan)
Priyadharshini Neelakandan / Banumathi (Selvi)
Sujatha Panju / Kiruba (Gayatri Chezhiyan)
Manoj Kumar (Vasudevan)
Magesh (Dinesh)
Gayatri Devi (Devagi)
Salma (Devi)
Arun (Bharathi)
Yamuna Chinnadurai (Dr. Jeevapriya)
Crew
Producer
Saravanan
Directed by
Praveen Bennet
Gunasekhar
Writing Credits
Leena Gangopadhyay
Sangeetha Mohan, S.Maruthu Shankar
Selva Vadivel
S. Ashok Kumar
Editing by
R.Rajesh Kumar
Cinematography by
R.Rajesh Kumar
Music Department
Yet to update
Production House
Global Villagers
Storyline
Meenakshi is a modern, kind-hearted girl who grew up in a nuclear family. On the other side, Karthik is a scientist who belongs to a middle-class joint family and believes in family values. They both get to marry each other of family pressure. The twist is how they will be happy after their marriage.
Release Date & Final Episode
The first episode of the Namma Veettu Ponnu serial was released on 16 August 2021 on Vijay TV. The Final episode of the serial aired on 25 March 2023. Besides, you can watch the series on the Disney+ Hotstar streaming platform anytime.
| | |
| --- | --- |
| Channel | Vijay TV |
| Running Time | 22 minutes |
| Starting Date | 16 August 2021 |
| Final Episode | 25 March 2023 |