Are you tired of watching the same horror and action movies? Are you looking for a movie that connects with you? Then get the Generation Aami full movie download or stream it online and you won't be disheartened.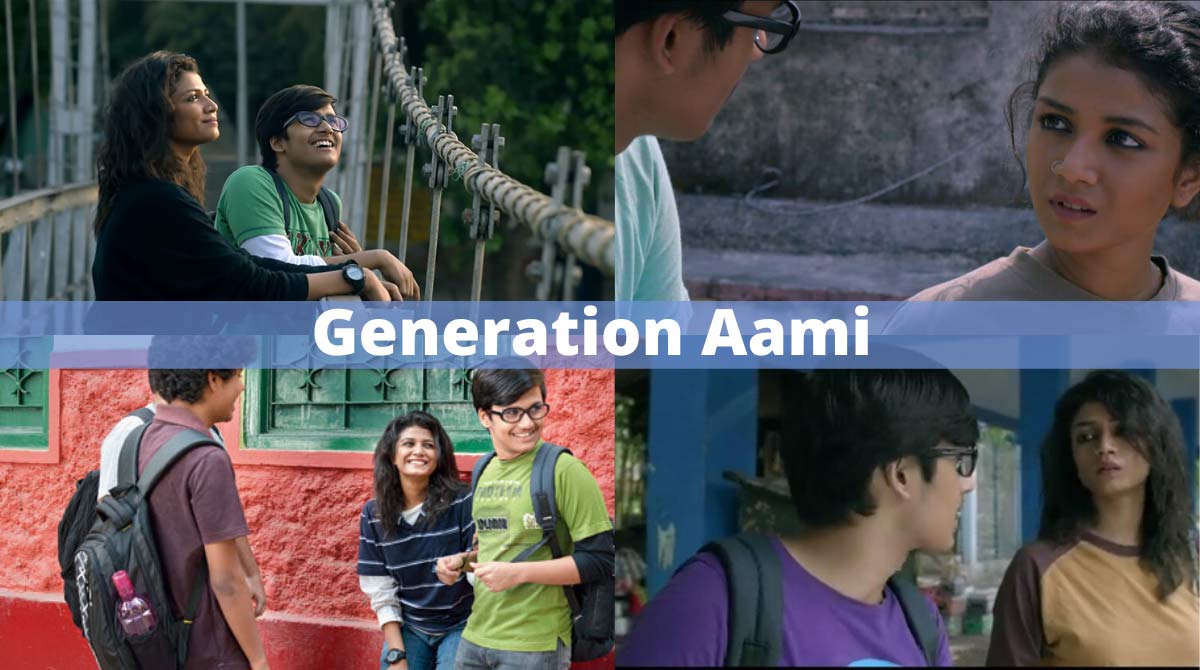 Generation Aami delves into the problems of the generational gap and the rift between a child's dreams and their parents' hopes. While the name of the movie suggests a selfish generation that only thinks of themselves, but there is much more than that.
Cast:
Rwitobroto Mukherjee as Apu or Arunava Bose, Durga's cousin
Sauraseni Maitra as Durga or Sreoshi Bose, Apu's cousin
Shantilal Mukherjee as Apu's father
Aparajita Auddy as Khuku, Apu's mother
Indrajit Deb as Durga's father
Nandini Chatterjee as Durga's mother
Director: Mainak Bhaumik
Release Date: 23rd November 2018
Box Office Collection: The movie made 2.10 Crore on the first day of release and 3.2 Crore on the second day.
Also, See:
Generation Aami Plot & Storyline:
This movie touches the heart of every single Bengali child or adult, who has been pressured with expectations from their parents. The same goes for our main protagonist Apu, a shy boy who loves music but is pushed by his parents to do better. Apu is a class 10 student, who is pressured into studying so that he can get into the field of science, clear his Joint Entrance Exam (JEE) and reach the stars. But this little boy has other ideas. He wants to write music and play the guitar, much to the annoyance of his parents. To watch just how pressurized Apu is, watch the Generation Aami movie download from Hoichoi App.
The plot takes a shift from normal, when Apu's cousin, Durga is sent to stay with them. Durga has been shifted to Kolkata from Delhi for treatment. Because of her rebellious nature and attitude problems, she was sent to get psychological treatment. To watch the Generation Aami full movie, download from Amazon Prime now.
Apu and Durga gravitate to one another realizing that neither is happy with their lives and share simple moments of joy where they get to be themselves. To watch the camaraderie and sibling push and pull between the two, get Generation Aami full movie download today.
While touching on topics like mental health and social media influence in today's youths' life, the movie also explores the loneliness people feel while trying to reach the goals set by others. It's not a wonder why the director Mainak Bhaumik names the main characters Apu and Durga. The friendship and love-hate relationship they share has been compared to the iconic Pather Panchali duo. To see the similarities between Satyajit Ray's Apu-Durga and Mainak's duo, get Generation Aami full movie download in Hoichoi App.
Generation Aami full movie download details & How To Watch Online
For Amazon Prime users, you can easily watch the movie on your prime account. Just go to the search bar and search for the movie 'Generation Aami' and you can stream it or download it to watch later.
You can also watch the movie on Hoichoi. If you have an account then just search for Generation Ami full movie, download it and watch it later. If you don't have an account then you can try the trial period and get Generation Aami movie download or stream the movie.
Conclusion: Storyline &

Generation Aami full movie download
The movie while fairly predictable still tugs at the heartstrings, because it shows the barrier in communication that the present generation has with their parents. It shows just how difficult it is for sides to take a chance and listen. The movie echoes with the idea that if people just took the time to talk to one another, then it would save everyone a lot of heartaches. For Generation Ami full movie download check Amazon Prime today.
Also, See: